K-8 coding education should be integrated for best outcomes
Educators should encourage students to apply what they learn in computer science to other subjects, says edWeb.net's Eileen Belastock.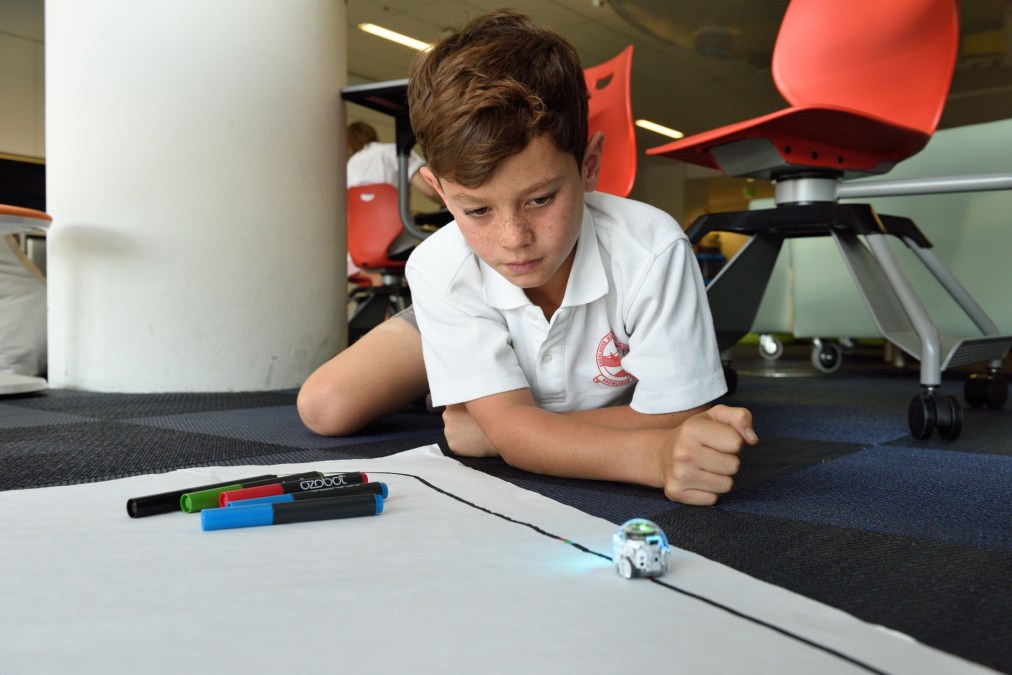 Students exposed to coding at an early age are well-equipped to take on more advanced computer science courses in high school. They're also given a head start on learning a valuable skill that could open new opportunities when they enter the workforce.
But when Rob van Nood was hired as the educational technology specialist for Catlin Gabel School in Oregon, coding and computer science courses were only offered in grades 9-12. The lack of coding curricula for younger students has left a significant teaching gap in 21st century skills, he said, such as problem-solving, designing and computation-thinking.
In a recent webinar hosted by edWeb.net, van Nood said his mission is to mentor and facilitate computer-science learning in a manner that integrates coding in every aspect of his students' educations. While it is great to see students engaging with new coding tools, their computer science education must extend past the walls of the computer science labs, he said.
"I didn't feel great that I spent all this time building these relationships with kids and getting them to understand a little bit about coding," van Nood said. "Then, after those days, they didn't have any other use for the technology or use for coding outside of maybe Lego robotics that they might do at a camp."
To integrate coding and programming into core curricula in the K-8 requires commitment between classroom teachers and instructional technology specialists, he said. By understanding the required content areas such as math, science and social studies, van Nood said he's been able to facilitate more student engagement and has observed examples of problem-solving skills that enrich classroom instruction, like conditional thinking and trial-and-error.
Middle-school science projects, such as those related to environmental sustainability and Copernican Revolution, are great opportunities for students to use products such as mBots, low-cost educational robots built on an Arduino platform, and SAM Lab tools, which contain a software platform and physical components such as motors and sensors, to apply what they've learned. A reading of "Goldilocks and the Three Bears" becomes a STEM project when students are the designers and prototype builders of a device that can find the perfect tea temperature.
But science, technology, engineering and mathematics courses are not the only way to connect students to coding. Middle-school social studies curricula on feudalism in Asia, for example, can afford opportunity for students to develop, analyze and interpret data and artifacts, and challenge them to explain their thoughts in writing and share their ideas using metaphorical visual models.
Van Nood said that students need to be creators of their learning and that it's critical to establish best practices for engaging students with data-collection technology. While school districts are required to ensure that core curricula meets state and federal criteria, he also encouraged educators to find ways to integrate those materials in ways that inspire their students.
About the presenter
For the past 22 years, Rob van Nood has been passionate about creating spaces and experiences where kids can explore and pursue their passions. Rob has taught in public, charter, and independent schools and has worked with students from Pre-K to 12th grade. As Catlin Gabel School's educational technology specialist, he supports teachers, administrators and students to integrate technology, making and tinkering into their learning experiences. Part of Rob's responsibilities is to also find creative ways to bring the world of coding into the lives of students through integrated projects. As the co-founder and lead educational designer at Tinker Camp, he runs tinkering and maker workshops for educators across the Portland, Oregon, and Vancouver, Washington, metro areas.
Join the community
STEM Learning: Full STEAM Ahead is a free professional learning community on edWeb.net that provides educators, curriculum leaders, and industry members with a place to collaborate on bringing more science, technology, engineering, and mathematics into the classroom.
The edWeb webinar referenced above, sponsored by Vernier Software & Technology, can be found here.