NASA picks STEM partners to get $42M in education cash
The agency selected 27 science organizations, museums and universities to receive a chunk of the 2 million to expand their science program for children of all ages.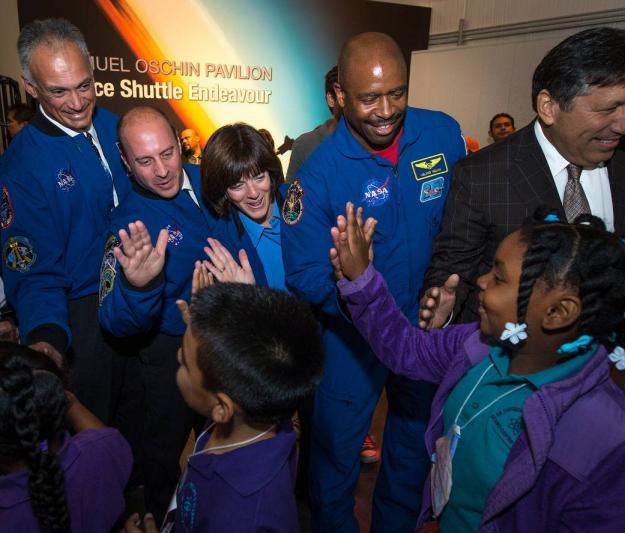 NASA has picked 27 science organizations, universities and museums, to get cash to expand their programs immersing kids of all ages in STEM learning.
The agency will spread $42 million among the organizations — which includes the Exploratorium in San Francisco, known for its makerspace for students — to devise and implement new strategic approaches to engage students on NASA science education programs and activities, including Earth science, astrophysics, planetary science and heliophysics.
The agency is looking for the next generation of students who will be able to continue cutting-edge research — for example, around whether life exists on Mars, after it was announced Monday that liquid water was discovered on the planet's surface.
The money will be awarded in increments of up to five years, under terms still being negotiated. There will be an additional five-year option to renew, officials announced this week.
"NASA seeks to innovate, explore, discover, and inspire and these selections build upon a legacy of excellence from our science education community," said John Grunsfeld, astronaut and associate administrator of the agency's Science Mission Directorate, in a release. "STEM education is the enabler of future space exploration and these awards, together with efforts in NASA's Office of Education and other partners, will advance STEM efforts in this country, improve U.S. scientific literacy, and help to inspire our nation."
Donald James, associate administrator of NASA's Office of Education, said his department, based in Washington, D.C., would help coordinate and support the selection the process.
"The Office of Education will assist in working with the selectees for new approaches given their capabilities and priorities," James said in the release. "Their efforts will help create and sustain the scientific and engineering workforce of the future."
Final awards are slated to be made by the end of the year.
Below is a full list of organizations that have been selected to enter into negotiations for the awards:
Alabama Space Science Exhibit Commission — Huntsville, Ala.
American Museum of Natural History — New York City
Arizona State University — Tempe, Ariz.
Challenger Center for Space Science Education — Washington, D.C.
Gulf of Maine Research Institute — Portland, Maine
Institute for Global Environmental Strategies — Arlington, Va.
Jet Propulsion Laboratory — Pasadena, Calif.
NASA Goddard Space Flight Center — Greenbelt, Md.
National Institute of Aerospace Associates — Hampton, Va.
Northern Arizona University — Flagstaff, AZ.
Science Museum of Minnesota — St. Paul, Minn.
SETI Institute — Mountain View, Calif. (two grantees)
Southern Illinois University, Edwardsville
Space Science Institute — Boulder, Colo.
Space Telescope Science Institute — Baltimore, Md.
University of Alaska, Fairbanks
University Of Colorado, Boulder
University of Michigan, Ann Arbor
University of Texas, Austin
University of Toledo — Toledo, Ohio
University Of Washington, Seattle
Wayne County Intermediate School District — Wayne, Mich.
WGBH Educational Foundation — Boston
Of the 27, three organizations are selected to support the science education associated with the upcoming 2017 total solar eclipse over North America:
Association of Universities for Research in Astronomy Inc. — Tucson, Ariz.
Exploratorium — San Francisco
Southwestern Community College — Sylva, N.C.
Reach the reporter at corinne.lestch@fedscoop.com or follow her on Twitter @clestch.