High school girls see future in STEM after summer of coding
Girls Who Code immersion program inspires young women to pursue jobs in tech while teaching them that computer science is welcoming to girls, too.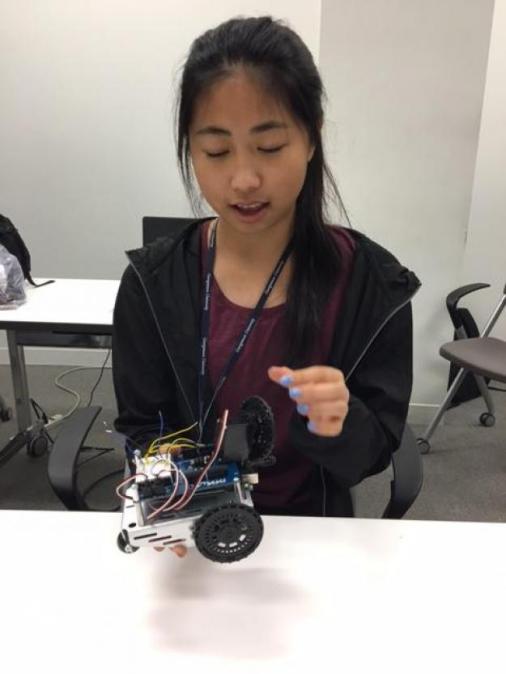 The idea that computer science and other STEM careers are "just for boys" appears to be extinct in a classroom of about 20 Washington, D.C.-area high school girls who have spent their summers building websites, programming robots and coding like crazy.
The high schoolers are participating in a national summer immersion program organized by the nonprofit Girls Who Code, and if all goes according to plan, many of them will go on to pursue degrees in computer science or related engineering and math fields. The program is part of a broader effort to create gender parity in the historically male-dominated fields of STEM and, in particular, computer science.
The girls, most of whom are ages 16 or 17, participated in a seven-week program that starts off teaching basic drag-and-drop coding functions and quickly moves into more sophisticated coding languages, like HTML, CSS, Python and JavaScript.
In between computer science lessons from an instructor and two teaching assistants, they heard from female guest speakers representing tech leaders like SpaceX and NASA. They also took field trips — to Georgetown University, Palantir Technologies and twice to Capitol Hill, where they met with members of Congress.
This particular classroom, housed in the Georgetown University School of Continuing Studies building in Washington, is sponsored by Software.org: The BSA Foundation, which helped line up special speakers and events throughout the summer. But in Washington and its surrounding area, there are at least a handful of other Girls Who Code classrooms, sponsored by companies such as Salesforce, AT&T and Lockheed Martin.
"There are more relaxing ways for high schoolers to spend their summers, but I can't think of any that would be more fulfilling," Chris Hopfensperger, executive director of Software.org, said in an interview with EdScoop. "Anything we can do to help level that playing field — but not in an artificial way — it's incumbent on all of us to encourage young women that there is a place in science, in tech and certainly in the software industry for them."
Coming in ready to learn
Maya Shende, a doctoral student in George Washington University's computer science program, said she had been aware of Girls Who Code for about four years before deciding to become an instructor for the 2017 summer immersion program.
"I've always just been in awe of what they do, and I've always wanted to be a part of it, but I just never had the time," Shende told EdScoop.
Shende has spent the summer working with teens who, for the most part, had never written a line of code in their lives, but that wasn't quite her own experience with computer science.
"I have a slight background in tech," she joked, explaining that both parents, an aunt and an uncle all work in STEM. "I grew up around computer science. I was very much exposed to it from a very young age."
But despite her own coding finesse, Shende said she has been constantly impressed by the girls in her class — they've learned in seven weeks what most college students might not learn in a full semester, she said.
"It's definitely been accelerated, but I have been pleasantly surprised at how well they pick stuff up," she said. "They are so smart."
The application process was competitive, she said, but that alone is not what has allowed these girls to succeed: "They come excited every day. They show up every day with so much enthusiasm. They're ready to learn."
Teaching them this summer has been the "most fulfilling experience I've ever had in my life," she added.
A future in STEM
In addition to new friendships, internship credit and coding proficiency, the program has cultivated a longer-term interest in science, technology, engineering and math jobs for some of the girls, many of whom will spend the upcoming academic year applying to colleges.
"This has made it more of a viable career path I'd want to go toward," said Alice Xue, a 17-year-old from Ellicott City, Maryland.
When Alice started the program seven weeks ago, she had no prior coding experience, though she had taken an introductory computer science class at Centennial High School, where she will be a senior this year. Despite the learning curve, Alice was so excited about coding that, after spending the day in the immersion program, she would often go home and get to work on her own website, just because.
"It was just really exciting," she told EdScoop. "This is the first time that learning something has actually been fun [for me]. I've actually wanted to learn more and go in depth. With this, you can really develop your own things — anything you can think of, you can build it."
For her final project, which she presents Wednesday night at the Girls Who Code graduation, Alice and a partner are programming a robot to detect the strongest rays of sun and adjust itself so that the light receptors on a solar panel will catch the most sun. "I'm pretty optimistic it'll work," she said.
With this program behind her and her last year of high school ahead of her, Alice said she wants to start thinking about her future. "I really want to aim high and get into higher positions in STEM," she said, "especially since I kind of envision myself creating something or being, like, an entrepreneur, maybe. Just reaching those higher positions is something I will strive for."
Not just for boys
Tshiabu Kabongo, another student in the Software.org-sponsored classroom, came in with a bit more computer science experience than Alice, but not by much.
Tshiabu's mother encourages her to learn about technology, math and business, so she has taken some basic computer science classes at Magruder High School in Rockville, Maryland, where she'll be a senior this year.
Those classes were nothing like the one she took this summer, she said.
For starters, they weren't nearly as fun or engaging. At school, the classes are pretty structured and require a lot of fill-in-the-blank-style learning. In the Software.org-sponsored class, on the other hand, she's been hard at work for the last week coding a website for personalized hair care. Visitors to the site can take a quiz about their hair — indicating the style, length and amount of body, for example — and then receive recommendations on products and treatment.
But the biggest difference, she said, is that her high school computer science class of about 25 students had just two other girls, and that all seven sections of the class had a similar gender breakdown. "They're all majority boys," she said.
"When we first started [the Girls Who Code program], they said, 'The reason you might not get something right is not because you're a girl, it's because this stuff is hard to learn,'" Tshiabu added. "I think it'd be helpful to have that kind of mindset when you're in a room full of other people."
That's why companies like Software.org and Lockheed Martin are supporting this initiative, Hopfensperger said. "It is hugely important for the tech industry to correct, for one, its numbers, but also the notion that science and technology aren't places for women … that [those] classes are just for boys."