Filmmaker explains why society needs to 'debug' gender gap in coding
Robin Hauser Reynolds directed a documentary feature film that explores why female and minority students lack access to computer science opportunities.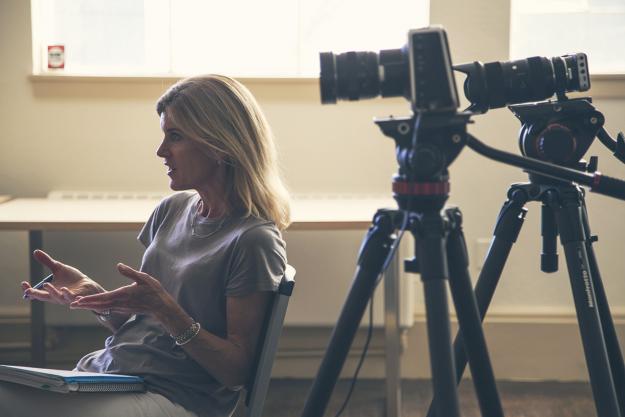 AUSTIN, TEXAS – Robin Hauser Reynolds has good timing.
The filmmaker behind "CODE: Debugging the Gender Gap," a documentary feature about girls' and minority students' lack of access to computer science, sheds light on a topic that has been attracting widespread attention in recent months. Thanks to President Barack Obama's Computer Science for All initiative, which attempts to train thousands of teachers and expose millions of students to programming, the subject is forefront in education conversations.
And Hauser Reynolds is reaching wide audiences with her film, screening it at SXSWedu among other festivals and conferences – and she says it's just as important for men to watch.
"Men who are dragged to the film by their girlfriend come away and say, 'Wow, that's really eye-opening,'" she said in an interview here. "They had no idea that was going on. I've had some really wonderful conversations and emails from men who have taken a second look at their unconscious biases and how women are treated in meetings, in the workplace, and that's been hugely rewarding for us."
Hauser Reynolds, who started making the film about two years ago, interviewed several prominent female role models in coding – including Megan Smith, who was still at Google before becoming U.S. CTO, Girls Who Code founder Reshma Saujani and Black Girls Code founder Kimberly Bryant, among others.
"There are women out there, but the fact is that we can count them on two hands," Hauser Reynolds said.
She added that Grace Hopper, a U.S. Navy Rear Admiral and one of the first American programmers, "should be a household name given that she was a pioneer," but most people don't know who she is.
Read what other educators and IT leaders shared at SXSWedu — exclusive coverage from EdScoop.
Hauser Reynolds also tried to get male perspectives on camera, but some declined, like Evan Spiegel of Snapchat.
"I would have loved to talk to him," she said. "I think in some ways, he represents startup culture. I would have liked to also have gotten more of the sort of 'bro-grammer' mentality in the film, but it was hard to get any of them on camera."
So far, the film has screened in 35 universities and 15 countries, from the White House and State Department to banks and retail companies.
"What we've realized is, we've touched on issues women feel not just in technology, but across industries," Hauser Reynolds said. "So people are using it in different corporate environments as a catalyst for conversation."
Hauser Reynolds said the idea started taking shape after her daughter, then a sophomore in college studying computer science, said she was the only girl in her class and felt like she was lagging behind her male peers. Now a senior, she ended up majoring in art history and recently took a job in finance.
"It became so apparent to her that she didn't belong in that environment – she felt really uncomfortable," Hauser Reynolds said. "Had it been a class with [50 percent] women, I'm sure she would have found a mentor or classmate, somebody to bond with and make it through. So I think it's really unfortunate."
She added that society needs to shift traditional thinking around computer science and tech fields.
"If you think you're not going to be good at something, chances are, you won't end up being very good at it," she said. "The No. 1 thing we can give our girls is confidence. If their fathers, mothers and teachers tell them they can do anything they want to do, they believe that and perform better and reach higher goals."
Reach the reporter at corinne.lestch@edscoop.com and follow her on Twitter @clestch and @edscoop_news.