These states embraced computer science education in 2017
From coast to coast, computer science is becoming the rule — not the exception — in America's schools.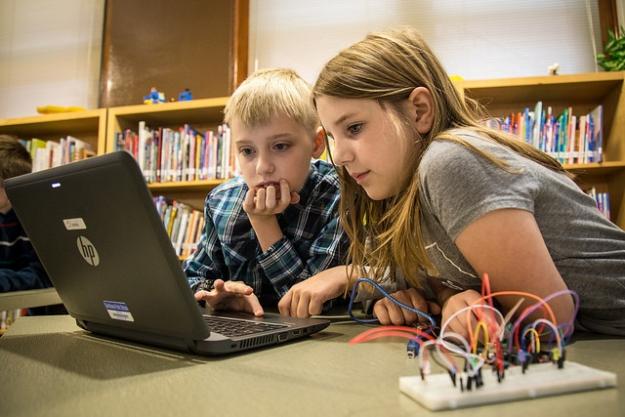 Teaching computer science in K-12 schools — and even making it a curriculum requirement — is not just a lofty idea anymore.
Schools around the country really began to embrace computer science in 2017, with a number of states moving forward with legislation to make it a mandatory subject. Advocates who have long been fighting for change said the hard work is finally paying off, and more achievements are ahead in 2018.
"I think the field has obviously progressed [in the] last year," Ruthe Farmer, chief evangelist of the CSforAll Consortium, told EdScoop. "Last year, we had a call to action, and this year we have action."
Farmer, who was a senior policy adviser under President Barack Obama, added that a massive overhaul of school curriculum happens in small increments.
"Policy takes time, so anything, whether it's standards or state funding, all those things take a long time to implement," she said. "So, we're seeing the fruits of the time and energy that was invested [in 2016]."
Below are the highlights from several states' efforts in 2017 to fold computer science into the curriculum.
Ohio: Gov. John Kasich recently signed a bill that requires the state education department to adopt standards and a curriculum for computer science in grades K-12. It will be left up to individual districts to decide whether to offer the subject. The legislation would also let students substitute advanced computer science for Algebra II as a graduation requirement, even though Algebra II could be a college admissions requirement, according to the Associated Press.
Virginia: The first state to require computer science education, Virginia established mandatory standards in November for schools to integrate the content into their curricula. The new requirement goes a step beyond the advisory standards that other states have put into place. Anne Holton, a member of the Virginia State Board of Education and former state education secretary, said the state is "clearly leading the nation, and that puts an extra burden on us to get it right."
Utah: Although high school students in Utah took only 405 AP Computer Science exams in 2017, according to Code.org, the state is making strides in computer science education. Thirty-three schools with Advanced Placement programs offered an AP computer science course in the 2016-17 academic year — 19 more than in the previous year. And state board of education leaders have made computer science a priority, aiming for classes to be available at every level of education. The state already allows computer science to count toward the state's graduation requirements for science.
Wisconsin: In 2017, Wisconsin became the ninth state to adopt computer science standards, joining Georgia, New Jersey and Texas, among others. Since then, according to Janice Mertes, assistant director for instructional media and technology at the Wisconsin Department of Public Instruction, there has been a greater push from state agencies and school districts to integrate coding into the curriculum.
Idaho: Early last year, the state's House Education Committee approved new computer science standards, boosting STEM education in schools. The legislation calls for the state's STEM Action Center board, the state board of education and the state education department to work together to adopt the standards, provide training to teachers, distribute grants to schools and set up an online portal with instructional materials. The standards would be "aligned with nationally recognized computer science education standards with input from Idaho educators and industries for implementation of the 2017-2018 school year," according to the bill.
Other states, including — but not limited to — Iowa and Oklahoma, are exploring the possibility of adopting computer science requirements in their states, perhaps as early as this year.
Reach the reporter at corinne.lestch@edscoop.com and follow her on Twitter @clestch and @edscoop_news.