Coding is cool, U.S. CTO Smith tells students at White House computer science summit
Obama administration introduces host of new initiatives designed to expand computer science education.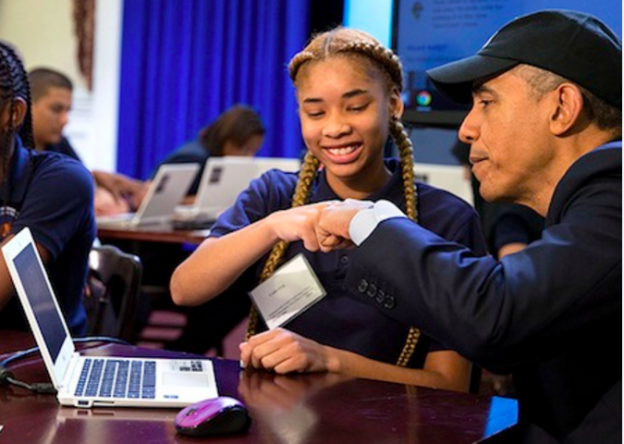 The White House announced a series of new education programs aimed at giving every American student the opportunity to learn computer science.
The new initiatives were unveiled at the White House's Computer Science for All Summit yesterday, that build on commitments announced by the Obama administration earlier this year.
Among the new programs is CS Discoveries, based on coursework designed by Code.org to better prepare teachers for the computer science classroom. Code.org, a non-profit group that believes computer science should be part of the core curriculum, is one of more than 200 different organizations that have committed to supporting Computer Science for All, according administration officials.
The CS Discoveries effort will focus on teaching computer science to grades 7 through 9. Code.org plans to enlarge its learning network to support 40,000 additional computer science teachers in time for the 2017-18 school year.
A wave of new initiatives was highlighted on Wednesday during the White House's summit, which brought together hundreds of students from across the country to discuss the importance of learning computer science and to mark progress on the president's "Educate to Innovate" effort.
Speaking about computer science and coding at the summit, U.S. chief technology officer Megan Smith said, "Let's make this the new normal; that it's super cool and we all do it. This is something that is completely possible, and this is the kind of country that when we decide to do things, we do them, we get it done."
Smith told the White House gathering that coding should become "the new 21st century literacy, right up there with the other basics." (Smith's full remarks can be viewed in a White House Summit video, at about 1:02 into the recording.)
Speakers noted, however, that computer science is largely missing from American K-12 education. By some estimates in the past year, according to White House officials, 75 percent of U.S. schools still do not offer a single computer science course with programming. Moreover, even though research-based models exist that integrate computer science into subject such as algebra, science and history, such integrated courses are rare.
Lack of access is even worse for communities traditionally underrepresented in computer science and related disciplines such as engineering and mathematics, officials said. In 2015, for example, only 22 percent of students who took the Advanced Placement Computer Science exam were girls and only 13 percent were African-American or Latino students.
Smith, though, was sanguine about the future of computer science in education, particularly for underrepresented groups. She noted that among 21 girls from the Built by Girls program presenting their projects at the recent TechCrunch Disrupt expo in San Francisco was a high-school junior who developed machine-learning, artificial intelligence algorithms that let facial recognition systems detect early onset of Parkinson's Disease.
"Amazing, right? How do we get this into the hands of all of our kids so they can work on real stuff?" she said. "The greatest strength of America is our people. Whether it's cyber security or solving the hardest social problems, [people are] our greatest asset. That asset mobilized is an extraordinary future that I want to be in."
"You guys are all about making that happen," she told the students.
Other new steps relating to CS education announced by the White House at the summit included:
National Science Foundation grants will award more than $25 million in new grants in support of Computer Science for All by the end of September for fiscal 2016. The awards accelerate NSF's ongoing efforts to enable computer science education in schools across the nation. Grants will go to professional development for teachers and the creation of new instructional materials for use in preK-8. NSF expects an additional $100 million investment in the next four years, White House officials said.
The National Science and Technology Council has chartered a new interagency working group concentrating on meeting the goals of Computer Science for All. The group will work to promote computer science education and coordinate activities between the federal government and schools districts around the country.
Among the 200 organizations launching new programs under the Computer Science for All campaign, All Star Code, a non-profit organization, will deliver its Summer Intensive training to 1,000 students by 2020 in coding, technology and entrepreneurship skills; Apple, under its "Everyone Can Code" program, is releasing two new free courses and teacher guides for middle and high school students, beginning this fall; and the Computing Enrichment Center will provide comprehensive enrichment programs to more than 500 K-8 students in creative computing through weekend events and summer camp courses by August 2017.