Senate introduces student data privacy bill on heels of House legislation
The Senate bill, much like the House measure, would give the Federal Trade Commission more control over how student data is used and managed.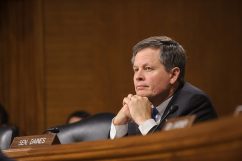 Student data privacy is at the center of a new Senate bill unveiled Thursday, which mirrors a similar bill introduced in the House in April that would give the Federal Trade Commission more authority over protecting kids' information.
The Senate bill, dubbed the SAFE KIDS Act, would allow the FTC to oversee and enforce collection and use of student data. It was introduced by Sens. Steve Daines, R-Mont., and Richard Blumenthal, D-Conn.
Similar to the House bill, the Senate legislation would prevent third-party vendors that offer online resources to kids from selling the students' data. It would also ban the companies from advertising to kids based on their online activity and behavior.
"The perils of privacy invasion and data abuse must be stopped at the classroom door with laws that match advancing technology," Blumenthal said, according to Politico. "As classrooms increasingly rely on technology like apps and cloud services to bolster learning, the advances unfortunately pose an urgent, pressing concern ­– student data can be peddled for revenue."
The bill was lauded by groups like the Consortium for School Networking, the Data Quality Campaign and the State Educational Technology Directors Association for striking a sound balance between promoting educational innovations and protecting kids.
"Senators Blumenthal and Daines provide a strong starting point for discussion to thoughtfully address student privacy and data use," CoSN CEO Keith Krueger said in a statement. "We look forward to working with them and their Congressional colleagues in the weeks and months ahead."
The consortium, which advocates for the interests of school technology and information officers and other IT school staff, recently launched an initiative called the Trusted Learning Environment Seal to ensure school leaders talk about their student data privacy efforts to parents and other stakeholders in the community. So far, 28 school systems are on board.
There has been little movement on the House privacy bill since it was introduced in late April — so far, it has been referred to the House Subcomittee on Commerce, Manufacturing and Trade for a hearing.
Reach the reporter at corinne.lestch@fedscoop.com or follow her on Twitter @clestch.