SMART board's creators switch gears to push edtech software and interactive panels
As researchers predict slowing demand for interactive white boards, SMART Technologies is focusing on imbedding newest hardware and software technology into the entire learning process.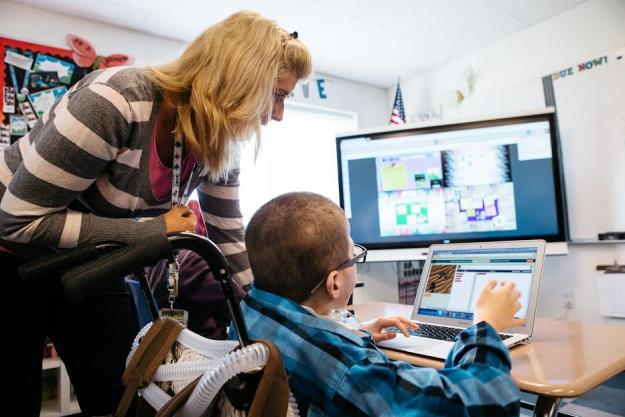 SMART Technologies, best known among the edtech community for its projector-based hardware, is transitioning to products that support the entire classroom with a combination of hardware and software products.
The move comes as the market for the widely adopted SMART board appears to be shrinking: A market report by Future Market Insights last year predicted a decline in global sales of interactive whiteboards over the next decade due in part to the availability of alternative options, including interactive flat panels and other screens. SMART officials say more than 3 million classrooms worldwide use its technology.
SMART Technologies' move to flat panels began in 2012, and the company says it currently holds a 42 percent market share for that technology in North America. Hardware is only part of the plan, though. Teachers like Jody Bean of Gardiner Middle School in Oregon City, Oregon, are using SMART's software products to incorporate technology in every part of the classroom experience.
Bean now uses SMART software to teach all of her lessons, from pre-assessment and vocabulary development to gamification of learning objectives and formative assessment.
Bean told EdScoop in an email that she uses SMART software "from the moment my students walk through the door until the last period of the day."
"My students call me the 'Tech Guru,'" Bean wrote. "I have them fooled! Technology makes my lessons more engaging and meaningful to my students."
Her suite includes SMART Notebook, a lesson delivery tool; SMART lab, a lesson activity builder that incorporates gamification; SMART response 2, a formative assessment tool; and SMART amp, a platform that she says students love to use "because of the workspace and the way they can manipulate their content."
All SMART software is compatible with Windows and Mac operating systems, but some features work with a wider variety of OS platforms, according to company officials.
SMART lab games and SMART amp shared workspaces are compatible with any web-enabled device, including iOS, Android, Chromebooks, Windows and Mac computers, capabilities designed to embrace "bring-your-own-device" education.
SMART amp, which launched in 2014, provides a digital canvas for students to use for group project creation. Students can see project updates in real time because the software is cloud-based.
SMART Technologies' competitors in the interactive whiteboard market include BenQ, Samsung, Seiko Epson, Hitachi, Promethean World and Panasonic. The shift in SMART's approach also comes as it folds into Foxconn Technology Group — a global manufacturer notable for its work on the iPad and iPhone — which acquired the company last fall.
Bean said SMART amp is popular among her students in part because it is accessible from any device, making it easily shareable.
"They don't have to remember where they left their notes," she said. "Students also use amp to organize their learning and have access to images and videos that can support their ideas. My students have become amazingly creative with their workspaces."
Jeff Lowe, the vice president for marketing at SMART Technologies, told EdScoop that SMART amp also offers new opportunities for student collaboration.
"This has really been opening up connecting students from across classes within a school, or between schools in a given city, or even connecting schools across countries," Lowe said.
Bean's students are using the tool to connect with schools in Finland and Pennsylvania for a year-long project, an example of global collaboration she says more schools should embrace. "Students connect easily with others," she wrote. "They wholeheartedly embrace differences and find similarities quickly."
The software is also providing new opportunities for one of Bean's 6th grade students, Caleb, who lives with physical disabilities. Caleb loves using SMART amp, the teacher said, because it makes it easier for him to express himself without the barriers he faces using more traditional formats.
"It gives me a chance to be creative," Caleb said in a video produced by SMART Technologies. "I like it because it's on the computer. Using the computer is easier for me than writing on paper."
The software allows him to "stay connected and continue to collaborate with his classmates" when his condition causes him to miss school, Bean added.
On the tech front, Lowe said SMART Technologies software integrates well with schools because it is content- and contribution-based, focusing on collaboration, skill development and building student confidence. "It's really irrespective of any other technology standards that people have developed within the entire edtech environment," he said.
SMART Technologies software is bundled with their interactive flat panels, which Lowe said schools can tailor to their program and space needs. Software can also be purchased alone.