Songs and Snapchat filters spruce up universities' virtual graduations
The pandemic stopped in-person commencement ceremonies, but universities are infusing their virtual celebrations with as much school spirit as possible.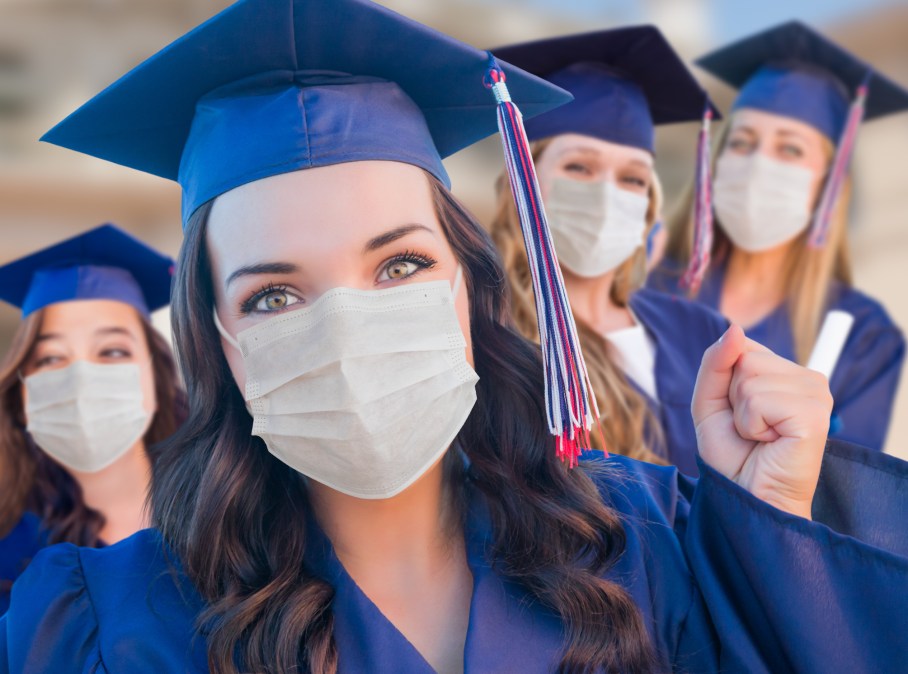 Universities are canceling their in-person ceremonies and replacing them with virtual events that leaders are recognizing don't quite live up to the right of passage that students had imagined. But many institutions are making the most of the constrains of the online format by including as much of the in-person event's original content as possible — and then some.
Iowa State University announced on Thursday that its more than 5,000 students expected to graduate this month will be able to attend one of three 30-minute virtual graduation ceremonies this Saturday.
"Our spring class of 2020 especially had to sacrifice for the greater good due to the COVID-19 pandemic," university registrar Jennifer Suchan told the university's news service. "We know we can't be together, but we want to celebrate their momentous achievements while honoring them in a way that's safe for everyone."
Iowa State's virtual ceremonies will include pre-recorded videos of university leaders speaking and performing aspects of the ceremony on the university's Stephens Auditorium stage, where an in-person ceremony would have taken place. The ceremony will also include music performed by the university's music and theater departments and the ISU Brass Ensemble, remarks from the university's president, Wendy Wintersteen, and a singing performance by the Iowa State Singers.
In April, the registrar's office mailed gift packages to all graduating students containing a souvenir tassel, a postcard, diploma cover and "streamer tube," according to the university. The university is also planning a separate virtual ceremony honoring graduating students who identify as lesbian, gay, bisexual, transgender, queer, intersex, asexual and or part of the "ally community."
Many students have expressed disappointment that their graduation ceremonies will be virtual, with thousands of students at the University of California Los Angeles going as far as to sign a petition to delay the in-person ceremony instead. (UCLA subsequently apologized and acquiesced to the demand for a postponed in-person event.)
Universities are handling the challenge of holding a ceremony during the time of a pandemic in varied ways, but most are holding virtual ceremonies on their websites and social media platforms and few — if any — institutions are planning in-person ceremonies this spring.
Kent State University in Ohio is also planning to hold 17 virtual ceremonies this weekend — one for each of the university's colleges and campuses — though university leaders said that graduates will also be invited back for an in-person ceremony after state prohibitions against large gatherings have been lifted.
Temple University in Philadelphia on Thursday held virtual graduation ceremonies for its largest ever class — more than 10,430 students. Temple University President Richard M. Englert said in a university announcement he was proud of the students' resiliency.
"They are the living embodiment of the persistence that is a hallmark of this university," Englert said. "We can't wait to celebrate their accomplishments in person as soon as it is safe to do so."
West Chester University of Pennsylvania is attempting to spruce up its virtual event with downloadable extras like Zoom backgrounds and Snapchat filters that make the user appear to be wearing a gap and gown. Downloadable congratulations signs allow friends and family members to share their support virtually, while the Philadelphia Inquirer reports that many students visited the campus with their families to take photos near university landmarks.
Neumann University in Aston, Pennsylvania, is collecting mortarboard messages and photos of the caps students would have worn to the in-person ceremony, which will be shared on its website.