Robots, holographic speakers grace Arizona State commencement
In addition to several in-person ceremonies, ASU's business school also hosted an online event that included special visual effects.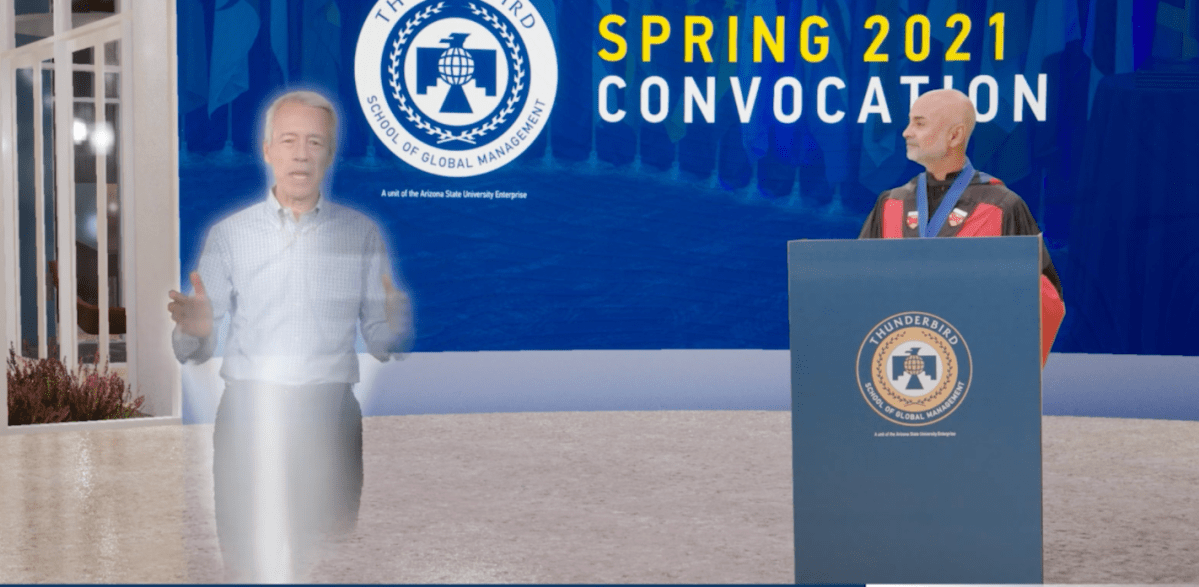 As Arizona State University's Thunderbird School of Global Management welcomed back in-person graduates for its spring commencement on Monday, leaders also conducted a virtual ceremony that included robots and holographic speakers.
The university began using the technology during commencement last year, including robots that roll across the stage, driven remotely by students, and speakers who appear as holograms next to Sanjeev Khagram, Thunderbird School's dean, who presented from a green-screen studio.
Colleges are reintroducing commencement this spring after moving to virtual ceremonies during the pandemic, often opting for limited-attendance in-person ceremonies with a live stream running for those who can't attend. ASU's Thunderbird School kept its virtual ceremony for all graduates, where they could watch from home with family. Four smaller, in-person ceremonies were offered just for graduates to attend.
"In a historically challenging time, the class of 2021 adapted and grew with perseverance and personality," Khagram said in a press release. "We are so proud of them and look forward to welcoming all our new alumni and their families back for a special in-person graduation celebration in the state-of-the-art Thunderbird Global Headquarters when it opens this fall as part of the school's 75th anniversary celebrations."
The virtual ceremony was live-streamed and can now be viewed on-demand. The holographic speakers weren't presented in the studio, but were added in post-production to give that appearance. This year's speaker was Joaquin Duato, an executive with Johnson and Johnson.
The dean and telepresence robots were live in studio for the virtual ceremony. The "chroma key" studio allowed producers to add a backdrop of Thunderbird School of Global Management's future headquarters that looked 3D, instead of like a flat video conference background. The robots were used to present academic awards.
The in-person ceremonies took place with a maximum for 40 people at the Arizona Center in downtown Phoenix. The commencement featured a "Zoom wall," where family members could log in to watch graduates walk and take photos. About 140 students participated in the in-person events.
The robots used in the virtual ceremony will continue to be a part of the school's operations, university leaders said. When the school's new headquarters opens in downtown Phoenix this fall, the university plans to allow visitors to take virtual tours. There's also discussion of using them for instruction, university spokesperson Jonathan Ward wrote EdScoop in an email.