Pearson announces end to decade-long OPM contract with Arizona State University
Pearson and Arizona State University are ending a decade-long contract that accounted for about one-third of Pearson's OPM revenue.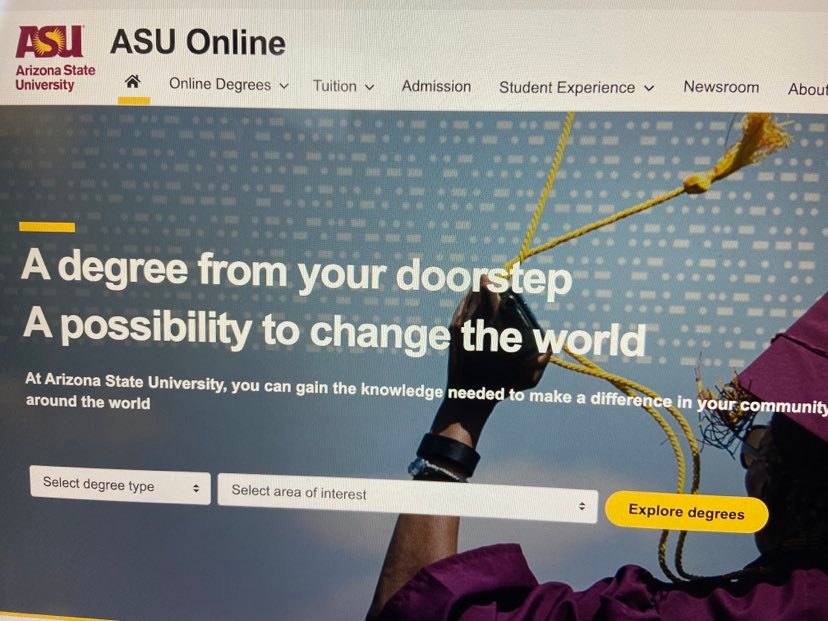 Publishing giant Pearson announced Tuesday that a decade-long contract for online program management services at Arizona State University is set to end June 2023.
Online program management means that while ASU designs and leads its own courses, Pearson offers additional software and resources to run the program in return for a share of its profit. ASU plans to move the services Pearson provided in-house beginning in July.
The university's digital learning team, EdPlus, already manages enrollment and outreach for half of the ASU Online population, university spokesperson Chris Fiscus wrote in an email.
The Arizona State contract makes up about a third of Pearson's OPM business revenue, generating 90 million pounds — about $118 million — annually for the British academic publishing house, the Times of London reported.
Pearson's investor announcement claims the end of the partnership will only have a "modest" impact on overall profit in 2022 and 2023 and that the company plans to redistribute costs associated with ASU's services across the company to offset any losses.
Arizona State launched its ASU Online program in 2010, partnering with Pearson to use its LearningStudio learning management system and other software to track course outcomes and monitor student performance. The partnership grew from 33 managed courses and 1,201 graduates in 2012 to 243 managed courses and more than 8,000 graduates by 2020.
As of fall 2021, nearly 40% of all ASU students were enrolled in online degree programs, according to the Arizona Board of Regents, with 18% of those students residing in-state. ASU launched EdPlus in 2014, a team dedicated to managing digital programs and partnerships.
Pearson discontinued its learning management system services around 2018, but it's still operating in the online program management space: The company announced a partnership with Northeastern University's nursing school this month. Its OPM offerings use data and the company's domain expertise to support students and market online offerings, according to Pearson's website.
A Pearson spokesperson sent the following statement when asked for additional comment:
"Pearson's groundbreaking collaboration with Arizona State University blazed a trail in online learning and helped tens of thousands of students reach their potential by obtaining a college degree. Pearson and ASU share a commitment to making an impact on the lives of learners. We look forward to working through this transition and with ASU in the future to support students in the US and around the world."