Top picks for back-to-school tech this fall
EdScoop looks at some of the coolest apps and gadgets aimed at making learning more fun in the classroom.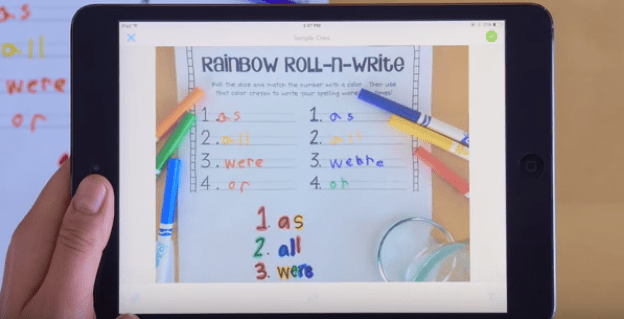 An app that lets teachers turn classrooms into game shows and another that lets students read news articles at their own reading level are among the many edtech tools likely to be part of the classroom when school resumes this fall.
With a seemingly endless amount of options, EdScoop decided to cull a list of the coolest apps and gadgets that aim to make learning more fun. Here are our picks:
Seesaw: The Learning Journal
Kids don't have to use notebook folders to keep track of their work anymore; there's an app for that. Seesaw: The Learning Journal is a student-driven digital portfolio where kids can document their learning via text notes, drawings, photos, videos and PDFs.
"Seesaw empowers students of all ages to independently document and share what they are learning at school," Jeffrey Knutson, senior manager of education content at Common Sense Education told EdScoop. The nonprofit provides information and reviews to help parents, teachers and policymakers evaluate media and technology for the classroom.
The app is free and available for Chromebooks, Apple, Android and Kindle devices, making it handy for bring-your-own-device (BYOD) users.
The app also allows teachers to view and organize students' work on their own devices. Teachers must approve all of the work students submit so they can see exactly what the kids are doing. Educators can also invite parents to get real-time updates on their children's school day and overall learning experience.
Among 300 teachers who had been using Seesaw for at least four months, almost 100 percent agreed that Seesaw helps their students learn how to use technology appropriately and responsibly, according to a efficacy study conducted by the company. There was also near universally agreement that the app teaches kids 21st century skills like problem solving, creative and critical thinking and digital citizenship. Teachers also gave it high ratings for makes it easier for teachers to show evidence of student progress to parents. Teachers also say they've seen an increase in parent involvement since using the app.
Learn more about Seesaw: The Learning Journal here.
Kahoot!
Now educators can teach any subject through game play.
"Kahoot! is a tool that lets you make quiz games so you can turn any classroom into a game show," Knutson told EdScoop.
The popular free platform allows teachers to create fun learning games, called Kahoots, in minutes. The quizzes are made with multiple-choice questions that can include images, diagrams and videos for added fun.
This app is also BYOD friendly and works on any device that has internet connection, so students can play in groups using individual devices, but games are displayed on a shared screen to bring the lesson together.
"Teachers are looking for web based tools that can work on mobile devices so they will appear whether a student is on a tablet or a phone, which makes it easier for them to access," Knutson said.
Currently, players can connect with classrooms in more than 180 countries and play a Kahoot! together using screen sharing technology, according to Kahoot! officials.
Kahoot! also includes a survey feature so teachers can gain student insight and facilitate engaging conversations. Teachers are also encouraged to let students drive activities and create their own games, to deepen their understanding of the material.
Learn more about Kahoot! here.
Duolingo
Duolingo, the app that promises users they can "learn a language for free forever" made the list this year. Duolingo has more than 10 million users worldwide, according to officials, and now the popular language-learning platform is available for the classroom.
Using Duolingo for Schools, teachers can create digital classrooms, distribute assignments and track student progress and it's all for free. Students get interested when they earn points from beginner lessons to unlock more content as they answer questions correctly. Duolingo uses multiple choice questions, listening and speaking and images to teach languages in a fun, interactive way.
Teachers can sample Duolingo for Schools here. Duolingo gives each class a unique code so students can join in on the fun from their own devices. The software is available for any devices with internet connection.
In an efficacy report done by Duolingo officials, almost all users agreed that the app was easy to use with 92 percent saying they think Duolingo helped them learn Spanish.
"There aren't many tools specific for English language learners but Duolingo could help students learn a new language," Knutson said.
The app currently offers 14 languages for English speakers including Spanish, French, German, and Italian. Languages like Ukrainian and Hebrew are currently in beta testing while Swahili and Korean are among those that are still in the development phase.
Learn more about Duolingo here.
Breakout EDU
Breakout EDU is a bit like "escape the room" — a live-action game where groups of friends must make their way out of a lock room by solving a series of mysteries and puzzles. But instead of unbolting a door, students must answer questions to unlock a box.
Experts say Breakout EDU is a big hit this year.
"The tools that are getting a lot of buzz are the ones that are more broad that can be applied to multiple subjects," said Common Sense Education's Knutson.
The games, or breakouts, are designed to teach critical thinking, teamwork, and problem solving and they can be applied to any K-12 content area including math, science, history and language arts.
While teachers facilitate using hint cards, students use the tools in the Breakout EDU kit to play multiple games that require them to get out of their seats and move around the classroom to solve the problems. Each kit comes with gadgets like locks, hidden contraptions, timers and keys. The games are timed so students must work together to beat the clock.
All of the breakouts are currently free with the purchase of a kit. The standard wooden kit is $119 while the plastic version is $89, both are compatible with every breakout game available. Breakout EDU is currently in open beta testing.
Learn more about Breakout EDU here.
Newsela
Teachers often struggle to assign coursework that challenges the most advanced students in the class without leaving other students lagging behind. Now there's a tool that lets K-12 students read news articles on personalized reading levels.
"Newsela provides articles on a variety of topics that are adjustable to kids' reading levels," Knutson told EdScoop. "Kids can read the same article on different reading levels and you'll find topics that span the curriculum. It's an ELA tool but it's applicable in other subjects."
English language arts can be difficult for some students, but a tool that breaks stories down to a level they can comprehend makes the subject easier to learn, experts say.
Newsela also allows teachers to assign quizzes on articles as students read. When a teacher creates a binder, or classroom, and assigns a grade level Newsela automatically generates articles that are appropriate for the age group. To top it all off, the articles are from world-renowned news publications. The website is accessible from any device but there is also an app available for Apple products.
With Newsela PRO, teachers can track each student's progress so they can see which students are on track and where there is room for improvement. They can also see student, class and school progress compared to Common Core standards.
More than 800,000 teachers use Newsela in their classrooms worldwide and students have read almost 100 million articles so far, Newsela officials say.
Access to the basic features is free. Newsela PRO, which offers more options, is available for classes, schools and districts for an annual fee. Subscription cost varies depending on school or district size. Educators can work directly with Newsela consultants to determine the exact cost.
Learn more about Newsela here.
Reach the reporter at darlene.aderoju@edscoop.com, and follow her on Twitter @buuukky.