U. Central Florida uses holograms to train medical students
University leaders said the technology, which could replace live patients, allows students to familiarize themselves with a broader range of symptoms and rare cases.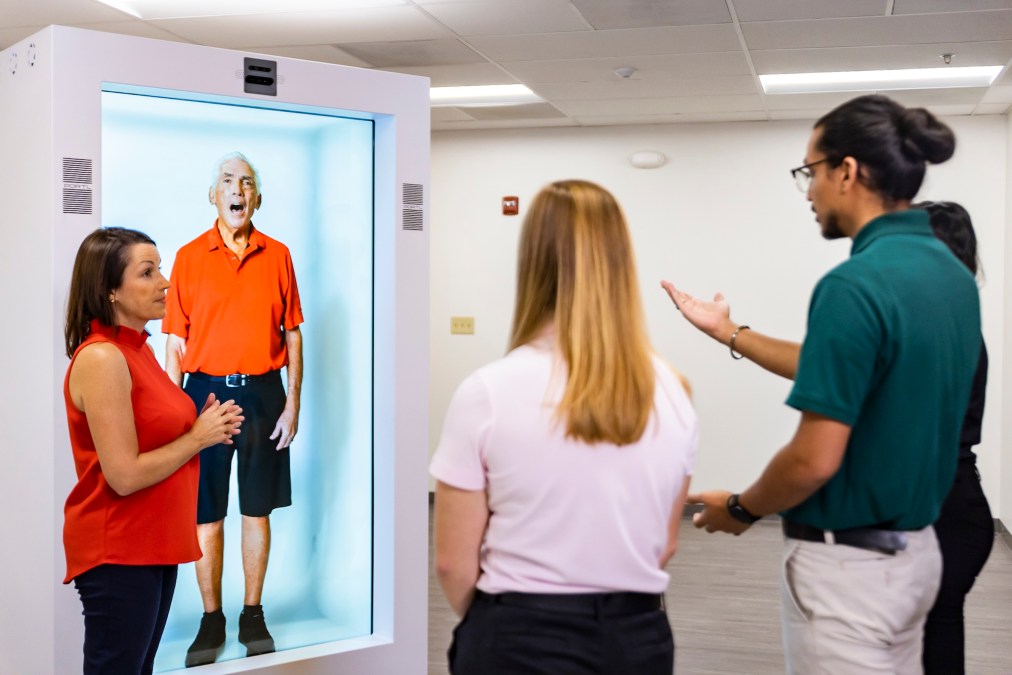 The University of Central Florida is using holograms to simulate patient visits so medical students can practice spotting subtle symptoms or rare conditions.
UCF started using the holograms this summer, with plans to use the technology in classes this fall at the College of Health Professions and Sciences. The university is working with volunteer patients to build up a library of cases so that students can familiarize themselves with stages of a disease, ways that medical issues manifest or rare conditions.
"Some patients would say, 'It took me five years to finally get diagnosed, or [they] went to 10 different physicians or health care providers, and nobody knew what this was,'" Bari Hoffman, associate dean of clinical affairs for the College of Health Professions and Sciences, told EdScoop. "We want to be able to expose our students to those rare conditions so that it helps a patient get to diagnosis faster and get on a treatment path so that they don't have that frustration or burden."
Because the holograms the university uses provide a full-body view of the patients as they move, rest and talk, it gives students — such as those studying physical therapy or speech pathology — an opportunity to learn of smaller, less apparent symptoms that can lead to a faster diagnosis, Hoffman said. The holograms also allow students to hear more about how patients' problems affects daily life, she said.
"Sharing patients' lived experiences helps our students really understand what it's like for that individual as they go through their activities of daily living, how it's impacted their livelihood, how it impacts quality of life," said Hoffman, who holds a doctorate in speech and voice science.
The hologram software also includes "caregiver stories," which are designed to teach students studying social work to use their insights to inform treatment and provide support, Hoffman said. The technology, called "Dr. Hologram," is produced by a company called Portl, which makes software that can play pre-recorded holograms or broadcast holograms streamed from a remote location.
At UCF, volunteers come to the College of Health Professions and Sciences' Innovation Center, where they stand in front of a 4K camera and white backdrop as they talk about their condition and run through a series of everyday tasks.
Prior to using holograms, UCF needed to bring in live volunteers, Hoffman said, which was challenging because there were a limited number of volunteers.
"What we want to be able to do is provide our students with a really robust library of patient experiences so when they go into their internship or they take their first job, their exposure to a variety of patients is much broader and they've had a much deeper learning experience, she said.
This is the first time that Portl's technology is being used in medical education, according to the university. Hologram technology is being adopted in some medical schools but often is presented through virtual or augmented reality headsets. An example is Microsoft's HoloLens, a platform that allows medical schools to build holograms that are often used by anatomy students, instead of using cadavers.