'Mynerva' teaching platform lets professors design the perfect lesson
A new platform from the University of Michigan is designed for instructors who wish to combine conventional learning materials with digital assessments and tools.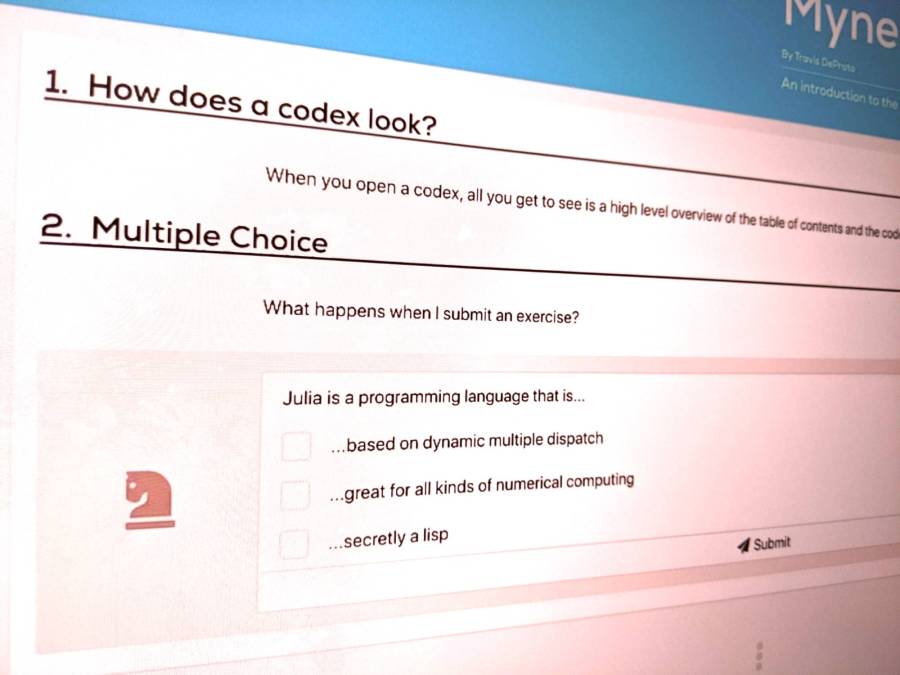 A professor and former student at the University of Michigan have developed a new interactive platform that combines conventional learning materials with digital assessments and tools.
The cloud-based platform, called Mynerva, allows instructors to customize lessons based on a system of "codices," presenting material to students as they're ready for it. Each codex can be built using various types of questions — such as multiple choice quizzes or auto-graded exercises — that students must answer before advancing to the next section.
"Our vision is an interactive computational textbook platform designed to stimulate deeper conversation between students and the material they are attempting to master," Raj Nadakuditi, one of the tool's creators, and a professor in the university's electrical and computer engineering department, told the university. "We also want to enable a dynamic experiential conversation with the learner, where the material is revealed as the student progresses and is ready for it."
Nadakuditi and Travis DePrato, a recent University of Michigan alumnus who helped build the tool, said they will license the technology via their new company, Minerva, Inc. The duo have been developing the project for several years.
Faculty using the tool to create course materials will have free access to the platform, while students will likely pay a subscription fee for access, though developers said the cost will be less than that of a traditional textbook.
Initially, Mynerva was developed as an extension to Jupyter Notebook, an open-source web app used by scientists and researchers to share code and data. Citing limitations with the original code, DePrato and Nadakuditi eventually transitioned to developing their own standalone project.
"I hope that Mynerva gives computational instructors the tools to be able to realize the kind of book they always wish they had, but didn't know how to write," Nadakuditi said.
Professors can hide or lock certain portions of their lessons so that the student must progress through the course before accessing more advanced information.
"Instead of dumping loads of information all at once, [the platform] nudges the student forward, bit by bit, just at the point when they've shown they're ready to move on," DePrato said. "Through this format, the author is able to be virtually by their students' side through the learning process."
While the interactive textbook framework is currently targeted at computational studies, both Nadakuditi and DePrato said the tool could be used for other subjects. Nadakuditi said he uses Mynerva in all of the courses he teaches.
"With Mynerva, you get to create this story for learners to go through and explore the data in really powerful ways that you don't get by just giving them, for example, a PDF or a link to a static web page," DePrato said. "We want to empower instructors to make really powerful interactive content for their students."
The creation of an interactive textbook is not unique to the University of Michigan. Traditional textbook manufacturers like Pearson have forged partnerships with companies like IBM to integrate AI into digital versions of textbooks that included other personalized learning elements like quizzes. Those digital textbooks come at a significantly lower price compared to their printed counterparts.