Look beyond degree completion to measure student outcomes, educators say
Tracking sense of personal fulfillment among alumni, as well as wages, could help colleges better demonstrate student outcomes.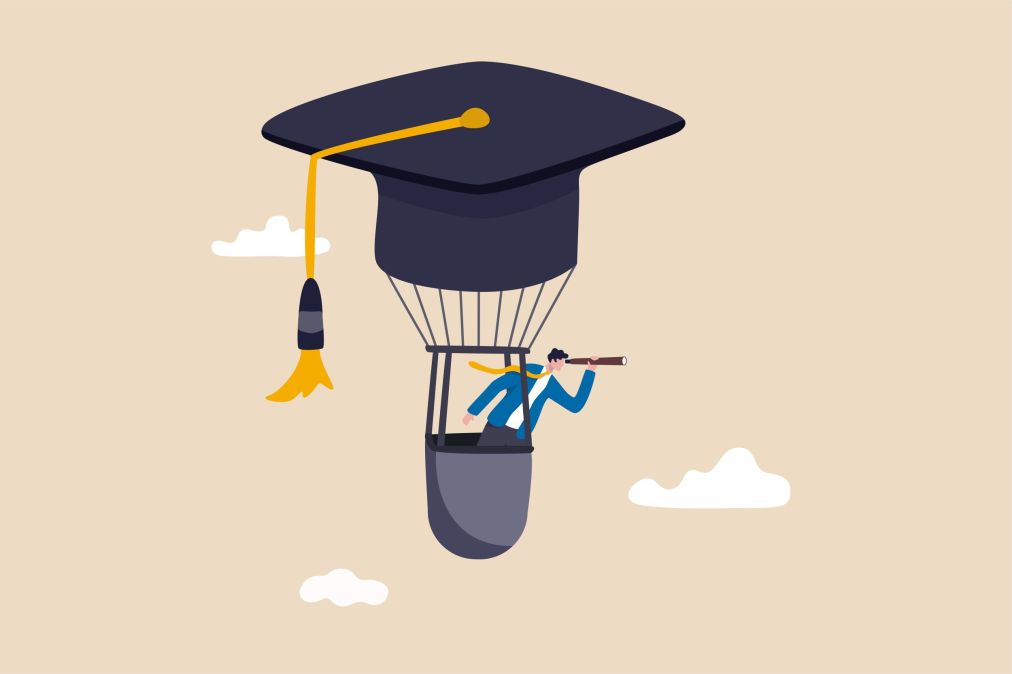 To more accurately measure student success, colleges and universities need to look at outcomes beyond degree completion, panelists said this week at a webinar hosted by an education nonprofit.
While tracking the number of students who cross the finish line to graduation is important, degree completion alone is not sufficient to demonstrate the value of a degree to discerning prospective students and their families, said Andrew Hanson, senior director of research at the Strada Education Network, the group that hosted the event.
"The outcomes movement has really been motivated by the reality that many individuals who complete postsecondary education credentials do not realize the promise of economic security, prosperity, upward mobility and fulfillment," Hanson said.
Tracking how much students earn post-graduation is one way institutions can measure their impact, said Hanson. But measuring non-economic impact is important too, he said.
'A unique lens'
A recent Strada Education Network report, the results of which were discussed in the webinar, combined wage data with surveys asking alumni if they agree with the statement "my education helps me achieve my goals."
"Fulfillment is really a unique lens through which Strada has been examining outcomes that's motivated by our desire to include students and learners in our work, and value their perspectives," Hanson said.
The webinar panelists, including Jennifer Engle, director of data at the Bill & Melinda Gates Foundation; Michael Itzkowitz, senior fellow covering higher education at Third Way; and Ted Mitchell, president of the American Council on Education, all said there is value in institutions tracking more than just economic outcomes such as wages and loan repayments post-graduation. They also stressed the importance of examining income-, race-, and gender-based inequalities.
"The value equation is not just a function of what students earn after they leave," said Engle. "It starts with whether they go to college at all, what they study when they get there, how much they have to pay, how long it takes them to complete (which affects how much they have to pay), whether they complete, and then what they earn. The bad news is that there are race, income, and gender disparities at every step along that pathway."
Putting fulfillment in student outcomes
Strada's report, Success Beyond Completion: How Can We Best Measure Student Outcomes, found that both gender, and race and ethnicity, impacted students' wages and their sense of personal fulfillment post-graduation. Men were more likely than women to earn higher wages at any education level, for example, but the wage gap between men and women was highest among high school graduates and associate's degree holders.
The Strada report also looked into alumni satisfaction and earnings by occupation and found that workers employed in STEM fields, business or health care had the highest salaries and the highest rates of personal fulfillment. Those working in services occupations reported the lowest wages and personal satisfaction. Generally, people with degrees earned more and had a stronger sense of fulfillment than people with high school diplomas, the report found. Bachelor's degrees and graduate degrees both led to better earnings and satisfaction than associate's degrees or non-degree programs.
While looking beyond graduation is important to understand whether institutions are moving the needle on student social mobility, the webinar panelists acknowledged that problems with college access and affordability haven't gone away.
"Too many low-income and first-generation families of color say that higher education is out of reach. It's out of reach because it's not affordable, it's way too complicated, and the game is rigged," said Mitchell, president of the American Council on Education. "That is a problem we need to work on every day."