41 education groups join cohort to end STEM teacher shortage
The association of more than 300 organizations from around the country are pledging to train 100,000 teachers in STEM subjects by 2021.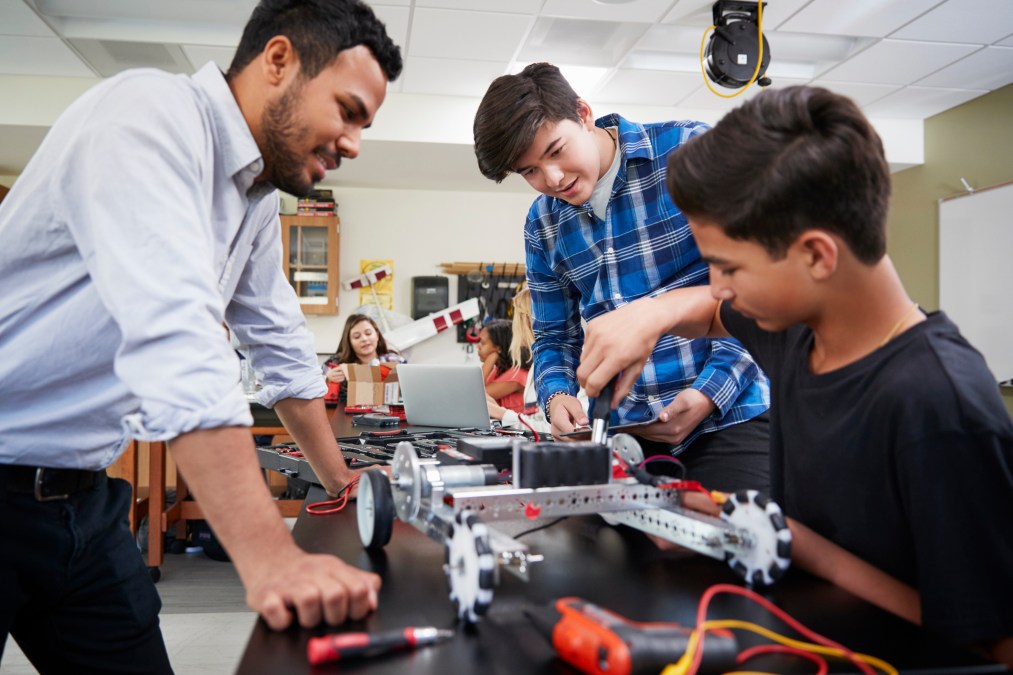 A group of 41 additional educational organizations on Thursday pledged to address the root causes of the Unites States' shortage of K-12 teachers in science, technology, engineering, and math.
Announced by 100Kin10, a group dedicated to ameliorating the STEM teacher shortage, the newly committed nonprofits, academic institutions, private companies and government agencies join an existing cohort of some 300 organizations. Responding to President Barack Obama's call during his 2011 State of the Union address to train 100,000 new STEM teachers within a decade, the partner organizations are working to recruit, prepare and support those teachers.
"100Kin10 realized from the beginning that there was no way to get to a goal this big if we didn't make it possible for lots of people and organizations to contribute," Talia Milgrom-Elcott, 100Kin10's executive director, told EdScoop.
Each of the partner organizations have made commitments to address specific challenges surrounding the STEM teacher shortage — like how to increase the supply of teachers, retain talent or put policies in place to prevent future shortages.
The new cohort — which includes Chicago Public Schools, LEGO Education, National Board for Professional Teaching Standards and Council of Chief State School Officers — will explore the underlying reasons for the teacher shortage, seeking solutions with the greatest potential for impact.
"What you're seeing in this class that is unique is a focus on some of the highest-leverage reasons that we have a chronic shortage of stem teachers," Milgrom-Elcott said.
The California Academy of Sciences, one of the new partners, said it will commit to improving teacher collaboration during the school day. Chicago Public Schools said it will also work to improve teacher collaboration, with an additional focus on addressing the need for STEM-educated elementary teachers.
The Council of Chief State School Officers will explore teacher supply and demand, which most states don't keep track of, Milgrom-Elcott said, and provide universities with critical data to help them meet local demand.
Computer Science for All will examine state course requirements for STEM in high school to ensure that all students have equal access to STEM education.
Milgrom-Elcott said the diverse network of partners is uniquely positioned to address key issues surrounding the teacher shortage. To solve such a big problem, she said an "all-hands-on-deck approach" is needed.
The STEM teacher shortage is a problem that could have been avoided, Milgrom-Elcott said. "It didn't have to be this way," she said. "It's something we built."
However, with such a large group of organizations willing to commit to solving this problem, the goal of ending the teacher shortage appears attainable. According to 100Kin10, the cohort is on track to exceed its goal of training of 100,000 teachers by 2021, with more than 68,000 teachers currently trained.