'State of the State' speeches underscore focus on computer science education
Governors used the platform to announce new initiatives and reaffirm progress made in 2017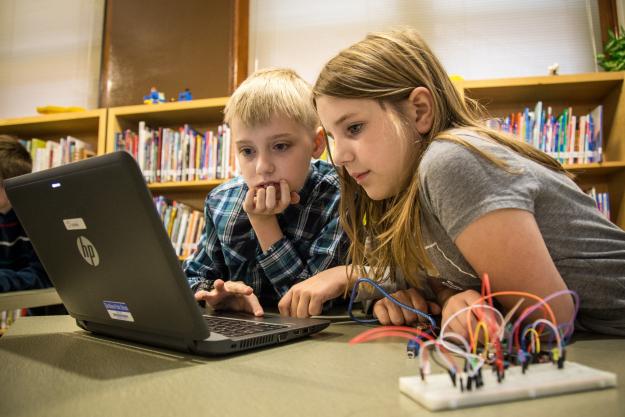 Following a landmark year for state-level computer science education policy and standards, many governors have used their "State of the State" addresses to reaffirm their commitment to improving the quality of computer science education in schools.
The governors of at least 14 states took the opportunity to announce various developments around computer science education over the past several weeks, with particular emphases on expanding access to technical education, forming education partnerships, encouraging internships and externships with private-sector organizations and improving broadband-focused infrastructure.
Governors have recently used other platforms to advance their plans for computer science education as well — as of Jan. 23, 16 state executives had joined the Governors' Partnership for K-12 Computer Science, a group of governors that have pledged to prioritize policy, standards and funding around computer science education in their states.
Education technology stakeholders commended the governors for using their annual addresses to announce new initiatives and highlight recent or ongoing ones.
"There are some really exciting and innovative ideas coming from the states that will prepare students to thrive in a digital world," said Richard Culatta, the CEO of the International Society for Technology in Education (ISTE), in a statement. "These governors clearly understand the need to be forward thinking and recognize that technology plays a key role in education."
Alabama Gov. Kay Ivey announced the creation of the Alabama School of Cyber-Technology and Engineering, which Ivey said will "prepare some of our state's highest-achieving students to enter the growing fields of cyber technology and engineering." The school is scheduled to begin classes in 2020, and according to an Alabama Chamber of Commerce statement, will instruct on the "theory and practice of cyber and engineering skills, exposure to career opportunities, scholarship opportunities and networking."
In Wisconsin, Gov. Scott Walker emphasized the state's $35.5 million increase in funding for broadband infrastructure "to connect communities across the state to high speed internet connections, as well as give schools access to the latest technology and training." In October 2017, Scott also announced "$22.5 million to the Wisconsin's Technology for Educational Achievement (TEACH) grants to provide students with high-speed internet, access to mobile hot spots, and access to laptop computers."
California Gov. Jerry Brown reaffirmed his intent to open the first fully online California community college to address the "2.5 million Californians between 25 and 34 who are in the workforce but lack a postsecondary degree or certificate." The college, which is set to open in 2019 with a $100 million investment, per Brown's latest budget, would provide career opportunities for residents without higher education degrees through certification programs and courses that provide students with in-demand skills.
Other governors also announced investments and developments in technical education.
Arizona: Gov. Doug Ducey announced continued investment in high-speed internet for rural schools, computer science and coding education and technical education.
Delaware: Gov. John Carney emphasized the importance of preparing students for the modern workforce, and announced support for Zip Code Wilmington, a software development boot camp, as well as Delaware Pathways, an internship and externship program for students in tech.
Idaho: A $10 million investment in school technology, a statewide degree audit and data analytics system and technology integration requirements for schools were among Gov. Butch Otter's requests during his State of the State speech.
Indiana: Gov. Eric Holcomb brought up legislation requiring 100 percent of Indiana K-12 schools to offer computer science courses and invest in teacher professional development.
Iowa: Gov. Kim Reynolds noted that the state has invested more than $37 million public-private partnerships to improve STEM education.
Michigan: Gov. Rick Snyder emphasized the success of the Career Pathways Alliance, a statewide public-private partnership to improve education. Snyder also said he planned to prioritize equity in technical education opportunities, and called for additional funding for schools to offer career and technical education and professional trade programs.
New Mexico: Gov. Susana Martinez intends to solve the STEM teacher shortage by training and allowing "chemists, biologists, engineers and others" to teach, and called for funding to update technology and broadband access in schools.
Rhode Island: Gov. Gina Raimondo noted Rhode Island's status as the "first state in America to teach computer science in every public school."
South Carolina: Gov. Henry McMaster's budget proposes $3.3 million in training new computer science and coding teachers. McMaster also called for the creation of the South Carolina Workforce Partnership that will "connect businesses with high schools and technical colleges to collaborate on internships, dual credit and certificate programs for students interested in the skilled trades," especially in rural areas.
South Dakota: Gov. Dennis Daugaard encouraged high schools to "expand the availability of work-based education experiences, such as apprenticeships, internships, or job shadowing." Daugaard also announced a partnership allowing high school juniors and seniors to take classes in cybersecurity, network services or software development that will count as both high school and college credit with local universities.
Vermont: Gov. Phil Scott announced a plan to expand adult technical education that will be included in his budget, and and a need to "better serve the current needs of workers and our businesses."