AWS and Northern Virginia Community College announce 'groundbreaking' cloud computing degree
NOVA will begin offering the associate degree to students this fall, with plans to expand it to a bachelor degree at nearby George Mason University.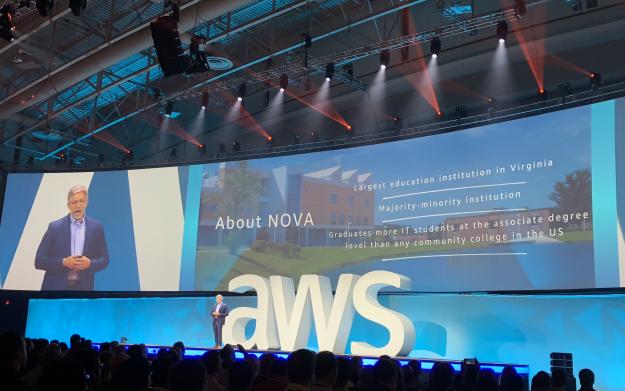 Northern Virginia Community College (NOVA) and Amazon Web Services (AWS) announced Tuesday that they have created a first-of-its-kind associate degree in cloud computing.
"This is groundbreaking," said Teresa Carlson, vice president of the worldwide public sector for AWS, during a morning keynote address at the AWS Public Sector Summit in Washington, D.C. "It's the first cloud associate degree ever. This can and should be a model for educational institutions across the country and the world."
Courses will be available to students beginning this fall and can be earned as credit toward a cloud computing specialization under NOVA's Information Systems Technology (IST) Associate of Applied Science degree.
NOVA is the largest public college in Virginia, the second-largest community college in the country and awards more IT degrees and cybersecurity degrees than any other community college in the country, according to Scott Ralls, its president. "And our intent is to award more cloud degrees than any community college in the country in just a few years," he said during the AWS keynote.
The two-year, 63-credit program seeks to meet the demands of the workforce, Carlson said — for three years in a row, LinkedIn has named cloud and distributed computing as the No. 1 skill employers are looking for in new hires.
Teresa Carlson, vice president of worldwide public sector for AWS. (EdScoop)
Amazon, through AWS Educate and its partnerships with colleges and universities, wants to play an active part in preparing the future workforce. "We're investing very heavily in a pipeline of tech talent," Carlson said. "It's important that we get those skills moving — fast, at all levels."
In an interview with EdScoop after the announcement, Vincent Quah, the regional head of education, research and nonprofits for AWS, emphasized that the cloud computing degree at NOVA is intended to serve as a blueprint for other education institutions. "This is something that should be replicated around the world," he said.
The curriculum will cover a wide range of topics — from virtualization, server management, storage and networking to application deployment, security, hardware and programming.
"This associate degree is mapped to the skills and requirements that the industry is looking for — that's a critical part of it," Quah said. "Students will graduate with real, hands-on experience, and that's important."
NOVA is already working with four-year institutions to develop a bachelor degree in cloud computing, Carlson said. George Mason University — also located in Northern Virginia, where a high concentration of the nation's tech sector lives and works — is one of the public universities looking to pilot the degree program.
"I think it's a natural progression," Quah said. "We start with a two-year community college. The next progression is obviously a full, four-year degree program."
In a video broadcast to a room filled with some of the AWS summit's 14,000 attendees, Ralph Northam, the governor of Virginia, applauded the partnership.
"A key part of the new Virginia economy is building up our talent pipeline to match our education systems, from K-12 to higher education, and aligning our training programs around the skills needed for 21st century jobs," said Northam, a Democrat. "The new cloud computing program will offer NOVA students the opportunity to gain a breadth and depth of knowledge in cloud computing, learn relevant programming languages and acquire the skills necessary to attain valuable competency-based certifications frequently demanded by the industry."
The news from NOVA and AWS follows recent announcements that Carnegie Mellon University will soon begin offering an undergraduate degree in artificial intelligence and that Virginia Tech is building a blockchain-focused curriculum , with an undergraduate minor expected to become available in the next two years.