Data dominates in EDUCAUSE's top IT issues for 2019
Items from last year's list were dropped to make room for more facets of higher education's 'data journey.'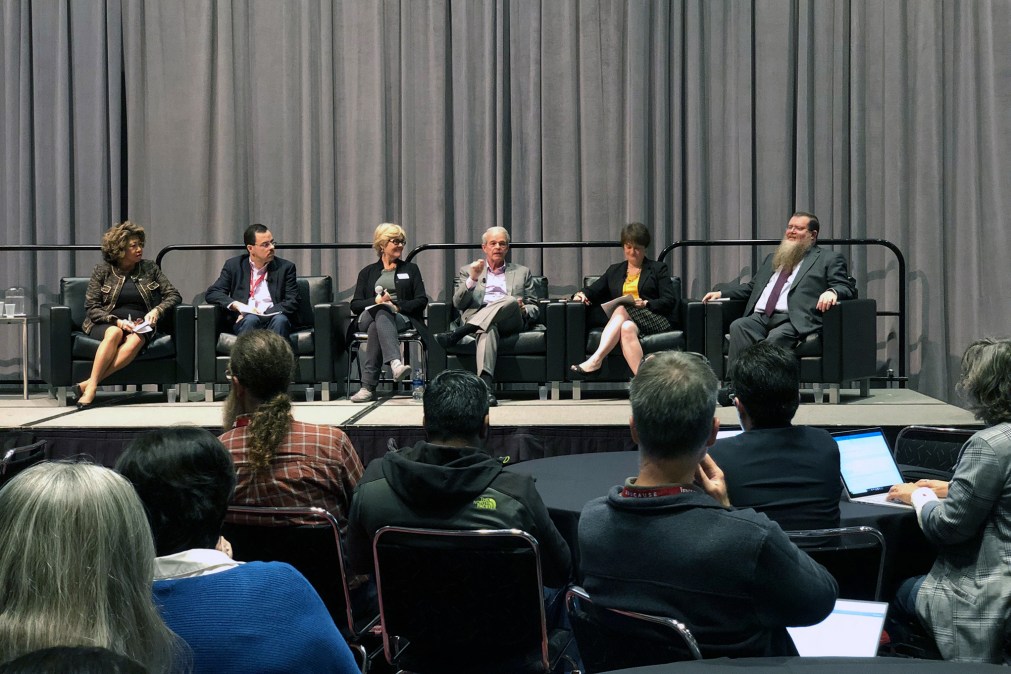 Data is at the heart of IT priorities for higher education leaders heading into 2019, according to findings released Thursday by the nonprofit association EDUCAUSE.
EDUCAUSE's annual list of the "top 10 IT issues" in higher education institutions prioritizes data privacy, protection and data-enabled services, according to Susan Grajek, EDUCAUSE vice president for communities and research.
"Five of the issues on the top 10 IT list are about data," Grajek told EdScoop in an interview just prior to the release of the top 10 list. "Whether it's data integrations, data-driven decision making, data management and governance. Security is about data, privacy is about data, and it really is about that data journey that higher education has been on for a while."
Speaking on a panel during EDUCAUSE's annual conference in Denver, Colorado, on Thursday, West Virginia University Vice Provost John Campbell underscored some of the challenges surrounding data in education.
"Oftentimes, we find that IT units are in the hostage negotiation situation, trying to free the data on campus so that units can make more effective decisions," Campbell said. "I think that's just one of those items that we all need to work on."
For the fourth year running, information security sits at the top of the association's priorities list. Even on this issue, data figures prominently in the discussion, said panelist Merri Beth Lavagnino, director of strategic planning and enterprise risk at Indiana University.
"I'm thinking that a lot of times when I was asked to do something security-related, it wasn't the security control that was making it [difficult], it was that I didn't know where the data was. We're going to have to get working on that data," Lavagnino said.
Shifting concerns over workforce figure into this year's list, too — "IT staffing and organizational model," and "change leadership" were dropped from the list with a new emphasis on putting data to work.
"We are understanding the power of data and especially applied to algorithms, and soon machine learning and predictive analytics," Grajek said.
Data and its accompanying analytics does not just give institutions information, Grajek said, but it helps "to influence outcomes, to really help make higher education more affordable, and to help students graduate."
"Last year it was about the structure and creating the infrastructure," said Grajek. "And this year, it's about scaling, it's about strategy and kind of moving up the ladder."
EDUCAUSE's top 10 IT issues in higher education for 2019:
Information Security Strategy: Developing a risk-based security strategy that effectively detects, responds to, and prevents security threats and challenges.
Student Success: Serving as a trusted partner with other campus units to drive and achieve student success initiatives.
Privacy: Safeguarding institutional constituents' privacy rights and maintaining accountability for protecting all types of restricted data.
Student-Centered Institution: Understanding and advancing technology's role in optimizing the student experience (from applicants to alumni).
Digital Integrations: Ensuring system interoperability, scalability, and extensibility, as well as data integrity, security, standards, and governance, across multiple applications and platforms.
Data-Enabled Institution: Taking a service-based approach to data and analytics to reskill, retool, and reshape a culture to be adept at data-enabled decision-making.
Sustainable Funding: Developing funding models that can maintain quality and accommodate both new needs and the growing use of IT services in an era of increasing budget constraints.
Data Management and Governance: Implementing effective institutional data governance practices and organizational structures.
Integrative CIO: Repositioning or reinforcing the role of IT leadership as an integral strategic partner of institutional leadership in achieving institutional missions.
Higher Education Affordability: Aligning IT's priorities and resources with institutional priorities and resources to achieve a sustainable future.
Jake Williams and Wyatt Kash contributed reporting to this story.