Friends remember SETDA director Candice Dodson as an edtech 'powerhouse'
Friends and colleagues mourning online said Dodson's contributions to education will leave a lasting impact, many renewing their own commitments in her memory.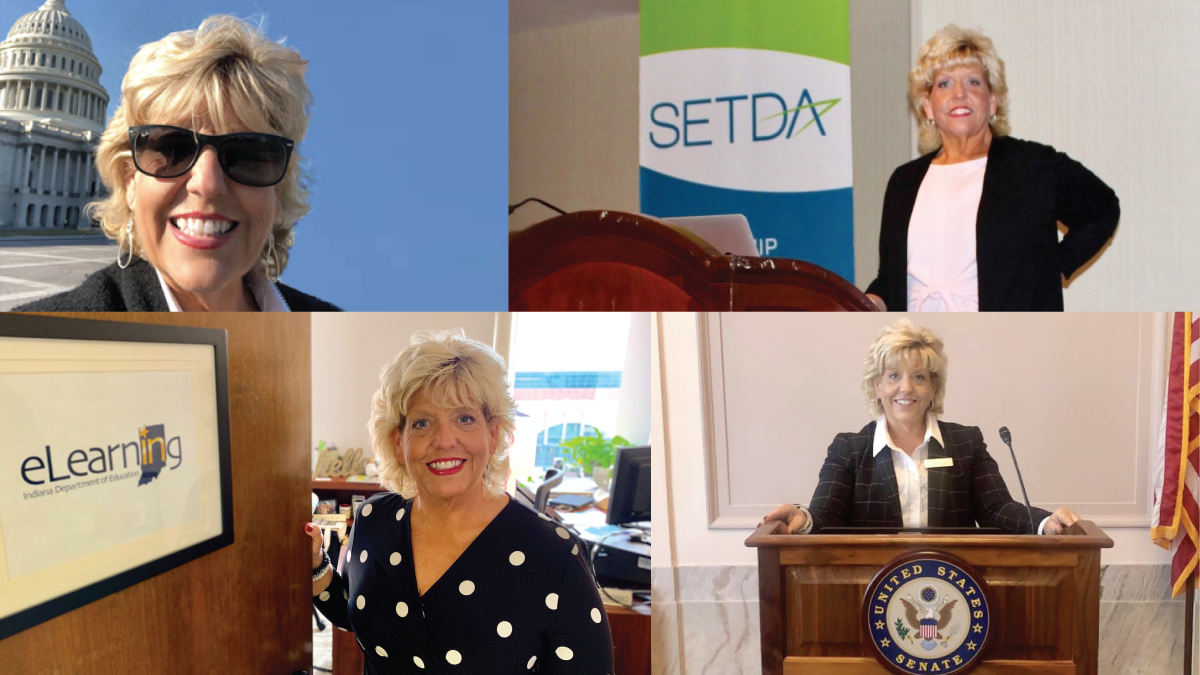 Candice Dodson, executive director of the State Educational Technology Directors Association, passed on this week, but her work as an educator and advocate for technology as a way to empower teachers and support student success will leave a lasting impact in education, her colleagues and peers said.
"She was a powerhouse national #edtech leader, a full-throated advocate for children & walked the walk of her work in a positive, inclusive way that will never be forgotten," Joseph South, chief learning officer for the International Society for Technology in Education, wrote on Twitter.
Dodson, who died from injuries in a traffic accident Wednesday, began her career as a classroom teacher in Indiana in the mid-80s before moving on to serve the state in a variety of leadership roles, including the director of e-learning for the Indiana Department of Education from 2011 to 2019.
In April 2019, Dodson was named executive director of SETDA, where she served as an advocate for districts, schools and learners across the country to arm them with educational technology resources. Her goal as director, she told EdScoop, was to help states do the best that they can to support their districts, schools and learners with edtech resources.
"Leveraging technology for learning absolutely unlocks the ability of educators to personalize learning for all of our students and it really is the strongest pathway to equity for all students," Dodson said.
And through collaboration with education, state and national leaders, Dodson was able to spread her message of edtech's importance and help improve access to edtech resources a schools across the country, her peers said.
"Many school districts are equipped for online learning because of Candice. Indiana was fortunate to have her at the helm of eLearning. She was an EdTechHero who will never be forgotten as the legacy she blazed was a wide, bright trail,"Carol Gardiner, Indiana educator and director of online resource center Readable English, wrote on Twitter Thursday.
Among issues like personalized learning for students and technology support for teachers, broadband access stood out as one of Dodson's most important missions, and she frequently affirmed her support of policies to improve digital equity.
"Today's students need equitable, robust bandwidth access to ensure that engaging, personalized learning experiences are being implemented for all," Dodson said last year. "Skills based on dynamic digital instructional materials, online simulations, coding, and content creation are essential to a student's success for today and into the future. Connectivity is a key variable to making this happen."
And with COVID-19 highlighting many of the challenges facing education, such as providing equal access to online learning and digital resources for students, Dodson continued her charge to call on national and state leaders to support education with improved access to technology.
"NOW is the time to rethink school. Returning to 'normal' is not the answer. How do we use this time to personalize and engage learning to serve all students and professionalize teaching? What are the best parts of 'school' and what can we eliminate?," Dodson tweeted earlier this month.
Dodson's colleagues and peers said they will continue on her work and ensure that her leadership as an advocate for technology will be carried forward.
"[Candice Dodson] inspired me, believed in me, challenged me, made me smile, and I strived to make her proud," tweeted Brett Clark, a friend of Dodson's who works as a technology specialist for Riverside Technologies. "Her fingerprints will forever be imprinted on Indiana schools and beyond."