Educators salvage canceled Educause event with an 'unconference'
A smaller and more relaxed gathering was deemed a success by some attendees after the original event was canceled due to the coronavirus outbreak.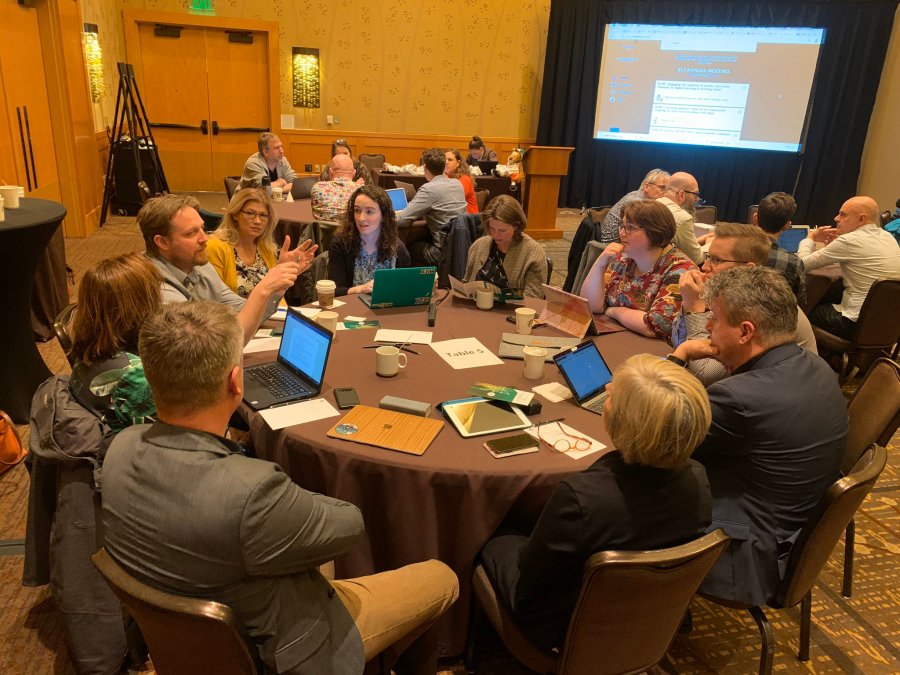 Educators planning to attend Educause's Learning Initiative conference near Seattle, Washington, this week got a real-world lesson in problem solving after organizers cancelled the event, citing concern over the rapidly spreading coronavirus. Within a couple hours of the announcement, would-be attendees assembled an "unconference," blending in-person and remote participation, to salvage some of the event's content and seize an opportunity to collaborate with peers.
Michael Greene, associate director of Duke University's learning technology services and strategy, told EdScoop that he was already in Seattle with several of his colleagues when he got the message that the conference had been cancelled.
"We were upset for a minute," he said, "and then we were like, well, what are we going to do now?… How are we going to make use of this time?"
Greene proposed an "unconference," an event driven by conversation and discussion between peers that's more informal than a traditional conference that's focused around presentations lead by experts. Educause's event staff were supportive of the idea, Greene said, and let the unconference set up camp in the hotel event space that would have hosted the original event at the Hyatt Regency Bellevue hotel and kept the Wi-Fi up for attendees to use during what would become an unofficial two-day event concluding Tuesday.
Greene and his colleagues began rallying educators who were already in Seattle for the conference and word of the unconference spread across Twitter and attracted the attention of Nate Angell, director of marketing for the edtech company Hypothesis.
"He saw what was going on and said… maybe we could do something remote for folks," Greene said. And the two decided to assemble the unconference together.
Angell quickly pulled together a Google document with proposed discussion topics and breakout sessions for unconference attendees and set up web conferencing so those not in Seattle could participate remotely.
Unconference attendees voted on which topics should be discussed, building an amended conference agenda that captured the top issues that educators wanted to learn more about — including virtual reality in education, course design, the 2020 Horizon Report and coronavirus emergency responses in higher education.
"I think the biggest challenge for me was: How are we going to do anything with this online audience?" Greene said.
Normally, he said, setting up a virtual conference requires planning to ensure attendees have a seamless experience and can engage easily with the content. This time, there was almost no time to plan, but Greene said he thought the event was largely a success.
For Melissa Blankstein, a surveys analyst for the nonprofit research organization Ithaka S+R, this would have been her first time attending the ELI conference. Although she said she was initially disappointed when the event was cancelled, Blankstein discovered the unconference, giving her a second chance to join discussions and collaborate with other attendees.
"I was very, very happy that the people at the conference were able to mobilize and put some things together and I was able to take away the knowledge I was hoping to gain from the original conference experience," she said.
Educause estimated that about 600 people would have attended the in-person event, which was scheduled to have more than 100 panel discussions and breakout and networking sessions. Greene said the unconference, on the other hand, gathered about 50 people — in parson and remotely — and held 10 discussion sessions over two days.
"I think that's pretty awesome considering we were all going to have zero conversations, you know?" Greene said. "I think that this was a prime example of kinda of walking the talk or practicing what we preach. We talk to faculty a lot about active learning and responding to in the moment kind of teaching moments and giving feedback in real time … and when we were presented with a situation that needed us to respond in a moment, I was really proud of the teaching and learning community at ELI. We made the most of it and, you know, turned out into something really cool."