Future Farmers of America, Microsoft to develop tech-based agricultural curriculum
The three-year partnership with Microsoft aims to bring agricultural education into the 21st century. It will kick off at the FFA's annual convention in October.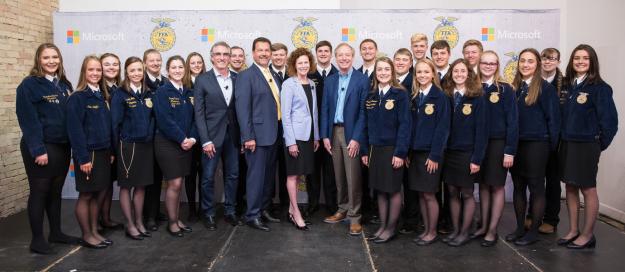 The Future Farmers of America, or FFA, will be implementing new technology-based curriculum materials to more than 11,000 agricultural education teachers across the country, by way of a new partnership with Microsoft Philanthropies.
The partnership, announced Tuesday and called "Blue 365," will see supplementary curriculum based in coding, artificial intelligence, science, research and entrepreneurship brought to the forefront of pre-existing agricultural education classes already being taught in districts across the country.
"When teachers are talking about or teaching agronomy, or crop science, this can provide them with the materials to talk more specifically about precision agriculture and the role technology plays in crop farming, as an example," Mark Poeschl, CEO of FFA, told EdScoop. "While we expect these will be more supplementary materials for teachers, it'll provide for a much more well-rounded educational experience for students."
Poeschl said ideally, this partnership will allow kids to see that they can use cutting-edge technology and skills to build their careers right where they grew up and based on what they learned in FFA chapters, of which there are over 8,600 nationally.
The FFA is a federally chartered nonprofit organization that provides leadership and educational opportunities to more than 650,000 middle and high school students nationwide. School districts will be able to choose which aspects of the new curriculum they will integrate into their classes, depending on the region's agricultural needs.
FFA member students are expected to participate in leadership-building activities within the organization and maintain an experiential work program, or a "supervised agricultural experience," outside of the classroom. The third component of membership, Poeschl said, is enrollment in an agricultural education class. With Microsoft's help, he said, the organization can continue to "create the FFA of the 21st century."
"We had envisioned topics around sustainability, around the environment, around water conservation, soil conservation, drones, robotics, precision agriculture, all those types of things that represent 21st century agriculture," Poeschl said.
The curriculum has yet to be finalized, according to Mary Snapp, lead of Microsoft Philanthropies. Some of the curriculum will simply involve using burgeoning technology tools — machine learning and data analysis, for example — to solve current agricultural issues in horticulture, animal science, biodiversity and environmental sustainability, she said, but Microsoft's role won't be as a primary hardware or software provider to the classrooms.
Snapp also mentioned incorporating Microsoft's computer science initiatives, such as the Hour of Code and AI for Earth , into the classroom.
The three-year deal between the FFA and Microsoft will also see Microsoft sponsor the FFA's Blue Room, which is a 17,000 square-foot technology showcase the organization will have on display at its annual convention in Indianapolis this October.