Here's how you can integrate edtech into homeschooling
We talked with experts to get the scoop on the best ways to add technology to homeschooling.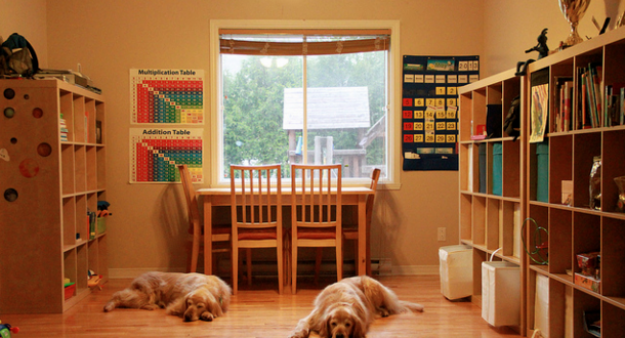 Edtech works just as well at home as it does at school.
That's what experts say of kids who are homeschooled – and they have the advantage of a personalized curriculum and fewer barriers when it comes to selecting and purchasing edtech tools and software programs.
"A lot of homeschooling families are technology trailblazers, because they don't have big hoops to jump through like a larger school [does]," said Kate Whiting, CEO at Educents, an online marketplace that provides edtech resources.
"There are a lot of outlets for people to use," she continued. "Parents are getting excited about the opportunities to teach their children at home because before the internet, you had to go out and look for technology."
With so many great tools available, we narrowed it down to eight easy ways to incorporate technology at home:
Discover books using FarFaria.
FarFaria is a mobile app that features thousands of children's books. The app also includes features like "Read-to-Me," which narrates stories aloud for kids. Homeschoolers ages 1 to 9 can indulge in the selection of books arranged in fairytale kingdoms like "Bedtime Bluffs" and "Classics Grove."
"Farfaria is like Netflix for books, it's like on-demand stories for your iPad, which is awesome," Whiting told EdScoop.
Each story has a Common Core reading level and kids can access the stories offline. The app allows kids to read a new story for free each day, and for $4.99 a month, kids can have unlimited access to the selection. Learn more here.
Add online classes to your curriculum.
Parents who homeschool their children can enroll them in online classes. Through accredited online courses, kids can follow a curriculum similar to students in traditional schools and receive online support from teachers. Providers like Calvert Education offer such courses.
Teach grammar with Quill.org.
Quill is an online resource that offers interactive writing, vocabulary and grammar lessons aligned to Common Core standards. Through Quill, homeschool teachers can assign activity packs, or a group of assignments, to students so they can spend less time sorting through online pages and more time teaching, experts say. Quill activities can be used for kids in K-12, and the site even offers some lessons suitable for college kids. Students can complete each lesson in 15 minutes or less. Teachers can also track their students' progress on the site and kids receive instant feedback after completing each assignment. The Teacher Premium Quill package is available at Educents for $80. To learn more, click here.
Use free educational tutorials on Youtube.
People use YouTube for just about everything – entertainment, exercise videos and DIY instructions among them, but the popular video-sharing site also features tons of educational videos. Homeschoolers can find countless YouTube tutorials on school subjects like math, science and writing from kindergarten to college. Many of the educational videos include step-by-step instructions and sample problems. Khan Academy, a free educational resource, uploads helpful videos about math, computer science and art to YouTube regularly.
Include coding in your curriculum with CodaKid.
CodaKid, a children's coding and game design academy, offers an online "Modding for Minecraft" class so kids can learn how to modify code. The course is suitable for kids ages 7 to 15. The program sets itself apart from competitors by allowing kids to code using professional programming tools instead of drag-and-drop instructions. The software is available on Educents for $129.99.
Tell your homeschoolers to make a digital portfolio.
Homeschoolers can use Wix and WordPress, both web development platforms, to create digital portfolios to store their work. Kids can use the sites to customize their own web pages and share their work with other students. Seesaw: The Learning Journal, is another tool that can be a tool for student-driven digital portfolios.
Give your homeschoolers a 24/7 tutor with GradeSlam.
GradeSlam is a web-based resource that provides around-the-clock online tutoring for high school and college students. For $5 a day and $15 a month, kids can chat with expert tutors and get unlimited tutoring services. GradeSlam has certified tutors for all subjects – including math, science, English and foreign languages. For a limited time, Educents is offering yearlong access to GradeSlam for $99.
Teach kids how to read with Ooka Island's Learn to Read program.
Ooka Island is a game-based learning program designed to teach children from Pre-K-2nd grade how to read. The program promises personalized learning through adaptive reading tools. The program generates a personalized learning path according to the child's performance before advancing them to the next reading level. Ooka Island also provides weekly progress reports. Educents offers the reading program for $44.50, half off it's valued price.
Reach the reporter at darlene.aderoju@edscoop.com and follow her on Twitter @buuukky and @edscoop_news.