How Georgia built a statewide K-12 model for professional learning
Commentary: Lisa Schmucki, founder and CEO of edWeb.net, tells the story of how a small team built a big online network.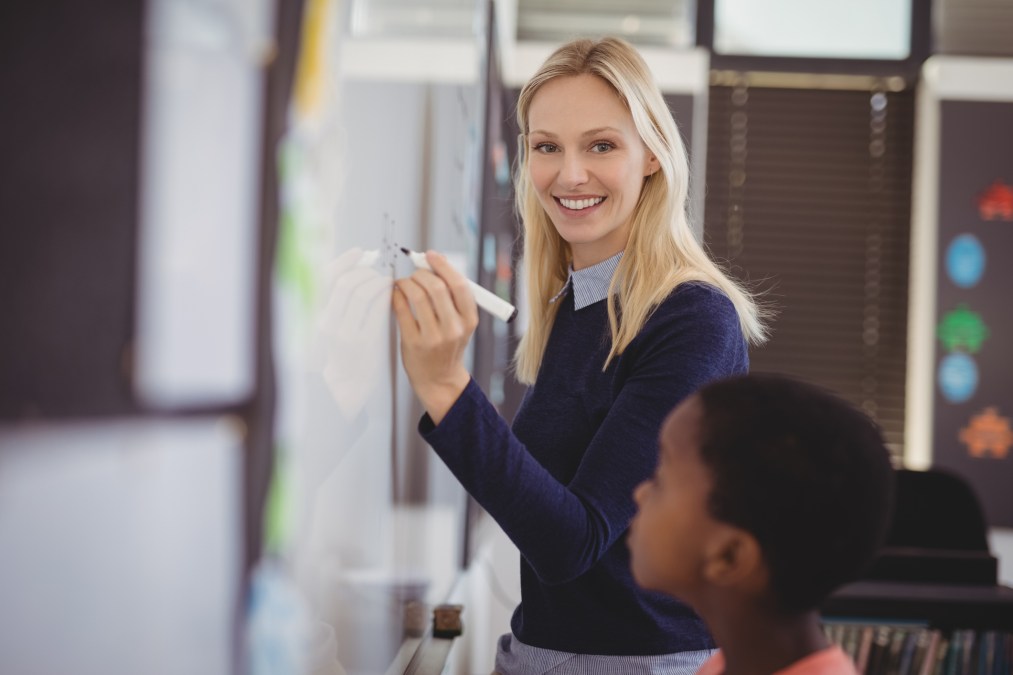 With a department of just two people, the Georgia Department of Education's Social Studies Department spent the last three years creating and maintaining virtual learning communities for K-12 social studies instructors throughout the state. In a recent webinar hosted by edWeb.net, Joy Hatcher and JoAnn Wood shared how they created the communities while balancing the requirements to meet new standards and lead inquiry-based instruction for more than 180 school districts and 30,000 social studies teachers.
After the state began implementing its Georgia Standards of Excellence in 2015, Hatcher and Wood began searching for a way to make professional development timely and relevant. It was a challenge for a department of two people to do this for 159 counties with 181 schools districts, but with only 29 social studies supervisors in the state. To meet this goal, they built an online professional learning program that uses the edWeb.net platform in combination with webinars and 14 virtual specialists in social studies at all grade levels. The model the department implemented provides a blueprint that can be adpated for any state-wide content area.
The program started in 2016 and grew to more than 4,800 members in the first year. The leadership community grew to 700 in the first year. In year two, the program grew to more than 8,000 members.
"I've always been a proponent of building community," Hatcher said. "We're better together. We're stronger together. I thought if there was some way we could connect teachers in districts that have only one school with other teachers in the state, we could expand our reach and be much more productive together. It's important to provide a consistent message and highlight good resources. We needed an outlet for educators to come together and talk about those things."
Hatcher said the department used edWeb to host its virtual learning communities, creating one community for each grade level in K-12, plus an additional learning community for social studies leadership across the state.
"We were able to call on a cadre of talented teachers to help us with moderating and facilitating the communities," Hatcher said. "The virtual specialist team is amazing and continues to serve as teachers or directors while also serving as virtual specialists for their thriving communities."
Also joining the webinar were three of what Hatcher and Wood call "virtual specialists": Heather MacKenzie, an instructional coordinator for social studies at Henry County Schools; Angie Battle, a fourth grade teacher at Warner Robins; and Jennifer Zoumberis, a first grade teacher at Perry.
"The virtual specialist is in charge of facilitating discussion in the discussion forums, emailing members when there's a new resource they're posting or if there is a particular opportunity that's coming up," Hatcher said.
Once a month, the virtual specialists are trained via a webinar by Hatcher and Wood on a topic from the framework document. They record the webinar, put it on YouTube and post the link in the in the edWeb community, so it's accessible to teachers at any time.
"New teachers are joining all the time," Hatcher said. "All of the information and resources are archived in the edWeb communities so teachers can go back and choose things that are relevant for them. Social studies departments use this as a resource, as well, and play webinars at department meetings, talk about the particular focus, and how they can use the information in their classrooms."
The edWeb professional learning communities and webinars work together. Georgia has presented 23 webinars so far in just over 2 years. To reach teachers across the state to get participation in the program and to encourage engagement, Hatcher and Wood use every communication channel they can think of:
Word of mouth
Announcements in the GaDOE newsletter
Emails to teachers in the state
Emails to department chairs to ask their teachers to sign up
Social media messages daily
Attending as many Georgia state conferences as possible
The virtual specialists receive some compensation, but it was clear from the presentation that it's a true labor of love. As one virtual specialist said, "We love our jobs and the chance to connect with teachers."
Q&A with the virtual specialists
MacKenzie: The lesson I've learned about being a virtual specialist is to be meaningfully informed and connected.
Zoumberis: It was new and you're nervous, so it's challenging, but then the feedback comes in and they say, "I love how you're doing this" and they're taking the information back to their classrooms and you realize you really are making a difference. Their feedback helps tweak the webinars to provide what teachers want and need.
Battle: It is a true professional learning community. It's not just us picking out of the air what we're going to talk about or being told what to present. We're having conversations with teachers and administrators in the field. It's a common ground and very beneficial. I can get teachers answers to questions they have about the standards, and I'm learning and sharpening my knowledge, and that benefits my students in my classroom, so that's a win-win
MacKenzie: It's been a great leveler, and I love the equity of support it provides.
Hatcher: There's a connection. Before we had these professional learning communities, if a teacher had a question and is in a district without a social studies administrator, who would they go to for clarification? Most teachers don't know how to contact the Georgia DOE or are hesitant to ask their questions. It's created this community of support in Georgia where it's not top down, it's all of us together, all in the same direction, and a consistent message which is important. Like Heather said, it's an equalizer. We're connecting teachers with vast content knowledge with teachers who are tech savvy. How do we know that people are paying attention? How do we know it's making a difference? Many are lurkers but we get feedback, we see the webinar clicks, they come up to us at conferences.
Wood: We're very much a community, a family.
Hatcher: For webinars there can be obstacles with connectivity, or you're on a webinar at school and they are making an announcement, or you have to go home because there's no quiet place at school, and then there are dogs barking.
MacKenzie: It's important to have a moderator. Bandwidth can be tricky. So a moderator is crucial to help with tech issues.
Do you recommend edWeb as a platform for this kind of program?
Hatcher: Yes! The reason I chose edWeb is not just because we can create communities, but also manage who joins the community. We can't pay a virtual specialist to manage a community with hundreds of thousands of people all around the world. With edWeb, we can control who joins. When we get our teachers on edWeb, edWeb gives them access to hundreds of other communities about things they're interested in like gamification, 21st century learning, differentiation, and much more. It puts them into our communities for Georgia, but it also offers them communities for professional development on their own, which is particularly valuable for smaller districts that don't have access to this kind of PD.
How do you know it's impacting student learning?
Hatcher: The amount of leadership we're seeing from social studies teachers, the level of the questions that teachers have for us, shows us how they're changing their daily lessons and giving over control of their classrooms to students with the inquiry model. We're seeing a much larger percentage of teachers do that.
MacKenzie: Joy and JoAnn have re-ignited and re-energized the teachers, and enthusiasm is contagious. Teachers are growing in their confidence, in their content knowledge, their pedagogy, and in their excitement. They feel they are not alone, and they have a place to go for resources. They get excited and there's no doubt that's translated into measurable achievement in the classroom.
Battle: Engagement equals achievement. I heard one of my reluctant learners say the other day, "I just love social studies," and my heart went boom!
Zoumberis: The love for social studies! The biggest reward I see is that my kids are loving social studies and giving each other fist bumps.
About the presenters
Joy Hatcher is the social studies program manager for the Georgia Department of Education. Prior to working at the DOE, Joy spent 12 years as a high school social studies teacher and two years as a professional learning facilitator in DeKalb County Schools. Joy has an M.Ed. from Georgia State University in social studies education and is currently working on completing her doctorate at GSU.
JoAnn Wood has taught many years at the elementary and middle levels. She has been an instructional technology mentor, academic coach, and district social studies supervisor, and now works at the Georgia Department of Education as a social studies program specialist. Working with children and teachers is deeply satisfying to her, as is sharing her enthusiasm for excellent children's literature to promote social studies inquiry. She is equally fervent about reading, travel, tennis, civic engagement, and her beagles Porkchop and Rufus.
Heather MacKenzie is an instructional coordinator for social studies for Henry County Schools, the eighth largest school district in the state of Georgia. She came into this position four years ago after 14 years as a classroom teacher, where she had experience as a special education, elementary, and middle School teacher. She is a former Gwen Hutchinson Outstanding Educator awarded by the Georgia Council for the Social Studies and most recently, the 2018 Social Studies Supervisor of the Year. During her career Heather has enjoyed presenting at the local, state, and national levels and brings that passion and enthusiasm into her role as virtual specialist for eighth grade.
Angie Battle has been a grades four through eight classroom teacher for over 26 years. She is passionate about sharing effective teaching strategies with social studies teachers. In addition to teaching fourth graders in Warner Robins, Georgia, Angie also serves as a Georgia Council on Economic Education Program consultant, the GaDOE fourth grade virtual specialist, and a social studies curriculum writer for Houston County, Georgia.
Jennifer Zoumberis is a first grade teacher at Langston Road Elementary School in Houston County, Georgia. Jennifer received her BS, MaE, and EdS in early childhood and elementary education at the University of Alabama at Birmingham. She is currently in her 19th year teaching. Jennifer helps write curriculum for her county and facilitates the kindergarten and first grade webinars for the Georgia Department of Education. She is passionate about empowering her students to seek information and share what they know with others.
Join the community
edWeb 24-7 PD is a free professional learning community on edWeb.net that provides online coaching and ideas on how to use edWeb as a free platform and resource for personalized PD.
The edWeb webinar referenced above can be found here.