Higher ed policy database gives institutions a new resource
Many universities can now search for the policies of their peer institutions, with entries for topics ranging from violence to freedom of expression.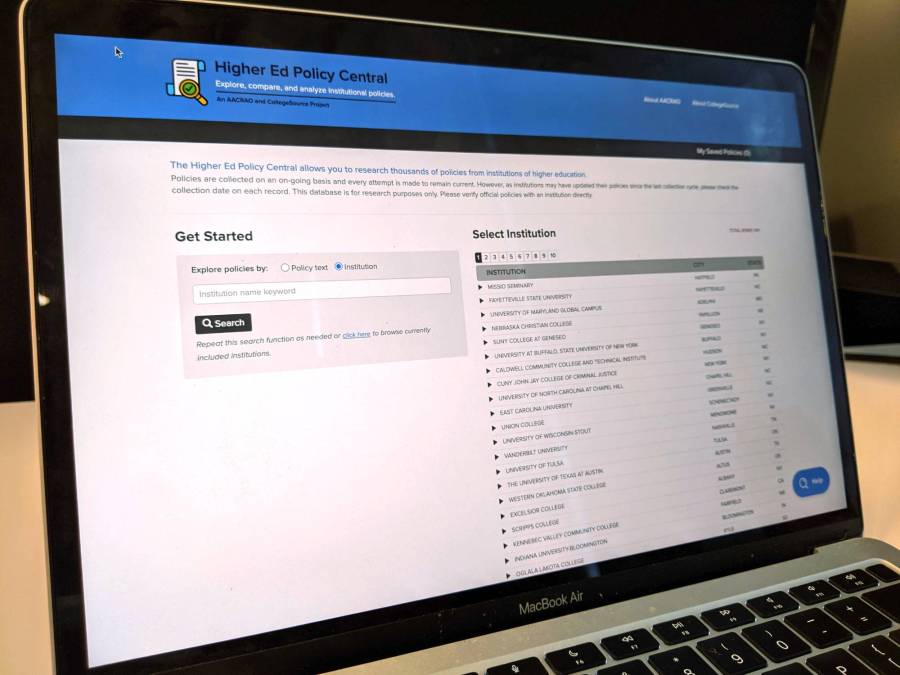 A higher education policy database with information from almost 1,000 colleges and universities, launched Tuesday, is the result of more than three years of work between the American Association of Collegiate Registrars and Admissions Officers and the software company CollegeSource.
The database includes information on admissions requirements and course descriptions, but also on policies outside of academic operations — subjects like violence, freedom of expression and student data. The association's members can search the database by institution or keyword to reference the policies of their peer institutions and possibly incorporate the information into their own planning.
"When you're trying to update a policy, the first question that gets asked is, 'Well, what do other people do?' And that has never been an easy answer," AACRAO Interim Executive Director Melanie Gottlieb told EdScoop. "That has required multiple days of research."
'More transparency'
The tool is designed to replace clicking around multiple university web sites and making calls to compare policies and course requirements, she said.
"It'll be an advantage as we work towards lots of big higher ed issues that are that are on the landscape right now," Gottlieb said. "Lots of people are talking about things specifically like, for example, there's lots of national conversation around transfer. And we're trying to find ways to make that transfer pathway much more equitable. The way to do that is more transparency in the policy and practice."
Gottlieb said the association partnered with CollegeSource because the company had a starting point for how to store this information because of its work on the Transfer Evaluation System, which tracks course equivalencies across institutions. After designing a basic structure for the database, designers picked a randomized group of AACAO members to populate it.
The idea behind the database isn't to force institutional policy into a standard framework, CollegeSource executive Alanna Fenton-Esquinas told EdScoop, but to surface the policies, normalize some of the language between them and make them searchable.
"There was quite a bit of learning as we went," Fenton-Esquinas said. "That's why it's taken a little time, we wanted to make sure that it was presented in a way that was really usable."
Missing policies
CollegeSource workers scoured each website, copying the information into the correct fields manually — a process Fenton-Equinas said was "quite laborious." There was no way to automate pulling in policy and catalog information, she said, because much of the information was nestled within long, bulleted chunks of text. Copies of policies in their original form are attached to database entries as PDF files to ensure context isn't lost, she said.
Work on the database is also highlighting the amount of inaccessible policy information. One in 20 catalogs in an initial entry group of 920 institutions were missing policies, CollegeSource President Troy Holaday said in a December presentation, a key factor being dead links to university webpages. CollegeSource workers reached out to those institutions to let them know their policies were missing, he said.
Institutions, meanwhile, are reaching out to CollegeSource to get information into the database, and as more college policies are listed, Gottlieb said, it'll be easier for users to get that "snapshot" of how institutions are approaching specific topics.
"Ultimately, [the database] is going to benefit the learners because the best practice policies are going to rise to the top and they're going to get more exposure," she said.