How California could reach millions of learners online
California Community Colleges' Eloy Oakley and ASU President Michael Crow discussed restructuring higher ed at the ASU+GSV Summit.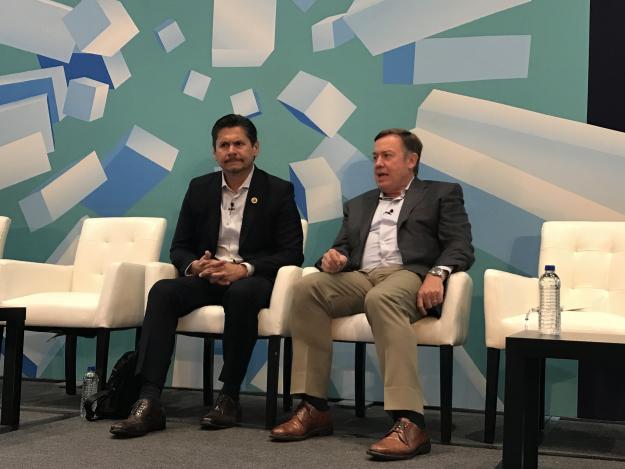 Eloy Oakley has been tasked with an enormous assignment. The chancellor of the California Community College System — which oversees 2.1 million students, or about one-fourth of the nation's community college students — has been asked to build a fully online college that is infinitely scalable and reimagines the current model of higher education.
If it is approved and funded as expected, this community college will be "one of the most significant online, technology-enhanced learning enterprises humans have ever constructed," Michael Crow, president of Arizona State University, said Monday at the ASU+GSV Summit in San Diego.
Crow and Oakley kicked off the conference — which draws about 4,500 leaders across higher education, K-12, entrepreneur and investment communities — with a conversation about how California's fully online, competency-based community college will cater to the 8 million working Californians who lack college credentials.
The idea for the online college was originally put forward by Gov. Jerry Brown, a Democrat, in January. Brown proposed $120 million in funding for the new institution — the system's 115th community college — which will focus predominately on sub-associate-degree credentials that would attract working learners who cannot quit their jobs to get the education they need to advance in their careers.
One of the biggest question marks hanging over this experiment, Oakley said, is the California Community College System's ability to grow, adapt and accommodate all of the state's learners and potential learners.
"It's all about scale," Oakley said. "This is the hardest thing for us to grapple with … We are doing a wonderful job of access, but if you think about it in terms of the next two, three, five years, it's the scale that we're going to have to reach to ensure that California remains a competitive state."
Oakley said "there is no way" the college system could scale its current model to meet the demand for post-secondary credentials in California, but more than just picking up another 4 million or 5 million students, he wants this online college to fundamentally change the culture of higher education.
That means breaking down the existing structures that exclude many students from going to college, he said. It means throwing away the idea that a degree from an elite college is a default path to the workforce. And it means democratizing skill attainment, he said. "We've got to relook at how do you look at skill attainment, how do you look at higher education," Oakley said.
It also means gaining access to advanced technology.
"We need a way to take greater advantage of the latest in learning science and artificial intelligence in order to better personalize the learning experience," Oakley said. "We need to be able to access technology in a very different way and we need to be able to have that opportunity to show it can help us increase the capability of our faculty and staff, not replace our faculty and staff."