New higher ed Horizon Report is released after uncertain future
The new report, published by EDUCAUSE, comes after its parent company, the New Media Consortium, went bankrupt last year.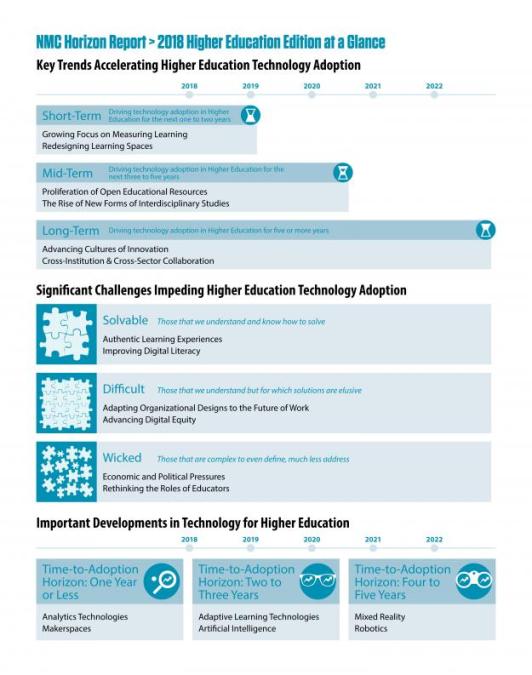 Following a stretch of uncertainty over whether the annual Horizon Report would continue to publish after its parent organization folded, higher education nonprofit EDUCAUSE released the much-anticipated technology-focused report Thursday.
As its predecessors have done, the NMC Horizon Report: 2018 Higher Education Edition pinpoints key trends, challenges and developments in education technology that are likely to affect teaching and learning over the next several years.
EDUCAUSE, an association composed of college and university IT leaders, bought the New Media Consortium's assets when it went bankrupt in December 2017. The $55,000 purchase included NMC's trademarks, website, membership and subscriber lists, along with the higher ed edition of the report, which EDUCAUSE had been publishing jointly with the group for more than a decade.
The Consortium for School Networking (CoSN) decided to take on the K-12 edition of the Horizon Report , and is working on a new series that is meant to build on the previous analyses.
The new report is consistent with previous publications in that it identifies trends such as a growing reliance on open educational resources (OER) and an increasing focus on redesigning learning spaces. Research by a panel of 71 experts had already been underway before NMC folded, and was completed by April.
Since April, EDUCAUSE assumed responsibility for completing the series of essays for the report as well as putting out a call for college and university projects that exemplify learning with technology. The group received more than 100 submissions.
"It was overwhelming, the incredible innovation that's going on across higher education," Noreen Barajas-Murphy, interim director of academic community programs for EDUCAUSE, said in an interview.
The panel whittled the submissions down to 18 projects that show how institutions are using emerging technologies. Among the examples are an artificial intelligence project that develops virtual patients for medical evaluations; a mixed reality project that incorporates 3D modeling in the digital reconstruction of historical structures; and an analytics project that aggregates student data to help advisors and faculty members provide academic support.
Barajas-Murphy said she was also impressed by the pervasive quality of makerspaces, which are expanding beyond four-year institutions to community colleges.
"When we were reviewing project submissions, almost half of them were makerspaces," she said. "It's great to see that makerspaces are maturing into all sectors of higher ed."
For long-term trends, the report zeroed in on "advancing cultures of innovation," which speaks to the integration of entrepreneurship and experimentation, and "an increase in cross-institution collaboration," which refers to different partnerships created across sectors that are enabled by technology.
As far as challenges go, that category is broken down into "solvable," "difficult" and "wicked" roadblocks to the adoption of technology in higher education. Creating authentic learning experiences and improving digital literacy fall under the solvable category, while advancing digital equity and exploring flexible workplace designs are among the difficult challenges.
More abstract political and economic pressures, which are more difficult to define, fall under "wicked" challenges.
Barajas-Murphy said the edtech community is the fabric that holds the Horizon Report together.
"One of the things very important to EDUCAUSE was to not only be committed to the investment in the assets, community and future planning, but to make a real effort to speak to community members and ask them what was so beloved about the report," she said. "We're really excited about the future and plans we have in EDUCAUSE to continue this tradition."
Reach the reporter at corinne.lestch@edscoop.com and follow her on Twitter @clestch and @edscoop_news .