As students return to campus, universities monitor for outbreaks
Some universities have reversed course on reopening their campuses, but others are pressing on, pleading with students to act responsibly.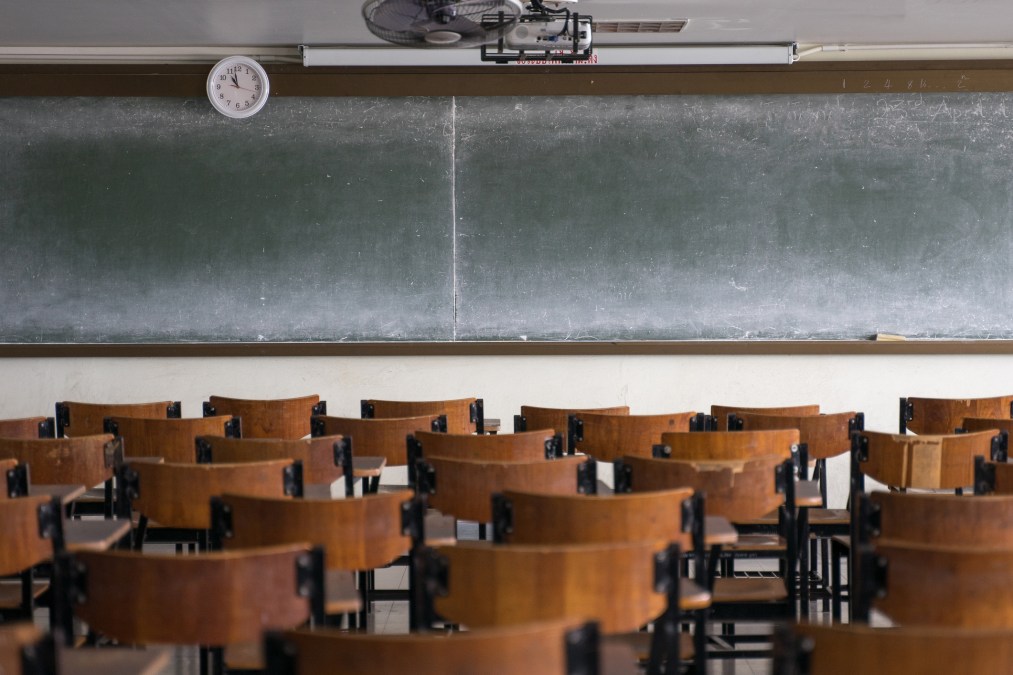 The school year is just starting, but a growing number of universities have already reversed their decisions to bring students back to campus and others are deliberating how many coronavirus cases it would take would close again.
In an effort to mitigate the spread of the virus and avoid the chaos that defined their closures in March, many universities prepared for the return of students over the summer, setting up classrooms that support social distancing, preparing health services to rapidly administer COVID-19 tests and educating students, faculty and staff on new protocols to prevent infection. But human behavior is the one thing universities are still struggling to control and threatens to force schools to revert back to a fully online semester.
At the University of North Carolina at Chapel Hill, in-person classes lasted one week before several outbreaks of the coronavirus on its campus compelled the university to switch back to remote learning last week. Between Aug. 10 and Aug. 16, UNC reported 135 new coronavirus cases, including 130 from students living both on and off campus, and quarantined 349 people who came in contact with positive cases, according to the university.
"As much as we believe we have worked diligently to help create a healthy and safe campus living and learning environment, we believe the current data presents an untenable situation," Chancellor Kevin Guskiewicz and Provost Robert Blouin wrote in a letter to students and faculty.
But some members of the university said these outbreaks were inevitable and the decision to close campus once again came as no surprise.
"We all saw this coming," read an editorial written by the editorial board of The Daily Tar Heel, UNC's campus paper. "University leadership should have expected students, many of whom are now living on their own for the first time, to be reckless."
'The virus … has been winning'
But UNC is not the only university struck with coronavirus outbreaks since reopening for the fall semester.
The University of Notre Dame reported just 33 positive tests out of nearly 12,000 administered — fewer than half a percent — to allow students back on campus when school began on Aug. 3. But over last weekend, the university reported 18 new tests came back positive out of the 41 administered — a positive rate of more than 40%.
"The virus is a formidable foe. For the past week, it has been winning," Rev. John Jenkins, Notre Dame president, said during a public address.
As a result of the uptick in cases, Notre Dame canceled in-person classes and moved them online for at least two weeks to try and get the outbreak under control before considering resuming in-person classes.
Learning from the challenges of their peer institutions, several other colleges, including Ithaca College, Carnegie Mellon University, Michigan State University, Columbia University and Barnard College, have all announced they will either begin the fall semester online or have moved classes online indefinitely.
'We'll get some cases'
Still, other colleges and universities plan to keep moving forward with their decision to reopen and host in-person classes.
Texas A&M University began class last Wednesday, and the university says more than 75% of students there will have at least one in-person course. Pennsylvania State University and University of Arizona, meanwhile, begin in-person classes Monday. For universities proceeding with in-person classes, the number of new cases in the days and weeks ahead will determine whether they stay open.
"We expect that there is gonna be a couple of bumps. We'll get some cases," Dr. Richard Carmona, director of the University of Arizona's campus reentry task force, said in an online briefing. "The question is the trend and where it's going."
The University of Arizona plans to bring about 5,000 students back to campus to begin in-person classes on Monday, instead of the nearly 45,000 students who typical live on campus each year, and will be following a variety of metrics, including the number of positive COVID-19 tests on campus and in the surrounding community and how many rooms the university has available to quarantine infected students, Carmona said.
"At any time we see any of the metrics that are going in the wrong direction, we can stop," Carmona said. And the thresholds the university has put into place to trigger a move back to fully remote learning are "quite low."
'No realistic strategy'
Similarly, the University of Texas, Austin outlined parameters that will trigger discussions of closing the school, including a significant increases in the percentage of positive cases, the inability to do sufficient testing due to supply chain issues or an inability to test, trace and isolate outbreaks on campus.
Syracuse University has defined outbreaks by five levels and plotted out how it would react to each one in its reopening guidance plan. Ten or fewer cases can be contained, but in the case of an outbreak of more than 100 cases, "there is no realistic strategy to contain or control the situation," according to the school's plan.
Ultimately, it will be up to college students to prevent outbreaks from occurring at their schools, some universities have said. After campus safety officers at the College of the Holy Cross in Worcester, Massachusetts, responded to a large party at an off-campus apartment, university leadership condemned the behavior and reminded students to prioritize safety and closely follow health guidelines.
"Not only did the number of people in attendance exceed the state limit on the number of people at a gathering, but attendees were not wearing masks or adhering to physical distancing guidelines," dean of students Michele Murray, director of health services Kelsey DeVoe and associate dean of students Paul Irish wrote in a letter to students. "Needless to say, this is a profoundly disappointing situation."
But controlling how students act isn't easy, said the University of Arizona's Carmona, so to successfully return to campus and keep universities open, students will have to change their normal behavior and adhere to health guidelines for the safety of themselves and their peers.
"The variable that we are trying to address is the social behavior," he said.