Traditional IT is vanishing from higher education
Edtech leaders say they're now part of the inner circle of executive leadership and the business of higher education is "100 percent dependent" on technology.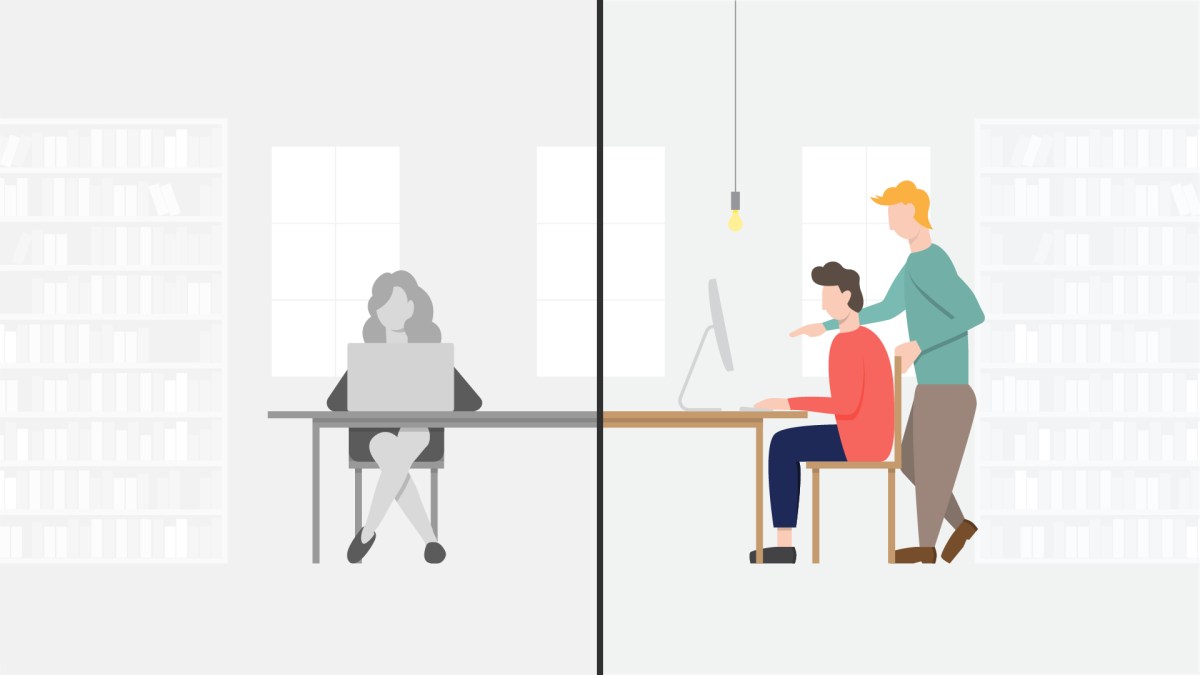 As technology increasingly supports all functions of a university — from student services to business processes — IT leaders say that creating a culture of collaboration is critical to modernize the institution and better support the university's business and education goals.
In the past decade, the traditional role of a university's IT department was to deploy and maintain new technologies to transform the services of the university and address some of the challenges facing the institution, but the IT strategy was often disjointed from the overarching goals of the university. Now, with universities' growing reliance on technology, leaders are rethinking how an IT department functions, relying on support and collaboration from technical and non-technical staff to implement technology.
When all members of a university understand the importance of technology to deliver on the goals of the institution and work together to support the IT strategy, technology implementation becomes much more agile, and allows the institution to readily respond to the changing needs of students and of university business functions, according to Tom Dionisio, vice president of technology and transformation at Southern New Hampshire University.
"When you think about digital transformation, it's a big, broad umbrella concept," Dionisio told EdScoop, adding that focusing on the people involved in the transformation is often more important than the technology itself. "[Culture] is going to have a big say in whether or not you're going to succeed or not," he said. "I think the other thing is it really starts at the top. … If leadership doesn't understand that their business is not only enabled by technology, but 100 percent dependent on it, they're in big trouble."
Understanding how technology can bring value to higher education and being able to collaborate and bring groups together to meet the needs of the institution through IT strategy is the primary role of any technology leader on a university campus, according to Susan Grajek, vice president of communities and research for Educause.
"Whether it's the educational mission, teaching and learning, research mission, the administrative functions, outreach [or] admissions, the integrated CIO will listen to what [institutions] are trying to achieve in general, and then be able to translate that and be able to say here's some information technology that can help," Grajek said. "Higher education is making enormous shifts in not just technology, but in the institutional culture, in the institutional workforce, in order to be able to use technology to reinvent then transformed the institution."
At the executive table
At Southern New Hampshire University, this focus on IT restructuring and integration started 10 years ago, according to university leadership. Tom Dionisio, vice president of technology and transformation at SNHU, told EdScoop that his role at the university has been meshed with the business goals of the university to deliver the best experience they can for students and faculty.
"I sit at the executive table, like every other executive, and that's a very small group of maybe five or six people that are charting the strategy of the university," said Tom Dionisio, vice president of technology and transformation at SNHU. "The business and IT here are really one in the same."
When determining what the overall goals of the university are, Dionisio said it's his job to interpret those plans and then decide on what technologies will best support the objectives the institution wishes to accomplish.
"If I'm having a discussion with the executive team about should we, or should we not go cloud, that's the wrong discussion for them to be having," he said. "It's really my decision. How I deliver on the capabilities that the university needs is my call, not the university's call."
In the decision to move all of the university's major platforms to the cloud, at the executive level, Dionisio said, the goal was to increase the institutions ability to be agile and scale up service delivery, as well as free up IT staff to focus on the delivery of new technology instead of the maintenance of the current IT infrastructure. But it was Dionisio who ultimately decided moving to the cloud would be the appropriate solution to deliver on these goals.
Culture shift
But integrating IT into the core of SNHU's business functions has involved more than bringing top leadership together. Changing the culture around IT implementation so that both IT and non-IT staff work together to support a project has been a key factor in SNHU's ability to roll out new technology and deliver on the institution's goals.
When implementing a new project, like the transition to a cloud platform, Dionisio said he builds out teams with all the necessary individuals to deliver on the proposed solution from start to finish. This includes staff who have the technical skills to set up the technology, as well as experts on the business-process and customer-experience sides of things.
According to Dionisio, "traditional IT no longer exists" at SNHU.
"It's one sort of seamless team," he said. "So there is a cultural shift that they're all together and measured on their effectiveness of the [customer experience] together regardless of whether they have to be working in some part of the business or technology … and removing those barriers and boundaries between the teams provides, at the end of the day, a much more targeted better IT solution with a lot less noise and miscommunication and missteps and wasted energy."
But according to Wayne Bovier, Founder and CEO of digital strategies company Higher Digital, these boundaries still exist at many institutions. "There really is a golfer gap between IT in most institutions today and the business leadership," Bovier said. But by bringing IT into a more strategic partnership with business and academic goals on an institution, university leadership and faculty will be able to align around business objectives and provide a better experience for students, he said.
Accelerated by the virus
The idea of digital transformation and culture change, however, is not new to universities. For the past decade, Educause, an association of IT leaders working to optimize the impact of technology in higher education, has organized the top priorities of chief information officers and IT departments at colleges and universities in an annual list. And since 2007, this list has recognized that better integrating the roles and responsibilities of IT within institutions is continuously a top priority among IT leaders in higher education.
And facing a sudden dependance on technology in response to the COVID-19 pandemic, many universities have doubled down on their efforts to support collaboration between all groups at an institution to create a culture that can better implement new technology solutions and improve IT strategy and service delivery.
At Davidson College in North Carolina, CIO Kevin Davis said he saw an increase in the amount of collaboration between faculty and staff as they responded to the cessation of in-person learning because of COVID-19. In moving all classes online, Davis said his priority has been to make sure that technology is implemented so it doesn't become a barrier to learning, but rather an enabling influence on the institution's ability to deliver critical services to students.
"College and university administration, we can sort of tend to have kind of this culture of blaming individuals for unwillingness to change … and this just sort of pointed out to me that it's not an unwillingness, but it's a lack of relevance," he said. "It's really been this amazing collaboration between the different folks on campus."
Across the education industry, COVID-19 has already accelerated the modernization of IT service delivery, according to Grajek, and will continue to transform higher ed IT.
"Although we're in a crisis right now with the whole pandemic, it also is an opportunity to really look at technology transformation and think creatively," she said. "I think new relationships are going to be formed, but I suspect that one of the biggest impacts that digital transformation will have will be on the culture of higher education and its ability and willingness to collaborate across the many areas [of an institution] and to become more agile at making changes."