Data dashboard maps future college enrollment trends 
New tool aims to help institutions visualize future enrollment and student population trends to the year 2030.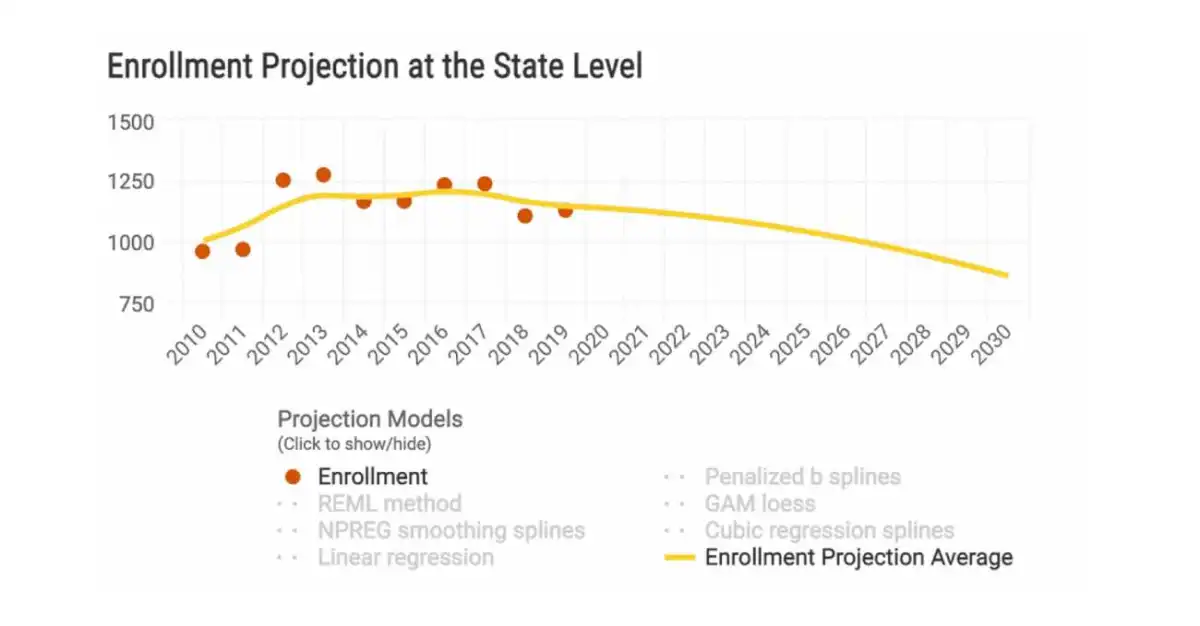 The University of Utah's Sorenson Impact Center on Wednesday launched a new tool designed to help institutions explore historical and projected student enrollment and population trends.
The Student Trends and Enrollment Projections Dashboard allows users to explore enrollment scenarios and visualize the potential makeup of state or institution-level student populations. The tool is designed to help institutions develop their short- and long-term enrollment strategies, particularly as they continue to evaluate the negative impact of the COVID-19 pandemic on their ability to attract and retain students.
The dashboard includes enrollment projections up to the year 2030. Project leaders note on the website that the projections are not static and do not predict the "future failure or success of any state, sector, or institution."
In addition to enrollment projections, the dashboard also allows users to explore historical online-only enrollment data and the movement of students across state lines.
"While many colleges and universities are working to ensure their enrollment strategies meet
the needs of today's students, it's also important for these institutions to invest in retaining, graduating and positively impacting these future leaders," Megan Brewster, director of the Sorenson Impact Center, said in a press release. "By leveraging the STEP Dashboard's data-driven insights, higher education leaders can position themselves to not only attract but authentically support the diverse students of tomorrow."
The Sorenson Impact Center, part of the University of Utah's David Eccles School of Business released the tool as part of a three-year project funded by the Bill and Melinda Gates Foundation. The statistical models used by the dashboard are based on federal data sourced from the U.S. Census, the U.S. Census and Integrated Postsecondary Education Data System and the College Scorecard.
Other tools developed as part of the project aim to help institutions explore their financial health and identify equity gaps that might be impacting the success of students from historically marginalized racial and ethnic groups.