U. Maryland's new coronavirus tool grades social distancing efforts
Anonymized and aggregated location data from mobile devices shows how well people in each state are complying with stay-at-home orders.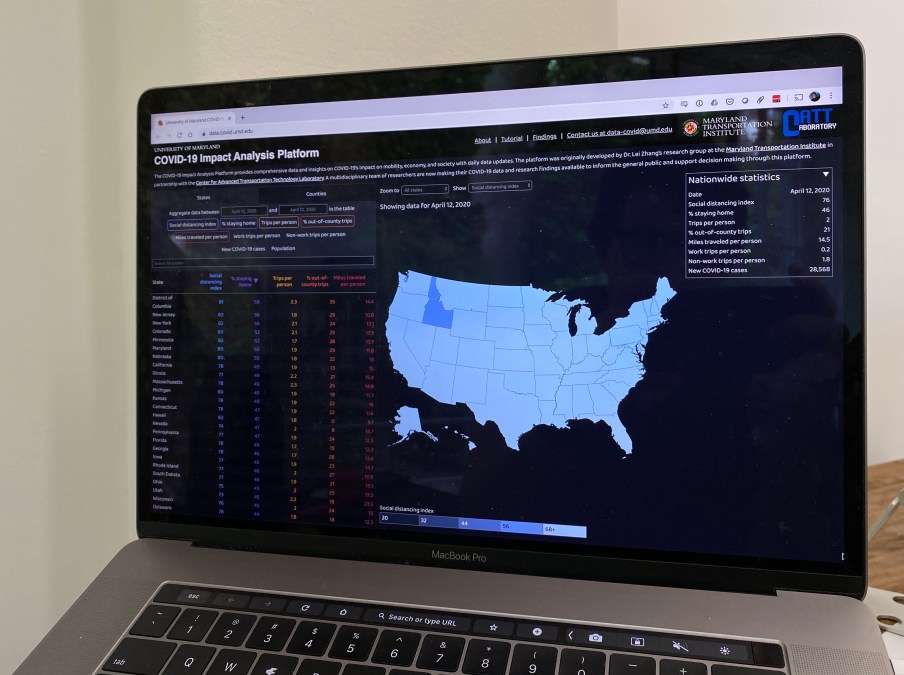 Researchers from the University of Maryland announced this week they've developed an analytics-driven website that measures how well people in each state are complying with stay-at-home and social distancing guidelines.
The tool, built by researchers in the university's engineering department, uses anonymized and aggregated location data from mobile devices and data from the COVID-19 International Data Collaborative, a collection of data organized by the New York-based technology firm Cuebiq.
The website displays daily updates going back to Jan. 1 on variables such as the percentage of people staying at home, visits to work and non-work locations, out-of-country trips, trip distance, as well as a custom "social distancing index." The index "represents the extent residents and visitors are practicing social distancing," with higher values indicating more compliance with regulations. As of publication, Hawaii and New Jersey top the social distancing index with scores of 83, while Idaho fills out the bottom slot with a score of 65.
Researchers are also measuring its data against health care data, sociodemographic data, unemployment numbers and business establishment data to present a picture of how the pandemic is affecting daily life.
"COVID-19 is a complex challenge with broad-ranging impact," incoming university president Darryl Pines told UMD Right Now. "One of our strengths at UMD is our ability to bring together knowledge from varied disciplines — in this case, transportation engineering, public health, data analytics and economics — to address problems that are complex by nature."
UMD researchers found that many Americans are still not following the social distancing and stay-at-home guidelines established by state governments across the country. The data shows that the percentage of people in the U.S. staying home in mid-March stagnated at 35 percent.
"Our goal is to not only produce new and compelling data, but to truly inform and support decision-makers with the best available data and interactive analysis tools," said Lei Xhang, the project lead and director of the Maryland Transportation Institute. "Government agencies need to improve the effectiveness of physical distancing and stay-at-home orders by educating the general public, increasing enforcement, working with employers and communities and supporting vulnerable populations who may encounter challenges in meeting social distancing requirements."
The UMD announcement builds on other data-analytics efforts underway, like those in Texas and Virginia, where universities and state governments are sharing data to visualize the impact of the pandemic.