2022 Educause Horizon Report highlights emerging edtech, professional development
The 2022 Educause Horizon Report shares strategies for emerging technology and developing sustainable online learning.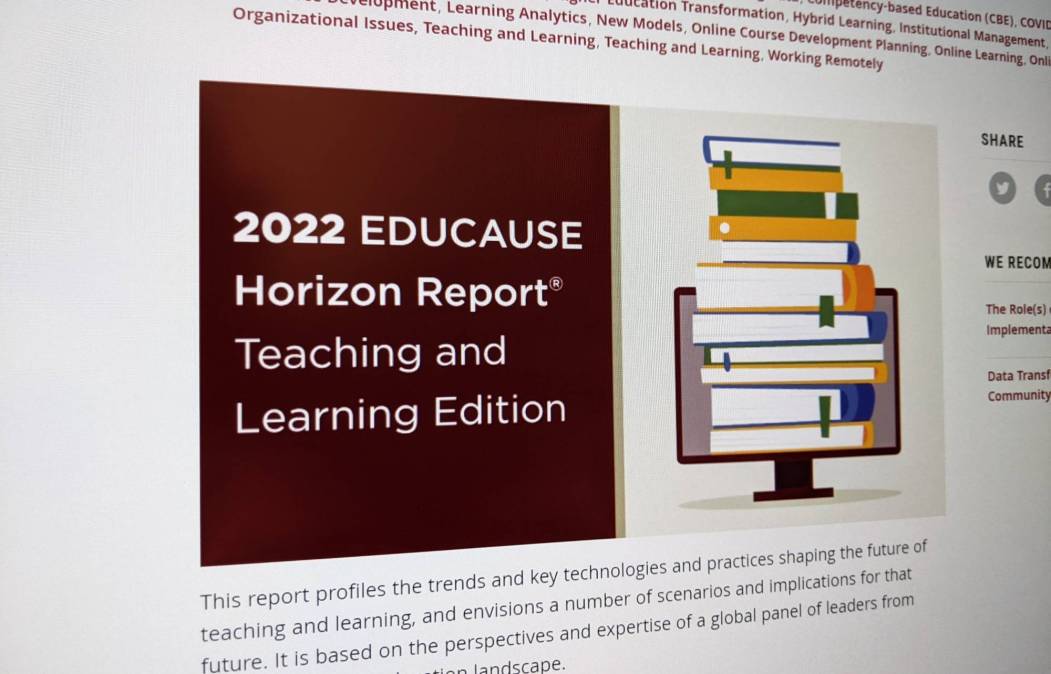 Colleges and universities should prioritize faculty buy-in and professional development to fully embrace new technologies, higher ed experts recommended in the 2022 Educause Horizon Report.
The annual report, released Monday, focuses on the technologies and practices shaping teaching and learning. Some trends continued from last year's edition of the report, including AI and hybrid and online learning, but experts and researchers this year broke those technologies down further into implementation strategies.
"It just reflects the maturation of the field and a recognition of the real concrete opportunity that we have and the real concrete risks that we need to prepare for and make sure that we have appropriate, considerations for ethics and equity," Kathe Pelletier, the director of Educause's teaching and learning program, told EdScoop.
AI made the report's top-practices list twice, as "AI for learning tools" and "AI for learning analytics." That allowed researchers to to dig into the potential opportunities and costs associated with using AI on an administrative level and in the classroom to assist students. The report also splits hybrid learning into sections for designing learning spaces and potential teaching methods.
The shift in Educause's treatment of new technologies comes as higher education institutions look to stabilize following rapid shifts in teaching and operations during the coronavirus pandemic. That includes assessing what changes and new technologies are working well, while supporting instructors and administrators who might be suffering from burnout.
"An embrace of hybrid and remote education is here to stay," Pelletier said. "How do we build infrastructure that really supports high quality experiences for students?"
One of the top practices showcased in the 2022 Educause Horizon Report is professional development for hybrid and remote learning. Institutions are creating new structures to support instructors' professional development and offering badges to mark achievement. The report ranks professional development as having the highest potential impact on student outcomes and on equity and inclusion. Researchers also named professional development the practice with the lowest potential risk.
"In other words, investing the time and resources to ensure faculty are trained and equipped to effectively engage in hybrid and remote learning environments may be one of the easiest and highest-reward decisions an institution can make, and it may produce the biggest returns in improved student experiences and learning," the report reads.