5 ways edtech tools can support small group reading instruction
Commentary: Though not a replacement for paper, edtech can enhance learning for struggling students says edWeb.net's Eileen Belastock.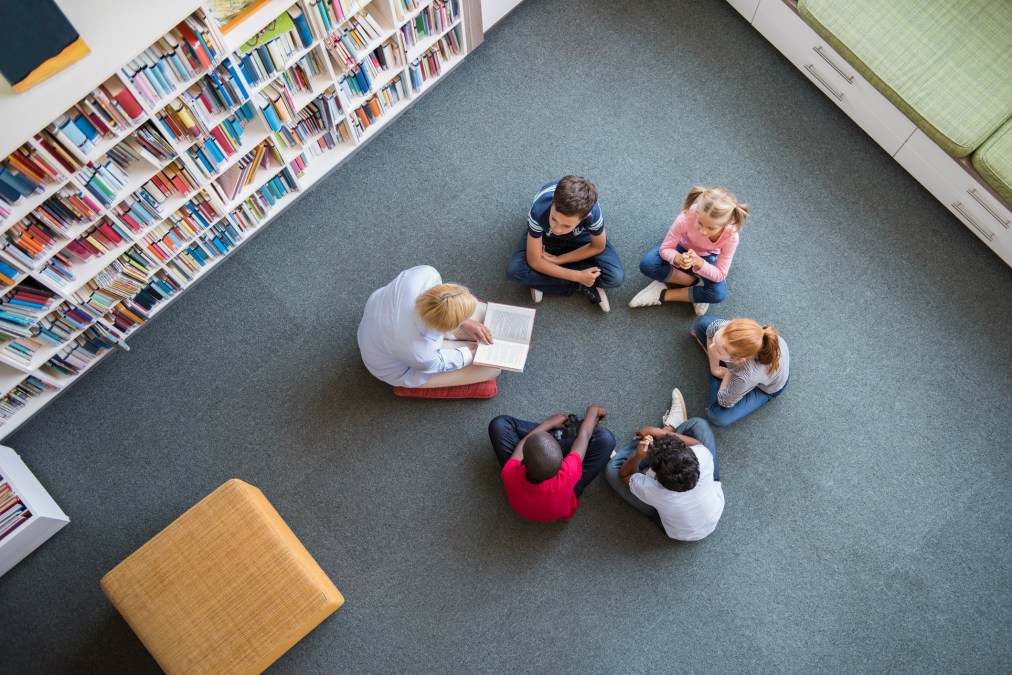 "While we (teachers) are not always comfortable with technology, we need to think about students first and work through our challenges to make things better for them." These were the words of Sharon Plante, the director of technology for the Southport School in Southport, Connecticut, who spoke in a recent webinar hosted by edWeb.net.
She says student access to content for the purpose of demonstrating knowledge should be the baseline when considering educational technology that supports and enhances small group reading instruction. In the webinar, Plante also emphasizes that meeting the needs of students with learning disabilities through the use of technology can make reading instruction a multi-sensory process that is engaging and explicit, but that also maintains "individualization and diagnostic-prescriptive aspects of the lesson."
However, Plante cautions that technology is not a replacement for the traditional worksheet. Technology should help readers who are struggling with a variety of reading skills that include decoding of words, reading fluency and comprehension, and differentiated contextual reading. It is essential for teachers to assess the needs of the students in the small group reading environment and to analyze educational technology products that best suit those needs.
Is the product to be instructional or practice? Will it be used for remediation, accommodations or differentiation? How valuable is the teacher/student data and feedback? Does the product have built-in accessibility features and ease of differentiation? What are the associated costs of the programs?
1. Decoding
Decoding software can be beneficial for students who struggle with sounding out words. Plante recommends robust agnostic products, such as Sound Literacy, Lexia Learning, Classkick, Pear Deck, and Nearpod, products that can be customized for differentiation, progress monitoring options, and real-time data collection. These programs used in small group instruction will reinforce independent practice and the individual reinforcement of the skills needed for phonological awareness.
2. Encoding and morphology
Morphology, or the structure of words, can also be a struggle for readers with learning disabilities. Edtech programs such as Quizizz, Simplex Spelling, Word Wizard, and Classkick follow strong instructions sequences, allow the student to move at his or her own processing speed and provide real-time monitoring and feedback features for both the teacher and the student.
3. Fluency
Plante points out that "as teachers, we tell students what they need to fix, but because students can't hear themselves, they don't comprehend what we (teachers) are asking them to fix." Using "game-changing" audio products like Flipgrid and Fluency Tutor, students can quickly identify errors and what they need to change. Features to consider when implementing software to support fluency include students' ability to record and review recordings on any device and customizable options for teachers such as the feedback type, passage lengths, and comprehension levels.
4. Comprehension
"Although students with learning disabilities may have the ability to process information, they do so with great inefficiency," explains Plante. "It is not atypical for students with learning disabilities to be unaware of basic strategies that good readers use as a matter of course, such as re-reading passages they don't understand." Tools that support reading comprehension for students with working memory challenges include Actively Learn, InsertLearning, EPIC and Flipgrid. These agnostic programs can break the text down into small chunks so that students can retain the information and participate in group discussions.
5. Differentiated contextual reading
While students in small group reading instruction may be at different reading levels, it is vital that all students have access to the same article, passage or novel. Educational technology programs such as Newsela, Freckles, Rewordify, Learning Ally and Book Share have Lexile measure options that allow students to access text at levels that ensure the same conversation in class but also enable students to learn on their own and have a better understanding of the text.
Finally, while there is much educational technology software available to educators and students, Plante highly recommends that teachers find the text-to-speech and speech-to-text ability on the device the students use in class and at home. Everyday devices such as smartphones, tablets, and laptop computers have made supporting and enhancing small group reading so much easier. The big three platforms — Apple, Google and Microsoft — have improved accessibility functions such as text-to-speak, speak selections and features that support all our struggling readers.
About the presenter
Sharon Plante, an educator with more than 22 years of teaching experience in special education, currently serves as a teacher and the director of technology at The Southport School in Southport, Connecticut. As a classroom educator certified as an Orton-Gillingham tutor (CE/AOGPE), she uses her training and understanding of technology to empower students with learning disabilities. Sharon is the co-author of Using Technology to Engage Students with Learning Disabilities, which highlights the incorporation of technology through the Universal Design Model to reach all learners. She has presented at IDA, The Dyslexia Foundation, Everyone Reading, EdRev, ATIA, New York Chapter of ALTA, Spotlight on Dyslexia and AssisTechKnow. Sharon is a member of the Connecticut Association of Independent Schools Commission on Technology. Additionally, she was awarded the 2016 Distinguished Alumni Award from George Mason University College of Education and Human Development.
Join the community
Empowering Struggling Readers is a free professional learning community on edWeb.net that provides educators, administrators, special educators, curriculum leaders, and librarians a place to collaborate on how to turn struggling readers into thriving students.
The edWeb webinar referenced above, sponsored by Learning Ally, can be found here.