Turn struggling readers into leaders with assistive technology
Commentary: edWeb.net's Eileen Belastock explains how resources like audiobooks can empower students to learn more independently.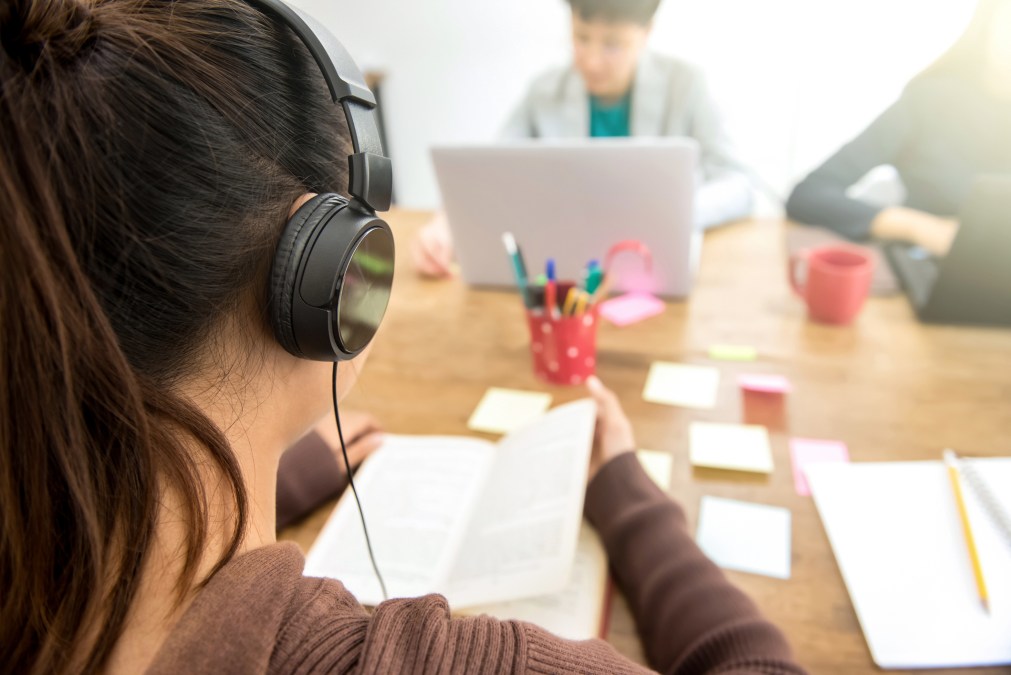 "What are you [teachers] doing right now so that your students have unhindered access to grade-level curriculum each day?" That was a question posed in a recent edWeb.net webinar by Dana Blackaby, a dyslexia specialist at The Academy at Nola Dunn in Burleson, Texas.
Blackaby and two student-led tech crew members from her elementary school — 5th-grade student, Gavin, and 4th-grade student, Marley — explained that students with disabilities cannot access grade-level curricula completely independently if they are not yet reading at grade level.
But assistive technology, especially audiobooks, provides both multisensory reading and writing experiences and enhances word recognition. These tools allow students to allocate cognitive resources to comprehension rather than decoding.
Eighty-five percent of what students learn is by listening and students can listen and comprehend two grade levels above their reading levels. Reading while listening improves comprehension by 76 percent and simultaneously listening increases reading accuracy by 52 percent.
As struggling readers themselves, Gavin and Marley embraced an opportunity from Blackaby to become assistive technology leaders and trainers in their district. They agreed with Blackaby that using assistive technology significantly increases attention span, resulting in the ability to focus on listening and comprehension.
Bridging the gap
Developing struggling readers into confident grade-level readers cannot be accomplished by reducing the number or level of books students with disabilities are required to read. Assistive technology is a means to bridge the gap for students who have a print disability and have not yet mastered reading independently on grade level.
Eye-reading and listening to quality literature read by a human voice (ear-reading) are not exclusive but should be used inclusively depending on the task. Adding assistive technology accommodations to students' individualized education programs and 504 plans greatly reduce the effect of students' disabilities by fostering independence in learning.
There are many reading programs available, such as Snap&Read, Chrome Speak, Natural Reader and SpeakIt, that can read accessible and inaccessible text to students. At The Academy at Nola Dunn, reading assistive technologies such as text-to-speech and audiobooks are used daily by students both in and out of school. Audiobooks provide human-read or digital-read options, and resources such as Learning Ally, Bookshare, Audible, OverDrive, Hoopla, and Library of Congress offer multisensory reading experiences where struggling readers have access to grade-level and beyond quality content.
Cognitively, writing is the most challenging task students are asked to perform as they struggle with taking all their knowledge and putting it down on paper. For this purpose, word prediction and speech-to-text software have been invaluable for students struggling with spelling. Vocabulary builder, word banks, and topic dictionaries assist with memory trigger on words and topics.
Instilling confidence
The answer to the question, "When should students access assistive technology?" is: "As often as they need it." When assistive technology is used anytime, anywhere for homework, lengthy reading assignments, and novel studies, students become the drivers of their learning in grade-level curricula for subjects such as math, reading, social studies or science.
Having at-home access to assistive technology tools, students can read long emails, journals, text, and pleasure books that excite and engage. Giving students the reins of the technology sets them free to be independent learners and not reliant on teachers, peers, or support staff to read a word or help on the oral administration of tests. Struggling readers prefer to use the assistive technology options available to them because it improves engagement, understanding, and fluency, and expands vocabulary.
Through assistive technology, students can share what they know and write what they want to write and not what they are able to write. Using assistive technology tools, students at The Academy at Nola Dunn have become entirely independent in their learning and shown immeasurable growth in competency and confidence in their reading and writing ability.
About the presenter
Dana Blackaby is a dyslexia specialist at The Academy at Nola Dunn in Texas. Her goal is to empower students by instilling confidence, skills, and hope in students with learning differences. Dana's students have finished in the top 10 in two nationwide reading competitions and have been featured in newspapers, Twitter, Facebook, and the Dallas–Fort Worth ABC affiliate, WFAA. Several of her students are a part of a student-led tech crew that travels from school to school providing training on assistive technology for teachers and administrators in their district. Dana holds a master's degree in teaching.
Join the community
Empowering Struggling Readers is a free professional learning community on edWeb.net that provides educators, administrators, special educators, curriculum leaders, and librarians a place to collaborate on how to turn struggling readers into thriving students.
This edWeb webinar referenced above, sponsored by Learning Ally, can be found here.