Cal Poly's digital transformation hub lets students take technology to government
The university's Dx-Hub brings innovation to the public sector through student design.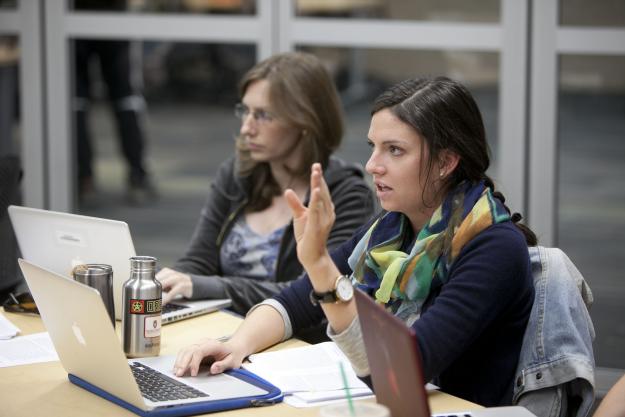 Students at California Polytechnic State University (Cal Poly) don't have to go far to get real-world problem-solving experience with the latest technology.
Since last October, Cal Poly students and faculty have been partnering with Amazon Web Services (AWS) to power the university's first Digital Transformation Hub (Dx-Hub) dedicated to solving civic problems through technology — while giving students the opportunity to design the solutions themselves.
Officials at the San Luis Obispo, California, university said the mission of the project is to combine higher ed's deep content knowledge with AWS's innovative processes and tools to solve problems that the public sector can't solve for itself — and then share those solutions through an open-source database.
"The thing that we take advantage of is public sector organizations tend to have deep subject matter expertise in a variety of areas — whether it's health care, law enforcement, whatever it might be — but they don't tend to have innovation teams, because the resources aren't available for them to do that," said Paul Jurasin, Dx-Hub's Director.
Jurasin, who spoke to EdScoop at the AWS Public Sector Summit in Washington, D.C., last month, said that the Dx-Hub places students in a variety of positions through the project phase — usually 10 weeks, or the length of one of Cal Poly's quarters, he said.
Students are encouraged to complete their lab work not in a lab, but at Dx-Hub, Jurasin said, where they partner with the team on a step-by-step basis. Depending on the subject of the project, student interns work with the team in their area of expertise — computer science students work on software, ethics and social science students on a homelessness project, and so on, he said.
When a project proposal is submitted and selected, the innovation team — comprised of three Cal Poly employees, three AWS employees and the student interns and researchers assigned to the project — reach out to a community of experts across the state to gain insight into the problem.
After working with the public sector organization to create a mock press release that answers all the questions an observer might have, the team designs a prototype of a solution. If it's a hardware-based solution, Jurasin said, it might be a schematic or literal piece of test hardware. If it's software-based, it might be a model of the user experience (UX) or a piece of computer-generated software. The constant elements, he said, are the AWS innovation process and the technological component of the solution.
When the customer and Dx-Hub team agree on a prototype solution, the Dx-Hub team will open-source its solution and process on a website that's currently under construction, Jurasin said.
So far, Jurasin said, Dx-Hub has partnered with police departments in San Luis Obispo and San Leandro, as well as the Los Angeles County Department of Parks and Recreation, among other projects with public-sector agencies. Dx-Hub doesn't design multiple solutions for the same problem and only takes proposals that will "move the needle" when a solution is found, Jurasin said.
"[Police departments] have collected so much information — where the parks are, working street lights, pavement quality, bus stop locations — but they haven't been able to analyze those databases against each other and compare that to where crime is happening. So we're helping them deploy resources more effectively," he said.
There's a clear goal in mind, said Derick Lee of PilotCity, a smart cities solutions company working with Dx-Hub and San Leandro Police Department.
"It's about how do we put together and integrate data sets to create new insights that come from experience and actual evidence, rather than intelligence-based policing which essentially is just a crime analyst putting together information at high levels and then ordering folks to go do things," Lee said.
Jusain said he is open to public-sector entrepreneurs hopping on his bandwagon.
"Because we're working with public-sector organizations and because we're publishing in open source, any public-sector organization that's having that same problem can take that and apply it to wherever they are. If we're working on an evidence-based policing effort in California and we publish the solution, somebody in New York can take that," he said.
"What we think is going to happen — because we don't implement that solution for the original customer and we're publishing the solutions open-source — somebody could create a company that would implement solutions like this. We know there are already built-in customers, because if one government agency or nonprofit is having that problem, there are probably lots more," Jurasin said.