Canvas edges out Blackboard in LMS market share
For the first time, Canvas eclipsed Blackboard as the most popular learning management system for U.S. colleges and universities.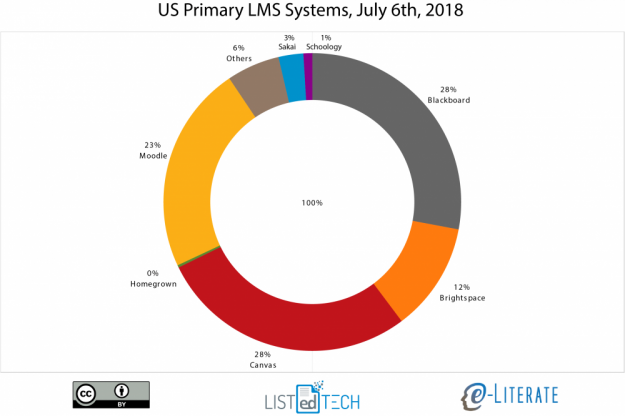 Canvas has dethroned Blackboard as the leading learning management system (LMS) for the U.S. higher education system, according to a new report out from MindWires Consulting.
The eclipse marks a major market shift, as Blackboard had been the leading U.S. LMS for roughly two decades.
Michael Feldstein, a partner at MindWires Consulting and co-publisher of the e-Literate blog, announced the news in a blog post on Monday.
For now, Canvas's margin over Blackboard is narrow. As of July 6, Feldstein announced, higher ed business intelligence firm LISTedTECH 's data reflected that Canvas has 1,218 installations at colleges and universities, while Blackboard has 1,216.
"Statistically speaking, the two companies are tied for US market share," Feldstein wrote. "Still, this is a stunning development for a company that seemed to have established an unbreakable market dominance a decade ago."
In 2006, Blackboard's acquisition of WebCT, its nearest competitor, allowed the company to capture approximately 70 percent of the U.S. and Canadian markets, according to Feldstein. This moment was a watershed for Blackboard in more ways than one. It was the highest point for its LMS market share, as customers eventually started to voice their displeasure and migrate to competitors Moodle, Sakai and Brightspace.
The Canvas LMS, offered by the education company Instructure, emerged from a project of two graduate students and a professor at Brigham Young University in 2008.
"The combination of a reliable, cloud-based offering, updated user interface, reputation for outstanding customer service, and brash, in-your-face branding, [Canvas] surpassed all of the more established contenders to take the crown," Feldstein wrote.
Blackboard is staring down a number of challenges. Its private equity ownership has saddled it with debt, Feldstein said. Blackboard has also been slow to pivot to cloud-based services.
Even the intellectual birthplace of Blackboard is ditching it. Last week, the publication Inside Higher Ed reported that Cornell University will soon switch from Blackboard to Canvas. CourseInfo, which later merged with Blackboard LLC to form Blackboard Inc., started at Cornell.
Speculating on what's next, Feldstein predicted that Blackboard could be in for some major changes. It could sell off some business functions to pay off its debt, he wrote, or be sold entirely itself by Providence Equity, its owner.
Blackboard is in the process of rolling out its new Ultra interface, which may improve the company's standing.
"It's a radical upgrade to both front end and back end," former Blackboard CEO Lou Pugliese told Inside Higher Ed . "Cloud deployment is a huge advancement, though it's been a long time coming."
Pugliese also disputed measurement metrics, saying that just because more universities use Canvas as their LMS doesn't mean that it's the dominant system. "The real measurement metric should be akin to website traffic. Statistical data on number of unique users, not total 'installations,'" Pugliese said.
A Blackboard executive reached by Inside Higher Ed disputed Feldstein's data, saying that "Blackboard remains the dominant ed-tech company around the globe."
Feldstein speculated that smaller LMS competitors could also climb in market dominance, should Blackboard and Canvas fail to innovate and deliver quality services. According to the LISTedTECH data, Moodle has 23 percent of the market, Brightspace 12 percent, Sakai 3 percent, and Schoology 1 percent, with others capturing a combined 6 percent of the market.