Computer science expertise boon for manufacturing industry
Employers are looking for computer science skills, but not necessarily degrees.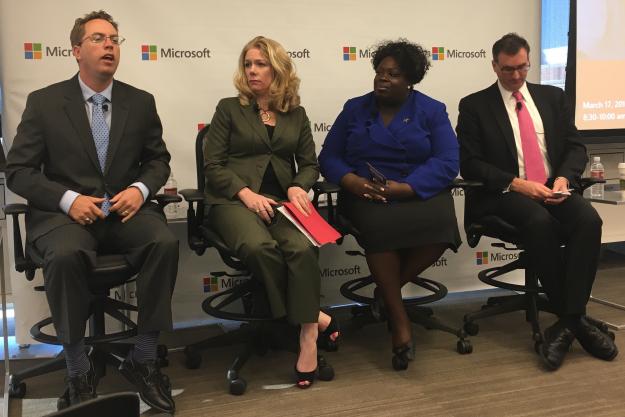 Expertise in computer science is a crucial skill across more industries, including manufacturing — and experts say you don't need an advanced degree.
Instead, the ability to understand and apply STEM concepts in day-to-day work is now more attractive to employers, according to experts. Computer science and STEM education in K-12 schools, and more certificate programs in community and technical colleges, would help fill the skills gap.
"You don't need to be a lab researcher, but you need to understand basic skills in order to succeed," said Christine Scullion, director of human resources policy for the National Association of Manufacturers, said during an event at Microsoft's policy headquarters in Washington, D.C. Thursday.
About 75 percent of manufacturers reported a moderate-to-severe shortage of skilled workers, and the dearth can cost up to 11 percent of revenue each year for a manufacturing company, Scullion said. The lack of workforce impairs productivity and puts a strain on human resources specialists to search for qualified employees.
Scullion said that the image of manufacturing, typically the mass producing of materials and goods, needs to be updated for the 21st century.
"Manufacturing doesn't have the most positive public perception," Scullion said in an interview with EdScoop after the event. "It's not just working on the line. It's automated tooling. It's automated machining. All of these things require coding and computer science to get to them."
For example, Caterpillar Inc., a construction machinery manufacturer, has developed electronic control modules on large mining trucks that have more than 500 million lines of software code. The computational power is similar to avionics on an Air Force fighter jet, Scullion said.
The National Association of Manufacturers also puts on something called "Manufacturing Day," a series of events across the country where manufacturing companies open the facilities to local students from high schools or colleges. More than 400,000 students and parents got involved in more than 2,000 events last year.
The nonprofit Code.org is also heavily involved in engaging students and families in computer science education — the organization has trained about 25,000 teachers so they can teach programming courses in local communities.
Cameron Wilson, chief operating officer and vice president at Code.org, said the attention around computer science through President Obama's new initiative and the Every Student Succeeds Act, which gives states more flexibility to advance specific programs, will hopefully expose more students and adults to the field.
"Now there is a chance to leverage all of that momentum by helping fund computer science education locally, through the federal government and local resources," Wilson said at the panel.
Reach the reporter at yizhu.wang@edscoop.com and follow her on Twitter @yizhuevy and @edscoop_news.