Google Expeditions opens new world for students
The virtual reality program requires nothing more than a cardboard headset, a tablet and an Android app.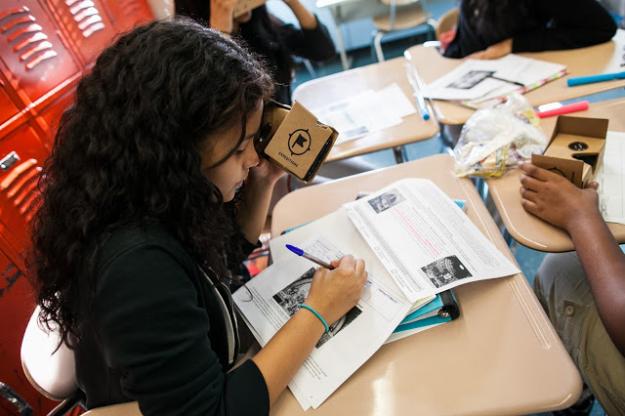 For an afternoon at SXSWedu, a packed room at the Hilton Austin Downtown transformed into another world – literally – as teachers looked through cardboard glasses.
They saw through the lenses 360-degree panoramic mountains, the earth rendered in sharp green and brown colors. It was virtual reality through Google Expeditions, which allow students and teachers to see such far-flung places as the Arctic or the Galapagos Islands.
The program had a limited release in May, and program officials said more than 500,000 students in K-12 schools and higher education institutions currently use the product. Now, anyone can download a Google Expeditions app for Android to experience VR.
"We wanted to make a product that allowed teachers to capture the same immersion that they get when they take kids on field trips," said Benjamin Schrom, product manager for Google Education.
The cardboard, which is affordable for many schools, works with Android phones and teacher-operated tablets, allowing educators to point out certain facts about what they're seeing.
Google officials say the program is a good supplement for what is already being taught in classrooms across the country, and suggest using it for 20- to 30-minute lessons.
Jenny Quarles, director of distance education at Longwood University, a four-year liberal arts institution in Farmville, Va., said a faculty member who works in the school's teacher training program pushed the product after seeing a demo at ISTE.
"She said, 'I need a classroom set of these to have teachers experience it, so then they can contemplate it for their own classrooms,'" Quarles recalled. "The excitement built, and they're really affordable."
Quarles said the school paid about $20 per cardboard, and while there were concerns about the durability of the pieces, it's still not as expensive as, say, an iPad.
She added that she wants undergraduates who are being trained as teachers to be able to use them in their K-12 classrooms where they are student teachers.
"We believe you have to feel the experience of your students to learn," she said.
Reach the reporter at corinne.lestch@edscoop.com and follow her on Twitter @clestch and @edscoop_news.