High school grads not ready for college-level STEM courses​
According to a report from the ACT, which administers tests to determine college readiness, not enough students are prepared for college coursework in STEM fields.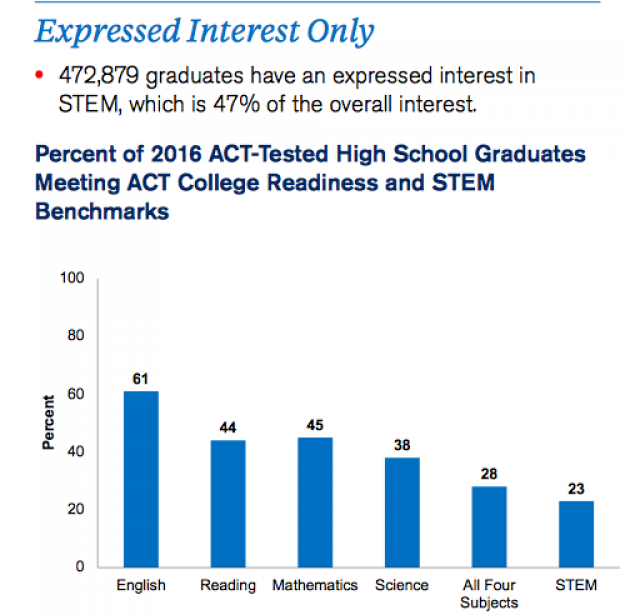 Many students are interested in STEM fields – but not nearly enough are prepared, according to a recent report.
The ACT, which tests high school students on college readiness skills, found that few 2016 graduates are well prepared to succeed in first-year college STEM courses, according to its annual report, called The Condition of STEM 2016.
Nearly half of the 2 million high school graduates who took the ACT test had an interest in STEM majors or careers, but only 26 percent of those graduates met or surpassed benchmarks in science, technology, engineering and math. By contrast, 61 percent of graduates met or surpassed ACT targets in reading, according to the report.
This means that the lagging students would likely not do well in college freshman-level courses like calculus, biology, chemistry and physics, which are typically required for STEM-related majors.
The findings are mostly static over the past four years, according to the report.
"Our data continue to show a big disconnect between students' interests and their actual preparation," said Marten Roorda, ACT chief executive officer. "While the level of interest we are seeing in important STEM majors and careers is encouraging, the lack of readiness for STEM college coursework remains troubling."
Readiness in science and math based fields was even lower overall among underserved students who face economic hurdles, are minorities or first-generation in their families to attend college, although interest in the fields remained high.
The results also showed that interest in teaching STEM subjects in schools is significantly low among high school graduates – fewer than 1 percent of them who took the test indicated an interest in teaching math or science. This finding correlates with the Department of Education's call for more science and math teachers around the country to reduce the national shortage.
The report found that average ACT math scores have stayed flat between 2012 and 2016 for students meeting the ACT STEM benchmark, while average science scores have gone up over the same period of time, from 27.9 to 28.6.
"It may be that initiatives designed to increase STEM interest and achievement have focused more on science and less on math," said Roorda. "Both subject areas are vitally important for success in STEM majors and careers."
Students who meet or exceed the ACT STEM benchmark – which is students' combined performance on the ACT math and science exams – have about a 75 percent chance of earning a grade of C or higher in first-year STEM college courses and earn a bachelor's degree in the field than those who did not meet the benchmark.
Reach the reporter at corinne.lestch@edscoop.com and follow her on Twitter @clestch and @edscoop_news.