How two states are tackling the shift to digital education
Commentary: While Idaho uses a structured review process for instructional materials, Pennsylvania has evolved organically to use digital educational content.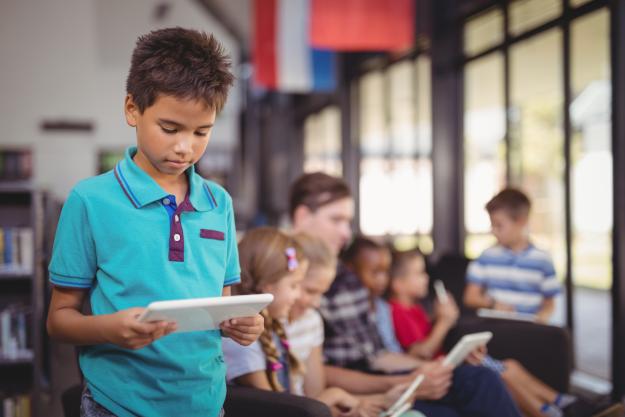 The extent to which school districts receive guidance on how best to implement digital instructional materials in their classrooms varies greatly from state to state. Some states work closely with their local education agencies, while others do not work with them at all.
In its latest report, SETDA (State Educational Technology Directors Association) highlights state policies that support districts in their transition to digital learning. And in a recent webinar , education technology leaders from Idaho and Pennsylvania dissected that report , "Navigating the Digital Shift 2018: Broadening Student Learning Opportunities," and discussed how their own state and district leadership teams support digital learning opportunities and implement digital instructional materials.
The instructional materials used in a classroom play a significant role in student learning, according to the Brookings Institution . But of course, schools can't make the switch to digital overnight. There are essential conditions for digital learning — like state leadership, equity of access, accessibility for all students, interoperability considerations and student data and privacy. Still, while many states have local control and the final decision is left to the schools and districts, it's important that states provide some leadership around selection, curation, procurement and funding in order to support districts as they embrace digital, said Christine Fox, deputy executive director for SETDA.
Idaho evolving to keep up with digital materials
Elizabeth James, curricular materials coordinator from the Idaho State Department of Education, explained that while Idaho does provide a curricular review process as a service, Idaho is a local-control state, so districts are not mandated to choose resources that have gone through the process.
Idaho reviews and evaluates curricular materials on a six-year rotation schedule, which makes it difficult to stay up to date with digital materials, James said. Contracts with publishing companies ensure equal availability and pricing for Idaho's rural schools.
In Idaho, as in most states, curriculum materials are first screened for alignment to the state's content standards, pedagogical design, accessibility, fair representation and more.
The actual review process is divided into two parts, beginning with a remote review in which a team familiarizes themselves with the materials and performs an independent evaluation. Then, partners come together in a consensus review to compare findings and provide one final recommendation.
These recommendations are finalized by the state board of education. After this, the districts can choose resources that best fit their needs — regardless of whether they are included on the state list.
Idaho is currently refreshing its six-year rotation schedule in order to stay more current with digital materials. And the state technology services team is working to ensure internet access in rural schools and upgrade hardware.
Districts are also rising to the challenge of transitioning to digital instructional materials. Snake River School district has purchased 10 Wi-Fi hotspots for students to check out and take home, while Rolling Hills Charter School has a strong one-to-one program in grades 5-7 and is expanding to other grades. The Pocatello and Chubbuck districts, meanwhile, are using technology specialists to assist school-level instructional technology coaches with ongoing training.
Pennsylvania's organic transition to digital instruction
Pennsylvania, on the other hand, does not have a formal review process in place, but Elizabeth Forward School District outside of Pittsburgh has evolved into a digital learning environment. The district is now in its fifth year of a one-to-one initiative with iPads for grades K-12, and it has designed learning environments to foster student engagement.
Elizabeth Forward is using digital materials to engage and support instruction by implementing initiatives such as the learning management system eBackpack and shifting to online and digital materials as a standard practice.
The district's resource selection and purchasing processes are almost instantaneous compared to the curriculum cycle in the past. Now, students always have access to current materials.
The use of digital resources has changed the way students learn and the way teachers teach. "One of the things that I will tell any educational leader (is) that if you look around your schools and you don't really come out of that idea that schools can't change or they shouldn't change, you need to…" said Bart Rocco, superintendent at Elizabeth Forward. Students can now have an entire library in their backpacks, and this changes the dynamic for schools and students.
Join the community
Essential Elements for Digital Content is a free professional learning community that provides policy makers, school administrators and educator leaders a better understanding of policies and practices related to digital instructional materials.
This broadcast was hosted by edWeb.net , SETDA , and Future Ready Schools , and sponsored by the Bill & Melinda Gates Foundation .
The recording of the webinar can be viewed by anyone here .