Microsoft CTO Cameron Evans talks computer science, training at SXSWedu
Evans spoke with EdScoop about Microsoft's work to expand coding and computer science classes across the country, using the company's own programmers.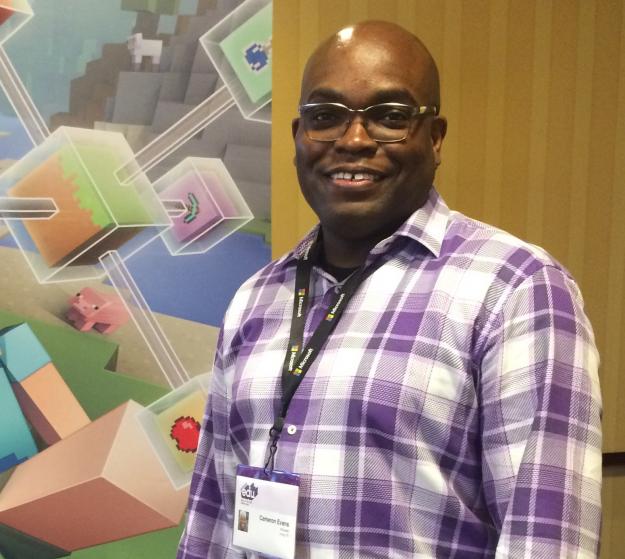 AUSTIN, TEXAS – Computer science has attracted widespread attention thanks to the Obama administration's push to encourage schools to make the subject mandatory, and Microsoft has been a major player in the rollout of the initiative.
Just this week, Rhode Island Gov. Gina Raimondo announced the state is partnering with the educational technology company to give students in elementary, middle and high school access to coding and computer science classes, the Associated Press reported.
Cameron Evans, chief technology officer of Microsoft Education, sat down with EdScoop at the annual SXSWedu conference to talk about the $75 million program that puts Microsoft programmers into schools in Rhode Island and across the country. Teach Education and Literacy in Schools, known as TEALS, recruits, mentors and places high-tech professionals into high school classrooms as volunteer computer science teachers.
Last year, according to Microsoft officials, the program reached 6,000 students in about 130 high schools across 18 states.
In this edited and condensed interview, Evans talked with EdScoop about how Microsoft's OneNote, a digital collaboration app, is helping students and teachers to complete their work; how the CTO role is changing; and what's changed about the SXSWedu conference.
On growth
"We're seeing triple-digit growth in Office 365, and that's been driven by OneNote. [The application allows] people with reading disabilities and dyslexia to have better functionality of reading print and electronic documents.
"Teachers can constantly get updates and manage the way they're interacting with their students, and do more than just give feedback. If a teacher wants to see, for example, question 11 [on a test], what did kids get right and wrong, they can filter only that question.
Read what other educators and IT leaders shared at SXSWedu — exclusive coverage from EdScoop.
"The pace and momentum for OneNote is more exciting than a lot of products we've had over the years for education."
On computer science
"What bears mentioning is this is a dual focus for us as a company. We recognize that every industry – whether you're in pharmaceuticals, agriculture or manufacturing – everyone is looking at software as a scenario to solve critical business problems. Because of that, we need a lot more people who can code and solve problems using programming.
"The challenge on top of that, as jobs have increased, we have a capacity issue. We're not graduating enough computer science students. So Microsoft has focused with the White House on getting more students interested in computer science.
"We're taking that further with what we're doing with the TEALS program, where we have our engineers for Microsoft actually go into classrooms, either physically or virtually through Skype, and teach kids how to code. We also want all students to be thinking computationally – how do they solve problems and think like a programmer when they're solving any endeavor?"
On SXSWedu
"This is where entrepreneurs come – not just people doing startups, but even educators who are thinking about remixing education. I expect SXSWedu to become much more of a renaissance conference than a lot of other edtech conferences, because this is where the creative and entrepreneurial and educator community mingle together.
"This is my third or fourth year, and it's gotten better because it was a much younger conference when I started coming. But each year it's growing at an exponential pace.
"Privacy is a big issue – now people are concerned and want to know that their data is protected. Cybersecurity is going to be a conversation we see in future conferences. As schools become much more digital, we have to think about, how do we protect students and teachers both in and away from school?"
On the role of a CTO
"As technology becomes more infused in more disciplines, the role of the CIO or CTO is definitely evolving. More people are becoming concerned and invested in what's happening in all IT decisions. In a lot of cases, teachers themselves are driving a lot of the adoption of technology.
"I hope there's not a CTO at Microsoft in education in 10 years. I think we are still doing things in a way that the world used to look, and we are not respecting the need to have computational thinking. We're not bringing versatility to those roles, and, in fact, can be slowing down innovation.
"I would like to see more teams actually get together and make decisions. CIOs are playing a better role in their leadership with a cabinet, but they're not the exclusive domain-keeper of knowledge. We're going to need a lot more folks thinking about, how do we personalize learning? How do we measure the effect of that?
Reach the reporter at corinne.lestch@edscoop.com and follow her on Twitter @clestch and @edscoop_news.