Facial surveillance, other school security upgrades raise eyebrows in New York
Districts across the state are funding new security upgrades in response to recent shootings, but critics say some schools are going too far.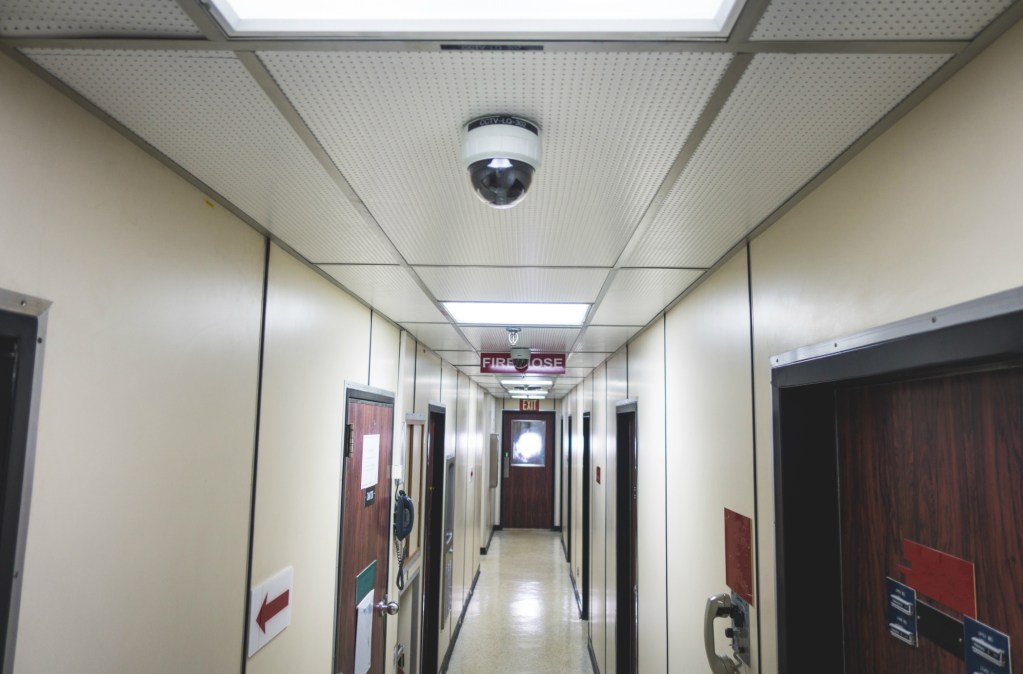 A significant number of New York school districts are dedicating state technology funds to physical security, but in some cases the investments are prompting public outcry over privacy concerns.
Of the 53 districts that have been approved to receive funding under the Smart Schools Bond Act — a broad, $2 billion program approved in 2014 by Gov. Andrew Cuomo — 25 have set aside funding for high-tech security upgrades. In the wake of roughly two dozen school shootings around the country this year, administrators have made it clear that improving outdated safety measures is a top technology priority for schools.
One of the most controversial proposals, put forth by Lockport City School District, is now being reassessed, according to a department spokeswoman. The district, located upstate near the Canadian border, received $4.2 million under the bond act and was set to purchase secure vestibule windows, a visitor badging system, a mass notification lockout system and — the controversial part — a facial surveillance platform.
Now, the state is forcing the district to reexamine its plans to ensure that students' privacy is being protected.
"The [New York Department of Education] takes the protection of personally identifiable information very seriously," Emily DeSantis, a state education department spokesperson, said in a statement to EdScoop.
"We have asked the Lockport CSD to perform a privacy assessment to ensure that student data will be protected with the addition of the new technology proposed and are awaiting that assessment," DeSantis continued. "We remain in contact with school district officials to ensure proper protocols are being developed to protect personally identifiable information and that they are in compliance with state and federal laws."
Lockport is proposing the use of technology developed by Aegis-backed SN Technologies Corp., which includes facial recognition software and a tool that would identify guns that appear on the footage, according to reporting from Vice. Civil liberties groups have slammed the proposal for going too far and violating the rights of students "as young as 4 or 5" who could have their movements tracked and faces uploaded to a database.
"It's easy to imagine that students will feel like they are constantly under suspicion. Lockport is sending the message that it views students as unpredictable, potential criminals who must have their faces scanned wherever they go," according to a blog post written by the New York Civil Liberties Union.
Other districts are also taking steps to fortify their buildings and networks.
Adirondack Central School District will use some of its $1.3 million from the bond act toward video surveillance, emergency notification systems and physical access controls. At the City School District of Albany, money would funnel to an updated intrusion detection system.
"The first phase will replace the present outdated Stanley/Sonitrol intrusion detection system, which includes control panels, keypads and audio sensors, along with door and window contacts where necessary," reads the approved proposal. The district intends to replace the system in every building.
Shenendehowa Central School District's plan, which has not yet been approved, is to install an updated phone system and a wireless network-based system that would allow teachers and employees to receive instant notifications.
Lynbrook School District is using the vast majority of its $843,860 on "security vestibules" — extra doors that will prevent people from entering the buildings if they have not been cleared first. The money will also be used for a separate security network, door alarms, high-resolution cameras, swipe entrance systems, lockdown strobes and a lockdown panic system in every school building.