Penn State's new mobile app puts all academic resources in one place
The new mobile app is "bringing everything together" for students' convenience, said university leaders.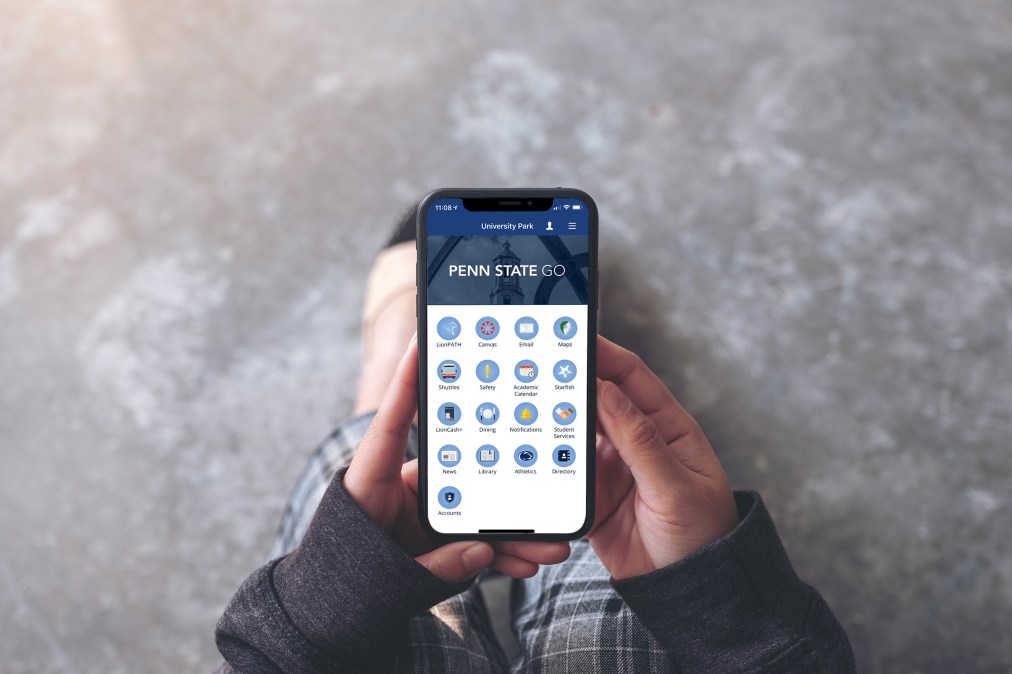 To help students stay informed and connected on campus, The Pennsylvania State University launched a new mobile app Thursday that puts all of the university's online resources and services in one location.
Called Penn State Go, the new app allows students to view university email, campus maps, grades, class schedules, tuition bills, academic advising and other services through a single sign-on.
"It's putting all of those things together into one convenient app," Vilma Shu, a Penn State spokeswoman, told EdScoop. "This is all bringing everything together."
Previously, students had to log into a number of different websites in order to access the information they needed, Shu said. Now students only need to sign in once and have access to all of the most important online resources and services that Penn State has to offer. In addition to the improved accessibility to campus resources that the app provides, students will also be able to customize the app by personalizing the types of messages and alerts they wish to receive and selecting a user profile based on which of Penn States' more than 20 campuses they attend.
The app was also developed with heavy input from students, Shu said. The school says more than 3,000 undergraduate and graduate students were asked to prioritize and suggest desired features through online surveys. Students indicated the top features of a mobile app were integration with the learning platform Canvas; integration with the school's student infomation system, LionPATH; email; academic advising; campus safety; and library services.
More than 3,000 survey respondents representing undergraduate and graduate students at Penn State, including University Park, World Campus, and 21 commonwealth campuses, determined that the top features of a mobile app were the university's learning management system, student information system, Penn State email, academic advising, campus safety, and library services.
Moving forward, Shu said the app's development team will continue to add new features and develop new user profiles. A desktop version of Penn State Go is also slated for release in 2020.
"Penn State is committed to adopting innovative technologies that advance student success and lifelong engagement," Don Welch, interim vice president and chief information officer, said in a press release. "Ultimately, the goal of Penn State Go is to provide students, faculty, staff, alumni, as well as campus visitors access to all their needs, including academics, student life, and resources, from anywhere, at any time."