Report: Teachers are the nexus of technology decisions and purchases
A recent analysis by MDR Education finds that teachers can and do wield significant power for observing technology trends in their own classrooms.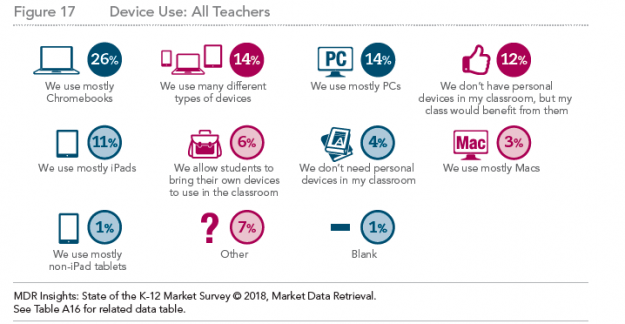 Not only do edtech leaders and school administrators need to take into account the challenges of using technology in the classroom when making purchasing decisions, but they also ought to listen to teachers' input, too, according to a new report from MDR Education , a data and marketing company.
While the teachers surveyed for the report, titled " Teachers Talk Technology ," highlighted the value and efficiency of technology, they also expressed concerns about insufficient training to use the tech and about having enough devices to go around. According to the analysis, "the proliferation of technology in student lives was also widely reported to inhibit development in several areas," including critical thinking, social communication, patience, reasoning and focus.
Nearly 4,400 teachers who work in K-12 schools across the country were surveyed for the report, which prizes instructors' views over others because they see the direct impact of technology in the classroom. Participants were asked about the devices and hardware they use, the online infrastructure in place in their schools, and the learning management systems, apps and websites they regularly turn to.
According to results about internet service, which were broken down by region and poverty level, only 5 percent of respondents said the broadband provided by their schools was "lightning fast," although 75 percent said their internet access is good enough or better than average. Teachers in schools with lower rates of poverty reported higher rates of wireless internet service for faculty and students, while just 5 percent of teachers in schools with the lowest poverty levels said they had access to internet service.
"This provides a window of opportunity for education product providers to create innovations and better solutions for consistent Internet access and speed in schools nationwide," according to the report.
In the majority of cases, schools — rather than students — supply the devices that are used in class. However, the proportion of schools that offer devices decreases as students continue from elementary to middle to high school, since teens are more likely to have smartphones and other devices they can bring themselves.
More than one-quarter of teachers said their students use Chromebooks in the classroom, compared with 14 percent who said they use Windows machines, 11 percent who use iPads and 3 percent who use Mac computers. The top three devices used by teachers of all grade levels are the personal computer, classroom projector and interactive whiteboard.
The report's authors emphasize that teachers should be given the proper training in order to use technology tools and devices in the classroom, and for edtech purchasers to consider teachers' consumer habits in and out of the classroom.
"Technology providers should provide assistance and ongoing training and/or professional development to the schools and teachers they are working with, creating a trusting relationship based on understanding their needs," according to the analysis.
Gaps remain in the learning management system sector — while Google Classroom is popular because of low operating cost and easy integration, the market remains fragmented, with fewer vendors catering to small- and medium-sized schools. According to the report, "platforms designed for a smaller scale should provide opportunities for individualized attention" and more personalized learning — a way to distinguish themselves in a competitive market.
Ultimately, despite challenges, teachers overwhelmingly reported that technology helped them to be more efficient, and they appreciate the fact that digital tools help save time and track student progress.
Reach the reporter at corinne.lestch@edscoop.com and follow her on Twitter @clestch and @edscoop_news .