School IT specialists offer recovery guide to flood-stricken school districts
The Consortium for School Networking released a new resource to shepherd IT response to water damage.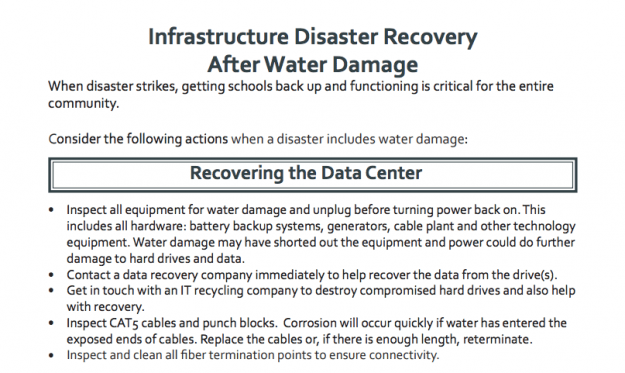 In the wake of widespread flooding and destruction from hurricanes that ripped through Texas and Florida in recent weeks, a group of school IT specialists has rushed to release a new set of guidelines to help school IT officials recover from natural disasters.
The new resource was developed and released by the Consortium for School Networking (CoSN), which mobilized school technology experts to brainstorm and suggest best practices for recovering district infrastructure after water damage.
"Clearly, there's been just such tragedy and devastation in both Texas and Florida," said Marie Bjerede, principal of leadership initiatives for CoSN, in an interview with EdScoop. "We wanted to provide resources from some of our most experienced district technology leaders to offer a little bit of help and support."
CoSN officials contacted chief technology officers in the organization and asked them to put their heads together to create a resource that would not only be useful to districts in Texas and Florida that are suffering now, but can be helpful to others affected by water damage in the future.
Among those who contributed to the new guidelines is Sheryl Abshire, the CTO for the Calcasieu Parish Public Schools in Louisiana. Abshire dealt with damage of this scale after Hurricane Rita hit her state in 2005, so she was able to offer unique insight to the brainstorming session, Bjerede said.
The new resource, part of CoSN's IT Crisis Preparedness initiative, is broken into three sections: recovering the data center, seeking expert help and planning for the future. It explains which equipment to unplug (battery backup systems, generators, cable plants), who to contact for each concern, what warning signs to look for and when to replace a piece of the technology.
In case of water damage, many IT departments will want to call on the help of a data recovery company, an IT recycling company, hardware vendor partners, cloud service providers, the National Guard and state departments of education, CoSN advised.
Primarily, this resource is intended to serve IT departments that have already sustained some water damage, Bjerede said, adding that it is a set of reactionary steps for districts scrambling to make a plan "once disaster has struck."
Following these particular steps will help save precious time, when risks of cable corroding and equipment short circuiting are high, she said.
For those looking to minimize damage, should such flooding reach their schools, Bjerede emphasized the importance of moving critical infrastructure to the cloud.
"Shifting to the cloud makes it so you don't need to put together a water damaged data center and refurbish that because your data is in the cloud. Your resources, your servers, are virtualized in the cloud," she said.
Correction: This article originally stated that Abshire's district was affected by Hurricane Katrina. In fact, Calcasieu Parish Public Schools was affected by Hurricane Rita, another severe hurricane that struck Louisiana in 2005.