EDUCAUSE steps in with offer to buy defunct New Media Consortium
The move offers hope to stakeholders who wish to see the K-12 and higher education Horizon Reports continue.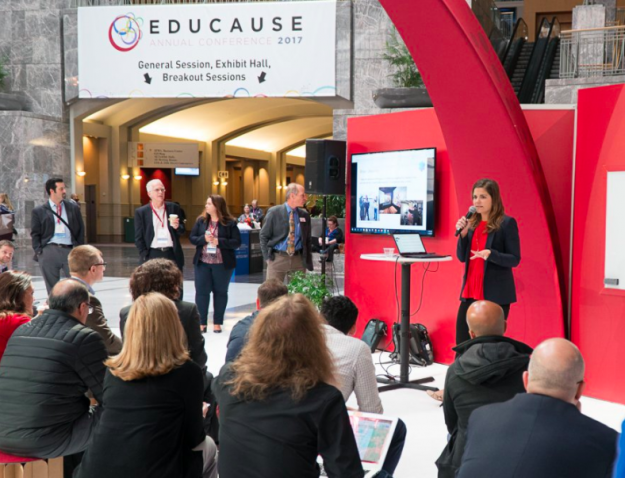 The higher education IT association EDUCAUSE has offered $55,000 to acquire the now-defunct New Media Consortium and its assets, according to court documents filed earlier this month.
NMC abruptly ceased operations in December after financial mismanagement, and it filed for Chapter 7 bankruptcy last month to dissolve.
The termination threw into jeopardy the annual Horizon Report, which provided in-depth research and projections on the future of education technology in both K-12 and higher ed.
If the offer is accepted, EDUCAUSE will attain NMC's trademarks, website, membership and subscriber lists, as well as the Horizon Project — which includes the reports as well as any software used to create and distribute the reports.
Bryan Alexander, a researcher who collaborated with NMC on different projects but was not employed by the organization, wrote on his blog that the bid has "great potential to influence the field of educational technology."
"This is a bold and generous move by EDUCAUSE," he wrote. "They are playing the white knight, stepping up to rescue assets that many in the ed tech world value."
He acknowledged that the measure did not come out of the blue. When NMC went under, a statement from its leaders said that a nonprofit could potentially step in and continue the organization's summer conference. As the association that co-produced the higher education edition of the Horizon Report with NMC, EDUCAUSE would be an obvious fit.
Alexander also raised several questions about what could possibly change under the new ownership, including whether EDUCAUSE would create a new organization with a new name or invite back the NMC's former staffers.
Questions were also raised on Twitter about whether the higher ed association would continue the K-12 edition of the Horizon Report, which is co-produced with CoSN.
"Future issues of the #HorizonReport perhaps," tweeted Chuck Hodges, associate professor of instructional technology at Georgia Southern University. "Will #highered focused @educause continue the K-12 editions?"
Deborah Lee, a professor, librarian and coordinator for graduate student services at Michigan State University, tweeted, "As a member of the latest @NMCorg #HorizonReport Advisory Board, I hope @educause is successful in their bid!"
According to the bankruptcy filing, NMC owed at least $681,821, including a $240,000 credit line from a bank along with a significant amount of money in claims from former employees, contractors and business partners.
"The New Media Consortium regrets to announce that because of apparent errors and omissions by its former Controller and Chief Financial Officer, the organization finds itself insolvent," according to a statement distributed via email Dec. 18. "Consequently, NMC must cease operations immediately."
The closure threw into turmoil the 2018 Horizon Report for higher education — due to be released in March — and a planned conference in June, among other projects.
According to Inside Higher Ed, EDUCAUSE CEO and President John O'Brien confirmed that the organization had submitted a bid, but did not elaborate on what he had planned for the assets.
"This is just the first stage in what could be an extended process, which we will be happy to discuss at its conclusion," he told the outlet. "We welcome the continued conversation within our community."
A court hearing to review and potentially approve the bid, provided that a better offer does not come along, will be held Feb. 14.
Reach the reporter at corinne.lestch@edscoop.com and follow her on Twitter @clestch and @edscoop_news.