Stanford's 'Club Cardinal' game gave students a virtual hangout
Though the university's physical campus remains closed, a new virtual campus paired with a social network is being embraced by students and administrators, who may adopt it as an official planning platform.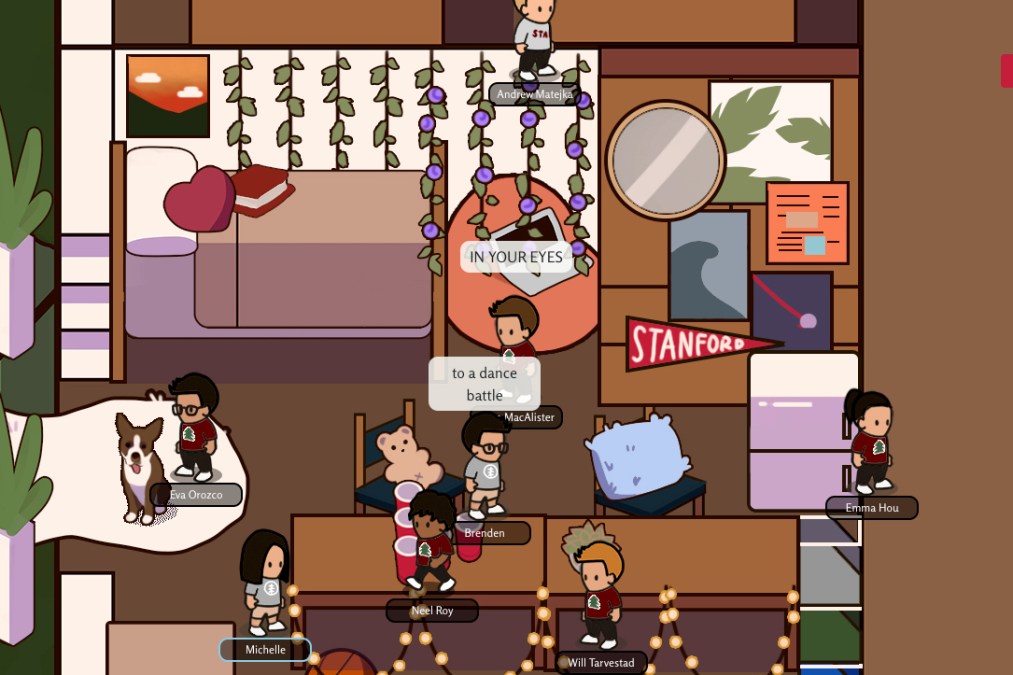 Students at Stanford University earlier this month rolled out a virtual version of the university's campus in a browser-based game that serves as a social network for students, faculty and alumni to hang out and interact while the physical campus remains closed.
The social networking game, called Club Cardinal, was designed as a place to socialize with friends, play games, host virtual events and even organize study groups in an attempt to recreate some of the experiences that students will miss out on this year because of the Stanford's decision to continue remote instruction this fall to mitigate the spread of COVID-19.
Club Cardinal was modeled after the once-popular but now discontinued massively multiplayer online game Club Penguin, in which players controlled cartoon penguin avatars set in a winter world that contained various games and activities. Sreya Halder, a Stanford student who helped code and design the game, told EdScoop Club Cardinal was also created to remind students of their childhoods and interject some fun into an otherwise stressful fall semester.
"We had this idea of a virtual campus that was very nostalgic to a lot of games that we played when we were younger, like Club Penguin," Halder said.
Halder said she remembers as a child coming home from school and logging on to Club Penguin to continue hanging out with her friends. In this new remote learning environment, she said, she and her peers thought creating an interactive space that was reminiscent of Stanford's campus would be immensely beneficial for the Stanford community.
Halder, and fellow Stanford undergrads Allison Zhang, Michelle Qin, WenXin Dong and Azhia Harris, created the game as part of a computer science competition in March. But after winning the competition and getting positive feedback from peers and university administrators, the team opened it up to the rest of the school earlier this month. Now anyone with a Stanford email address — including students, faculty and alumni — can make a Club Cardinal account and join the virtual campus. Since its launch, there have been nearly 3,000 Club Cardinal accounts made, Halder said.
A virtual space
When first visiting the game's website, users are prompted to create an account and then create a user profile, which includes name, grade level, preferred pronouns, a short bio and a game avatar that can be customized with hairstyles, skin tones and clothing options — much like Club Penguin, which allowed players to create custom penguin avatars to represent themselves in the virtual space.
"So these are all things that you would probably normally introduce yourself with [in the physical world]," Halder said.
Users are introduced to a virtual version of Stanford's campus and can explore 10 locations on the university's campus, including Tresidder Union, Meyer Green, the Oval, the Dish and the Arrillaga Outdoor Education and Recreation Center, where they can begin chatting with other players, meeting up with friends and getting to know new people like they would be able to if they were physically at school. Students can also add Zoom links to hang out with friends, hold club meetings and organize study sessions.
"Another feature we have is that every player gets their own personal dorm room," Halder said. "Everybody loves having their own dorm room and a space that they can decorate and create for themselves."
Users can also create public and private events in Club Cardinal, which can be viewed though a central calendar feature on the site, to bring together larger groups of students and faculty.
During a normal school year, Halder said, Stanford hosts on-campus club fairs, info sessions and office hours. So to try to give Club Cardinal a similar sense of community, the team of student developers felt including virtual events on the platform was an important feature, she said.
Going intercollegiate
So far, Halder said, users have created events like scavenger hunts around the virtual campus and coffee hangouts, as well as meetings for student clubs and organizations, like the Stanford Summer Engineering Academy that met with its members in the quad of the virtual campus.
"The way that we set up our platform was very specific so that it's easy for people who have plans, Zoom events, to just transfer it over to Club Cardinal," she said. "So rather than being sent dozens of Zoom links and having to sort through your email to find everything, it's really easy to just keep track."
Using Club Cardinal to host events serves a functional purpose to bring people together, but it also makes it fun, she said.
Halder said the team is working with Stanford administrators to use Club Cardinal as an official tool for student engagement during the fall semester to support official university events.
The team is now also working with several other universities, including Harvard, University of California, Los Angeles and University of Virginia, to create an intercollegiate network, through which students from one school can visit other campuses and meet new people across the country.
"We think that this would be very valuable for the upcoming school year since a lot of these institutions have gone all online," Halder said. "And I think that'd be especially helpful too freshmen specifically, who obviously don't have that community to start off with."