Education Department not budging on colleges' pleas for more pandemic relief
While education leaders maintain COVID-19 is creating very real hardships for institutions, Education Secretary Betsy DeVos claims her data disagrees.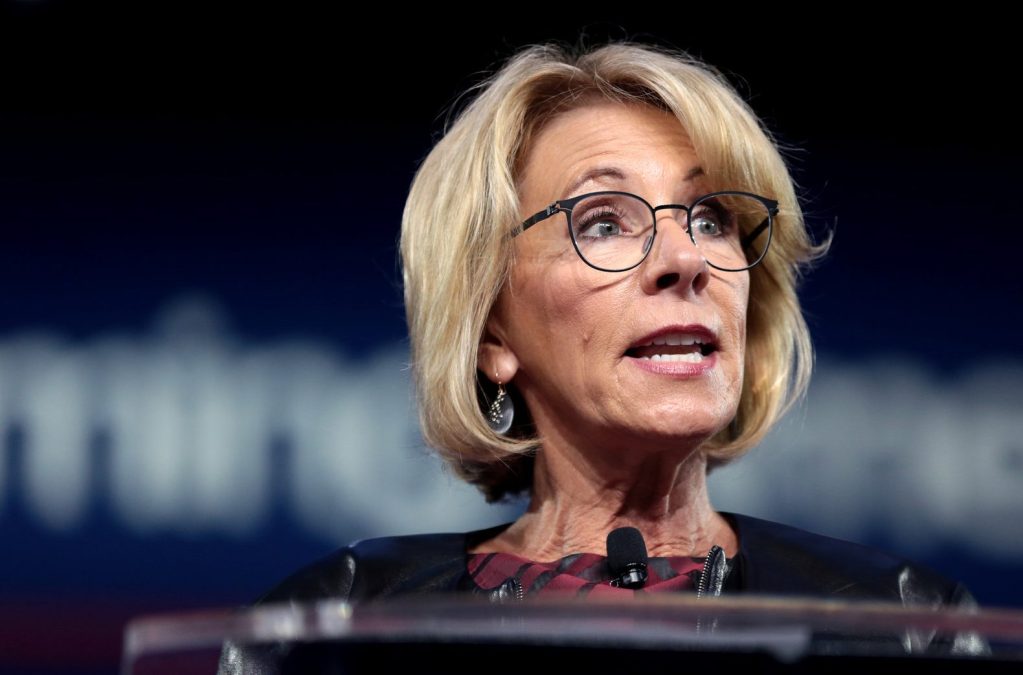 As colleges and universities face uncertain months ahead as the COVID-19 pandemic worsens, higher education leaders are continuing their pleas to the federal government for more assistance to sustain their operations and maintain their financial health. But the Education Department, led by Secretary Betsy DeVos, is pushing back, claiming that schools don't need anymore relief.
When colleges were forced to move classes online as the pandemic took hold in March, Congress awarded $14 billion in grants to higher education institutions through the CARES Act. But schools have continued to ask lawmakers for more as they keep losing revenue and accruing expenses.
DeVos said last week that institutions aren't in any immediate need of new aid because the entirety of the CARES Act funding has not yet been used up, according to data from a new dashboard showing how much of the relief package's Education Stabilization Fund has been used up.
According to data from the new site, institutions spent $9 billion, or 64% of the total fund, through Sept. 30.
"The CARES Act was passed to provide schools the resources they needed to protect students and teachers and ensure learning continues," DeVos said in a press release, "But these data make clear there is little to support [schools'] claims of being cash-poor."
But Thomas Harnisch, vice president for government relations at the State Higher Education Executive Officers Association, told EdScoop that the DeVos's statement is misleading on several fronts.
"The first is that the CARES Act funding to institutions was actually written quite narrowly," Harnisch said. Colleges and universities are allowed to spend the funds to cover costs associated with significant changes in instructional delivery, such as refunds on student housing and technology to access online courses. But the more substantial financial effects stemming from the pandemic, including state funding cuts, are not covered under the CARES Act, he said.
Additionally, many institutions have been cautious on what they spend CARES Act dollars on, because of uncertainty surrounding how those funds are actually able to be used, Harnisch said.
"Institutions do not want to get into the crosshairs of the department over their use of the funding and have cautiously pursued spending the money," he said.
But Harnisch predicted that the entire $14 billion will be used up before the health crisis is over, creating the need for an additional funding round.
Government leaders and educators have asked Congress $120 billion in additional funding to cover the growing costs of delivering education during the pandemic, which Harnisch said is a conservative estimate.
"If the pandemic continues and grows in its intensity, we expect the financial challenges affecting colleges and universities to only increase in the months ahead," Harnisch said.
And without action by Congress, institutions will start to feel significant effects of the pandemic that may have to be offset by tuition hikes, academic cuts and reduced capacity to serve students' needs, he said.
"The key issue right now is that we need Congress to come together and develop a common framework that invests in institutions and States," Harnisch said. "This is a critical moment for institutions to be able to serve their states and regain their economic footing and prepare for a post pandemic world."