All aboard the STE(A)M Truck
Jason Martin, founder of the STE(A)M Truck, shares his vision and success story at SXSWedu.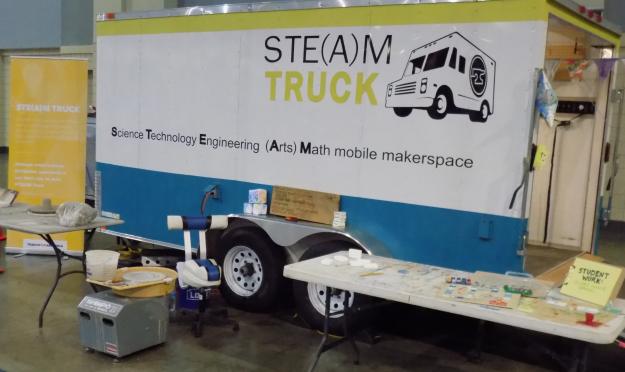 AUSTIN, TEXAS – It's a 21st century Magic School Bus.
The STE(A)M Truck, a mobile makerspace that travels to schools in low-income areas across Georgia, was featured at SXSWedu on Monday. Its founder, Jason Martin, talked about how his idea became a reality – and how it will reach 4,000 students annually in the next few years.
"We're trying to disrupt how teachers teach and students learn," said Martin, who has been able to raise more than $600,000 to execute his plan, which stands for science, technology, engineering, art and math.
Martin, a former Teach for America member, taught in Trenton, N.J. and opened a charter school in Harlem, N.Y. He decided to turn his focus elsewhere about five years ago when, he said, he had an "epiphany after seeing schools that were supposedly innovating, and looked exactly the same as they had for our great-grandparents."
A friend allowed Martin to turn his solar-powered biodiesel truck into a mobile innovation lab.
"We painted it, we decked it out and presented it," Martin said. And then came the technology and equipment, the 3D printers and the laser cutters, in total worth about $15,000.
Read what other educators and IT leaders shared at SXSWedu — exclusive coverage from EdScoop.
With the revamped vehicle, they started traveling to schools. The program, backed by a nonprofit called Community Guilds, lasts about 20 days. The truck visits schools during the day, and occasionally after school and during the summer. Kids can come outside for about an hour to work in the truck, or workers go directly into classrooms. Martin requires that half of students who participate in the program are girls.
"We are not about building birdhouses," he said. "We are using real, high-tech tools."
Makerspaces are a big focus of this year's edtech conference, with Ayah Bdeir, founder of littleBits, giving a keynote speech on Tuesday.
Reach the reporter at corinne.lestch@edscoop.com and follow her on Twitter @clestch and @edscoop_news.