Bismarck State launches cybersecurity curriculum partnership with Palo Alto Networks
The company's non-degree courses will be "layered" with the North Dakota college's program.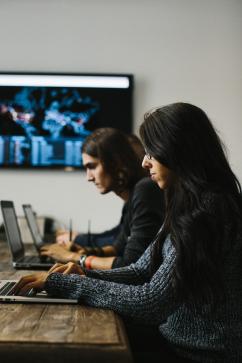 A partnership between North Dakota's Bismarck State College and California-based cybersecurity firm Palo Alto Networks will provide the school with resources to build out its computer science curriculum and add a new bachelor's degree next fall, the school announced on Tuesday.
The partnership, which will expand the school's Cybersecurity and Computer Networks Program both on-campus and in online degree programs, will see an institution that's traditionally known for its electric power technology program adopt the curriculum of Palo Alto Network's global academies. The academies , which are spread out over 40 countries worldwide, offer non-degree cybersecurity training and certification programs.
"We took their curriculum, and we mapped it within our degree program," the college's president, Larry Skogen, told EdScoop. "A student can come to us seeking a degree, and along the way can test out [to receive certificates] in the Palo Alto Network academy. So we've layered those together."
Palo Alto Networks currently offers certification in firewall configuration and network security engineering, according to its website. Bismarck State intends to improve the existing academy curriculum by running it through its curriculum development center, Skogen said, potentially benefitting the cybersecurity company as well.
The college has locked down similar partnerships with energy companies in the past, Skogen said, in which an electrical power company donates resources and simulators to the institution in exchange for extended certification and training courses for its employees.
"We took that model and moved it over to cybersecurity," Skogen said. "We knew how to do it with one industry — now we're doing it with a second industry."
Skogen was hesitant to set out a specific goal in terms of the number of degrees, but emphasized that the scalability of the partnership, especially in providing an online curriculum, could help reach "significant" numbers.
"We're not going to solve the cybersecurity problem, but we can be part of the solution," he said.
North Dakota Gov. Doug Burgum shared his support for the partnership.
"It is essential that students at all levels have the training and skills they need to meet 21st century workforce needs driven by rapid technological change," he said.
North Dakota currently has 673 open computer science jobs according to Code.org , which tracks thousands of openings around the U.S.
"Through this collaboration, North Dakota will be well-positioned to offer world-class degrees and professional certificates to any college-age or adult learner and BSC will make a genuine impact on quickly filling vacancies within the cybersecurity workforce," Burgum said.